10 Things Not To Do When Starting A Blog In 2023
Everyone tells you what you should do while blogging.
But no know tells you what not to do.
Everyone does what is supposed to be done.
But almost most of us overlook the steps that we are supposed to ignore in order to save our time, efforts, and eventually money.
In this article, I will discuss 10 things not to do when starting a blog.
If you are about to start your blog, then you will love this new guide.
Let's begin.
10 Things Not To Do When Starting A Blog
1. Selecting the incorrect niche –
I was a lackadaisical person back then.
Frustrated and not knowing where to go, I finally decided to invest in a domain name and hosting without brainstorming much on the niche that interested me.
Due to that lethargy, I failed on three different domains.
That failure taught me one of the most important things that I want you to know:
Never hurry on choosing a niche.
Niche is your foundation for blogging success.
That's why choosing a perfect niche should be the topmost priority in your blog launch checklist.
Here's what you can get by choosing a niche that interests you:
In one of the articles by Entrepreneur, Syed Balkhi has rightly quoted the importance of choosing the right niche –
Pro Tip: Severely confused about choosing an impeccable niche? Use your name as a domain. In this way, you can shift between different niches anytime you want.
2. Urging only on publishing more –
You may have heard from many bloggers that you need to need to publish articles every day for higher organic rankings.
I am not against this.
But if you think rationally, you will understand that writing one article every day is not a reliable option (especially for a solopreneur).
That's why you need to dump this mentality of writing articles each day.
In blogging, writing is not everything.
Why is writing every day a bad option in blogging?
Let's say, you search for the query "best aluminum baseball bat" in Google.
You will see the total search results for this single keyword.

It's 17,60,000 (as of now) search results for this single keyword.
So what does that mean?
Google has enough content for this keyword. It does not want an additional ordinary article.
Therefore, if you are writing a blog post for this keyword, for example, then you need to write an epic post by focusing on quality rather than quantity.
And to be honest, writing epic articles take time.
This is the main reason why writing articles every day may dilute your article's quality.
Pro Tip: Even if you are planning to publish only a few posts per month, make sure that they are highly optimized and cover all the points related to a topic.
3. Focussing on multiple things at a time –
This is the most overlooked mistake among all the bloggers.
Be it connecting with other bloggers, participating on social platforms, link building, or anything else, most of us try to actively engage in all of them at a single point in time.
Some of us even write without planning blog content and then switch between multiple tabs to gather distractions.
This is a kind of multitasking.
I am not a great believer in multitasking and nor do I want to be one.
In fact, according to Mashable, only 2% of people in the world can successfully switch between tasks.

What about 98 % of us? Are we dumb?
Absolutely not.
More and more studies have shown multitasking to be a productivity drainer.
According to an industry report, it is uncovered that multitasking can reduce your productivity by up to 40 % as you continuously try to switch between diverse tasks.
So, what is the best way to deal with it?
Start focusing on a thing at a time.
As a blogger, it is very easy to get carried away by the temporary trends, comparisons, and even the admirations.
However, you must work on platforms that will benefit you.
I like to work on Twitter & Pinterest, for example, because they are the places where I can get the most as a blogger.
It may be different for you. Maybe you want to brand your blog through Instagram.
Whatever you choose, try to be active on the few to give the best out there.
4. Quitting too shortly –
It's always too soon to quit." – Norman Vincent Peale

After passing my 12th standard, I had two options for myself – Blogging vs YouTube.
*And you thought I am talking about my academic career 🤣*
I knew that I could write decent stuff and was uncomfortable in front of the camera.
Yet I chose to go with YouTube.
"It is easier to get views on YouTube." – Saying this, I started with a small tripod and phone camera.
I continued making videos for 3 months and finally concluded that YouTube wasn't for me.
Then, I started researching blogging and kick-started the journey.
I found what I loved to do. Blogging had become the bread and butter of my life.
In fact, I started enjoying my life than ever before.
This is what I want you to do too if you are afraid of quitting.
Do what you love and you will never give up on that.
I knew YouTube wasn't for me therefore, I quit it.
It eventually helped me explore another field that interested me.
Pro tip: Try different things like I did and see what works for you. This is called creating your own passion. In this way, you will not feel like quitting the work that you truly love.
5. Treating blog as a chore –
When I started blogging, I thought that writing great blog posts was the only purpose of success in blogging.
And that's why I didn't have any blogging schedule.
I used to blog when I felt like doing so.
In short, I wasn't serious about my blog. And it took me almost 7 months to realize that I need to treat blogging as a business.
A proper blogging mentality is required to succeed as a blogger.
Or else it is of no use even though you write blog posts faster than anyone else.
Here at Scale Blogging, one of my main objectives is to teach smart bloggers like you to blog the right way by scaling your blog as a business.
Treating your blog like a business will encourage you by keeping yourself on an accurate track and, you will get prompted to invest in your blog for the betterment (more on that later).
Tim Ferriss and Neil Patel are some of the living examples that proved to transform a blog into a business that shines.
6. Not solving your readers' pain points –
Your blog is the temple and your readers are the god of that temple.
Your income totally depends on your audience. If your blog brings more traffic, then your chances of earning will be more.
But how will you bring more traffic to your blog?
Social media, SEO, etc are okay.
What you really need is to bring a new/existing reader back to your blog by solving his/her burning pain points.
Whenever you solve your audience's pain points, they start believing in you and eventually help you make more money.
Luckily, you do not need to be Einstein to solve their problems.
Here are some of the ways through which you can satisfy them:
By entertaining them through your writing (humor).
By educating them regarding a topic, product, etc.
By helping them compare and choose the right service.
By motivating them through your powerful words.
Or by helping them in any other way through your blog.
In this way, your audience will take away something from your blog and will look forward to revisiting again.
7. Not centering on branding your blog –
Unless you are blogging as a hobby, you want to make money from it. Right?
There are various ways to make money blogging.
You can place advertisements, affiliate links, sponsored posts from platforms like Flyout, etc.
Ads pay the lowest in most cases.
So, if you want to make a great amount of income, you need to bring affiliate sales, sponsorship opportunities, or sell your own product.
For that, you need to brand your blog.
Branding your blog not only helps in growing your blog's income but furthermore assists you in becoming an authority (in your niche).
In this way, people will remember your name whenever they have a query resonating with your blog.
If you are looking for the ultimate steps to brand your blog, have a look at this definitive guide on branding your blog.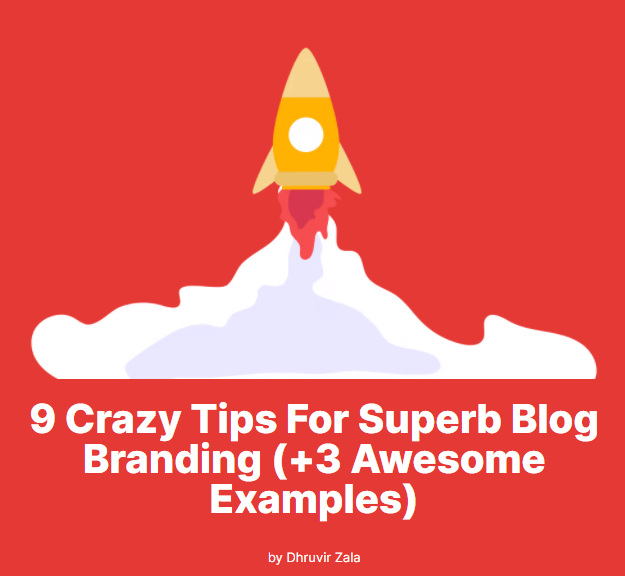 8. Running after perfection –
I made this mistake. The only problem with it was that I committed it again and again.
Blogging comes with too many distractions.
There is FOMO, daily YouTube videos teaching all sorts of new SEO techniques, and something more unusual than that.
After consuming content from around the globe, we try to implement everything on our blog.
This is an utter waste of time.
Here's the truth:
Blog design is important but not as important as writing quality content and other things that you are supposed to do in blogging.
It is not required to tweak changes in your blog every day. Once your revenue starts growing, you can hire a freelancer and let him/her design your blog for you all at once.
It is not as important as you think (at least in the beginning).
There are various reasons to start a blog. However, running after perfection should never be one of the reasons if you want to grow higher.
Perfection in any field will break you mentally down. That is why they say, "excellence is better than perfection".
And even Google is not perfect as its algorithm keeps changing several times a year.
So, why don't we just focus on elements that will bring us closer to success rather than perfection?
9. Not investing in primary obligations –
We have previously learned that we should treat blogging as a business.
So, what do businesses require?
It's an investment.
No real business can run and be made successful at least without some initial investment.
Similarly, blogging requires an opening investment.
No doubt there are platforms like blogspot.com where you can start a free blog.
The major problem with those free blogs:
They provide limited features. And by saying limited, I mean that you will be able to do only selective things.
On the other hand, investing in a self-hosted WordPress blog will give you full control to take your blog wherever you want.
In a self-hosted blog, you need to buy a domain name and hosting.
Without any doubt, Bluehost is a great hosting company for all the beginners out there.
With their one-click easy WordPress install and super quality support, they will be ready to solve any of your doubts within minutes.
The best thing about Bluehost?
If you pay for hosting, they will pay for the domain. Put another way. The only thing that you need to invest in is hosting and you will get the domain name for free.
Start your blog with Bluehost for as low as $2.95 per month and never regret it later.
Invest in your blog and it will pay off.
10. Not building your email list –
According to Orbit Media, 61 % of bloggers are using email marketing as one of their blog promotion techniques.
What does this mean?
You should also start using email marketing without any delay.
Start collecting emails!
What is the best way to learn the process of email marketing?
OBSERVE.
If you come to my homepage, the first thing that you will notice is the button.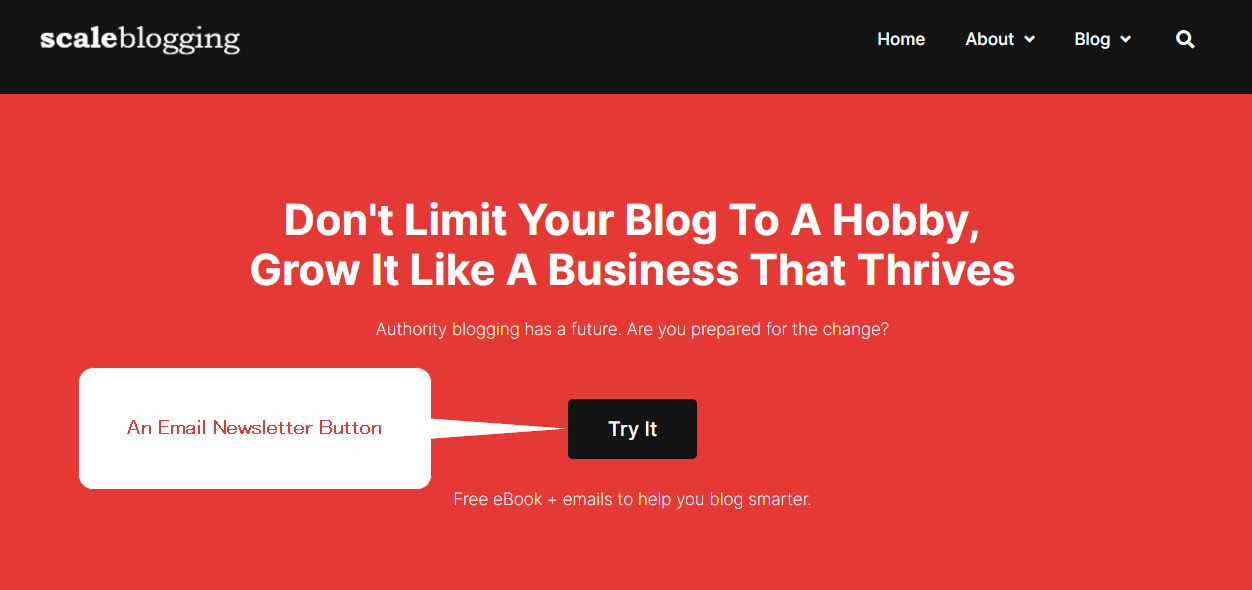 Once you click that button, you will be asked your name and an email. This is my lead magnet.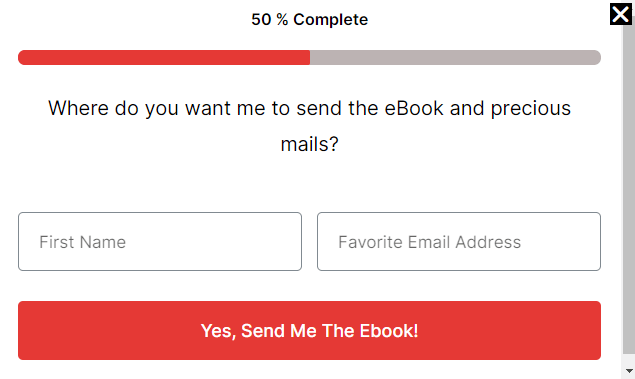 In the same way, you can set up a lead magnet to capture emails from your audience.
Note: Never ask directly for their email. Give something for free and it should be valuable to them.
After capturing their emails, you can pitch emails to them whenever you want.
This was just a glimpse of how email marketing actually works. There is so much to learn.
While starting a blog, never neglect your email list. You do not need to provide something very useful or some giveaways.
You can start by giving them a free checklist, printable, eBook, etc.
The only condition is – It should solve some kind of your audience problem.
Every subscriber counts.
Are you ready?
Are you ready to start your blog now?
This was the definitive guide on 10 things not to do when starting a blog.
I hopefully assume that after reading this 10 points checklist, you will be able to save your time by not committing the same blogging mistakes that I made.
With that, let's move it over to you.
Tell me, are you confident enough to start your self-hosted blog today through Bluehost?
Also, are there any other very important not-do-do things that I forget to list here?
Either way. Let me know by dropping your thoughts in the comment section below right now.
And if you are ready to start your blog, then do it today because there's never a better time than now.