Blogging VS YouTube – Where Can You Nail It (In 2023)?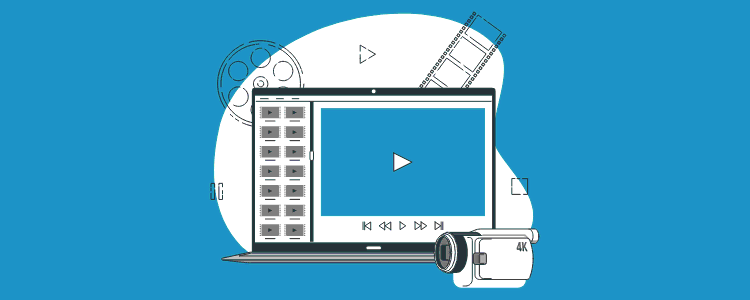 Blogging & YouTube are some of the vast & profitable businesses people like you & me prefer to pursue since we discovered it to be shining.
But sometimes, it gets difficult as well as overwhelming to decide what's perfect for you.
Either you want to become a blogger but random people keep telling you that blogging has no future.
Or you want to be a YouTuber and again some random strangers tell you that Youtube has overvalued competition.
Instead of listening to those strangers, you can keep reading this definitive comparison on Blogging vs Youtube to choose what's best for you.
Let's dive right in.
Pros of Blogging
Blogging can be scaled largely.
Blogging can be pursued as a business.
Blogging can teach you various aspects of digital marketing (SEO, PPC, SMM, etc).
If done rightly, blogging can help you quit your 9-5 job.
Blogging can improve your writing skills, connection skills, etc.
There are various monetization opportunities in blogging.
You own your content in blogging.
Cons of Blogging
Blogging takes time to see results.
Instant gratification is not welcomed.
Blogging is more than writing content.
Blogging requires an initial investment.
Competition is increasing in blogging day by day.
Pros of YouTube
You can expect to see faster results on YouTube.
YouTube is best for brand building.
Certain niches like DIY & Reviews outperform on YouTube.
Youtube does not require initial investment if you do not wish to show your face in the video.
Video content consumption is increasing every year.
Cons of YouTube
Youtube has fewer monetization options.
In YouTube, the first impression is the last.
Youtube has full control over your content.
To achieve faster results, you need to keep creating fresh content continuously.
Competition is very high in almost every niche.
Important questions to ask before jumping on either
1) What do you like?
It does not seem as easy to answer as you think.
In fact, the majority of people mistakenly choose the wrong platform by getting attracted to a particular thing. I am not stopping you from taking inspiration from successful people who have already achieved what you want to become.
But before doing that, you should ask your soul: "Hey buddy, what do I like the most?"
"Am I a good writer?" or "Do I love to communicate & express my knowledge in the form of myself standing towards my audience"?
These questions will not only help you clarify your goals but also help in taking better & quicker decisions towards execution.
If you are like me who can sit at the same desk for hours & keep writing, then Blogging is for you.
However, if you are prone to speaking confidently at every place, then YouTube is calling you.
As I discussed earlier, both of them have their pros & cons. Also, both are them are great to start.
The only condition is that you should like what you are doing or else you will end up in a month or two.
According to my, there is no such thing as an introvert or an extrovert to decide.
This leads us to our next question.
2) What does your targeted audience like?
Sometimes what you like may not always be liked by others.
For example: Suppose you are a blogger who likes to write about DIV tutorials. But your audience may be much more interested in watching DIV tutorials on YouTube if they want some practical experimentation.
This was just an example.
No doubt there are many well-ranking sites for DIV too. But you should always consider your audience preferences first because they are the ones who will bring you traffic.
How to find what your targeted audience prefers?
It's easy.
Head over to Google & type in your main keyword. After the results load, if there are more videos at the top, there may be a high chance that your targeted audience likes to consume video content.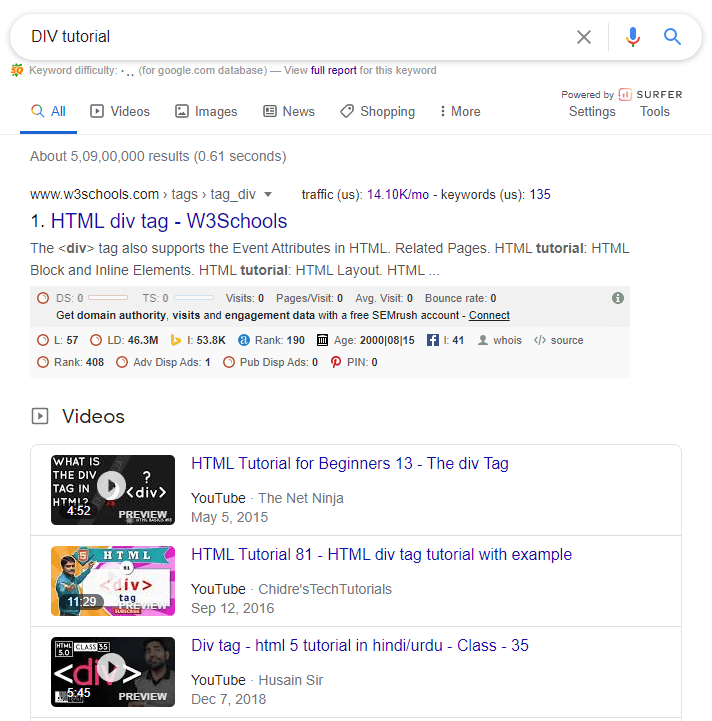 However, this may not be the case all the time. Sometimes, they may like to consume both types of content.
Here at Scale Blogging, I mostly write about Blogging tips. Therefore, readers of my niche like to watch YouTube videos as well as the written content.
You should be ready in either case.
With that out of the way, let's move on to the real comparison.
Blogging vs YouTube – 6 Major Comparisons
1) Time to see results
The major difference between Blogging & Vlogging (YouTube) is the period to see some results.
Without any doubt, YouTube gives much faster results than blogging as there are lesser rankings factors on YouTube than they are on Google.
However, the initial hustle to kick-start the right way is the same for almost both of them. You cannot start making truckloads of money from YouTube after publishing a couple of videos. You need to be consistent, patient & most importantly confident.
On the other hand, Blogging takes a little bit more time to produce worthy results. But again, the time in blogging depends on the number of genuine connections you make with other bloggers & a lot of other factors.
You should never jump to any platform after seeing just a single metric. Seeing faster results on YouTube may also have some other trade-offs which I will further discuss below.
However, YouTube gives faster results when compared to blogging.
2) Connection building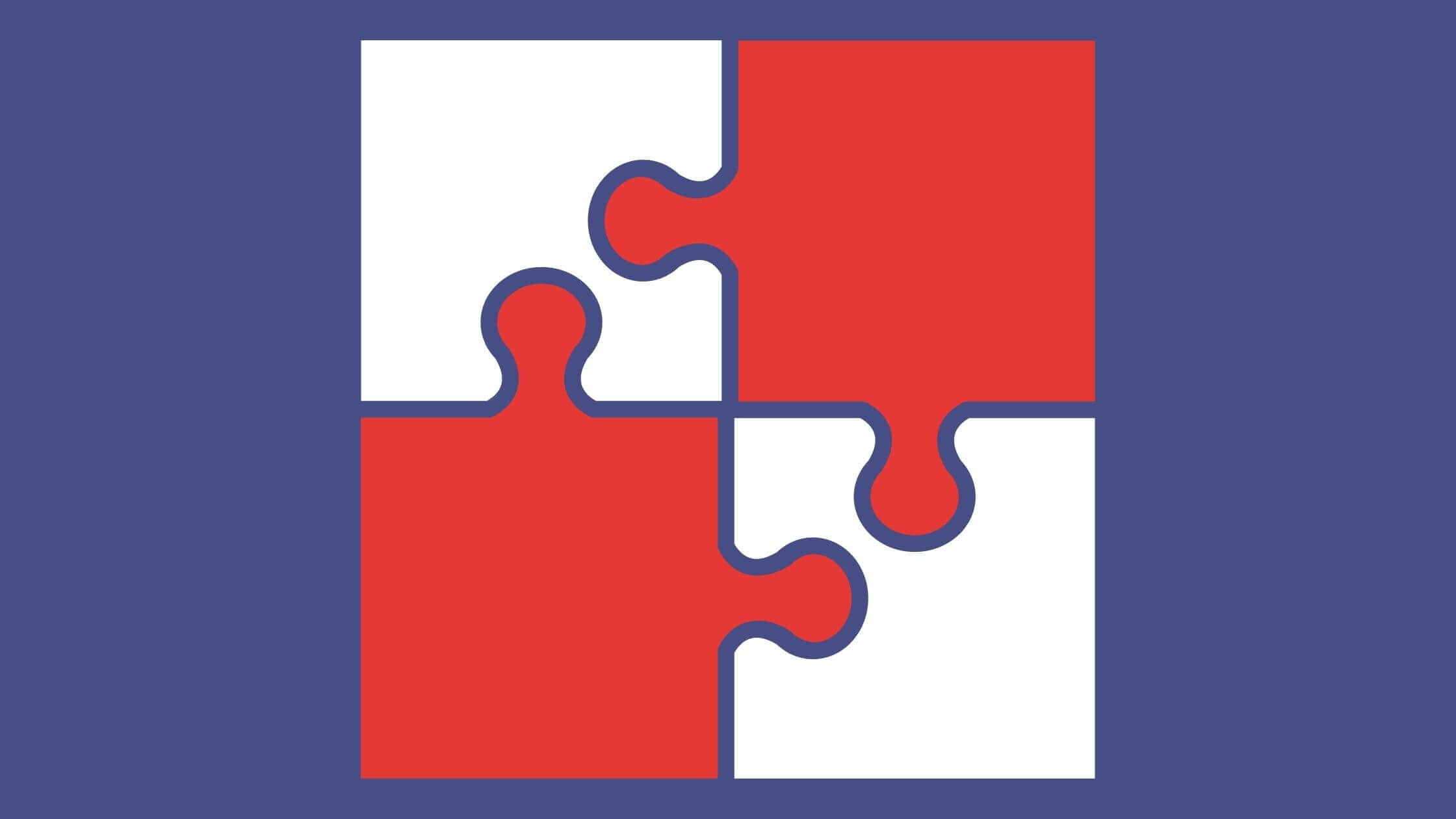 As discussed earlier, besides creating epic content in blogging, building connections with other bloggers is what matters the most.
Why?
The more connections you build, the larger benefits you end up accruing. In blogging, connections can help in increasing your blog's brand authority, increasing your followers, improving your search rankings & most importantly helps you in building quality backlinks free of cost.
On the other hand, connecting with other Youtubers on YouTube is not that easy. And unless they give their contact mail id in the about section, it is a tiring job to dig out one.
Also, there are no such things as backlinks on YouTube which makes it more complex to build genuine relations.
However, once your subscribers count increases to a significant level, you can start with some interviews of people relevant to your niche. This will help in cross-promotions.
There are many ways other than that, but you need to find out what's right for you & your audience.
With connection building, social proofs are also very important.
Social proofs are the achievements that you can show to your audience for increasing your authority in a specific niche.
Social proofs can be anything. It can be how many times your single article got shared or on which authority sites were you featured.
Here's an authority proof from the Blogging Wizard: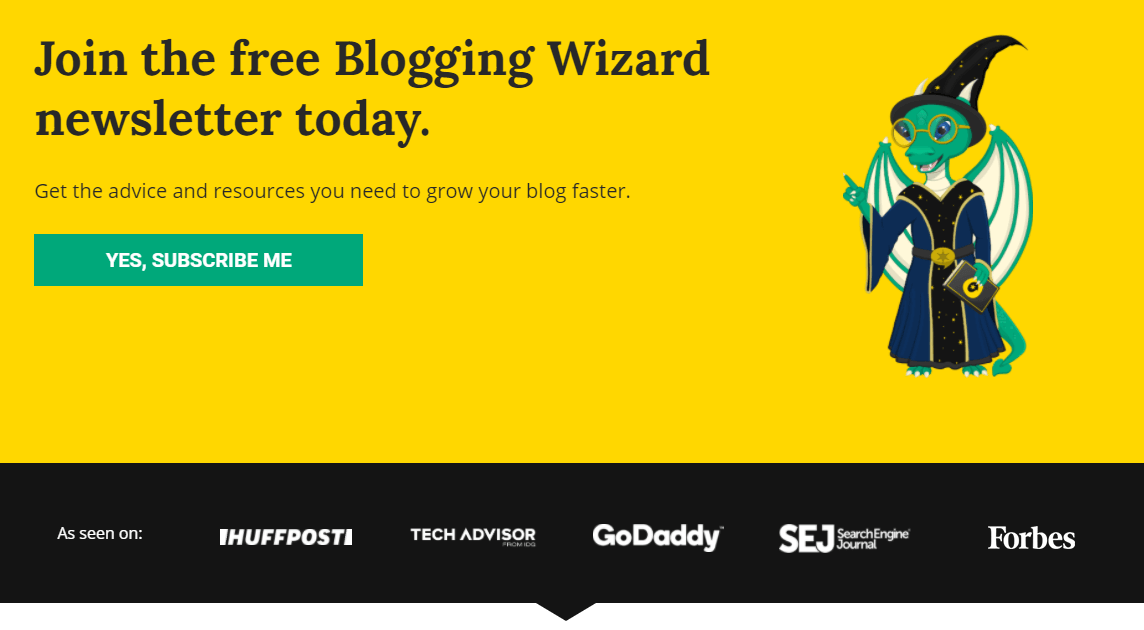 Concluding, building connections that are being featured at other famous places is more viable on blogging than on YouTube.
It's possible to contribute to Forbes & get a quality backlink for your site, but I doubt whether they will take your interview on YouTube unless you are some American Kardashian or an Indian Ambani.
Anyways, as I told you earlier, never jump on either of them just by getting attracted towards a single thing.
3) Flexibility
Freedom is one of the greatest sources of happiness. In fact, freedom is what most of us look into in our life.
Similarly, Blogging & YouTube also give their creators some kind of freedom. But to be exact, Blogging is a clear winner over here.
Why?
If you are serious about blogging, you will always prefer starting your blog by investing in a domain name & hosting. By doing this, you are creating your personal space on the internet.
Like the majority of the world's bloggers, if you are using WordPress then you have total control over your site. With some amazing themes & plugins, WordPress is the largest CMS platform.
No one can take down your site or play with it. In short, in blogging, you own your property.
But if we talk about YouTube, you have little to no control over your videos. Once you publish a YouTube video, YouTube has full control over it.
If they don't like what you are creating, they can take it down by sending you a warning email.
Sometimes, they can also permanently ban your channel if they find your content to be crossing some guidelines.
Therefore if you are blogging, you can sleep peacefully assuming that you can tweak your admin panel whenever you want. But the same is not the case with YouTube.
4) Scalability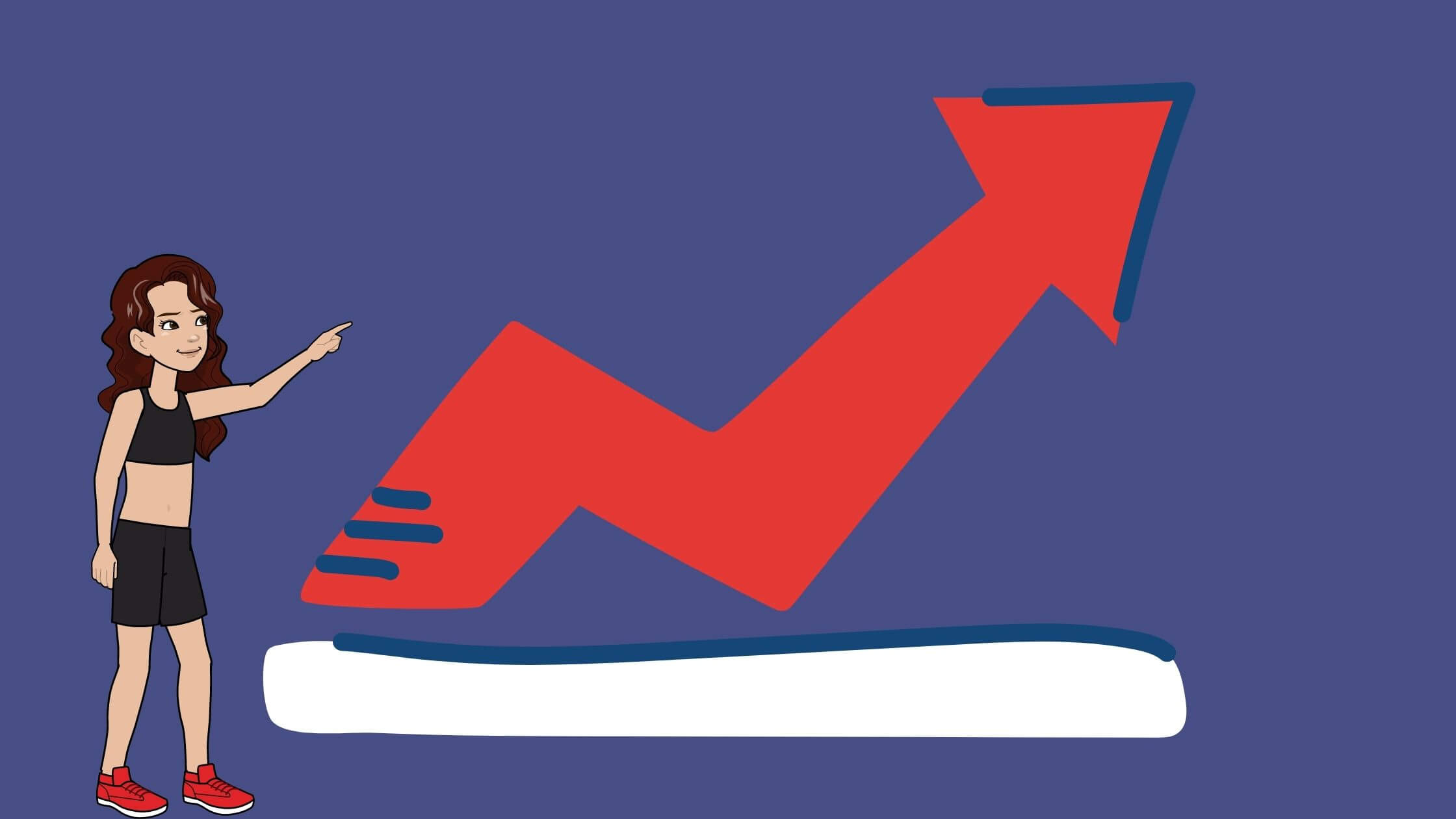 If you are a Youtuber, this may disappoint you. Blogging has a great scaling factor. I am not saying that you cannot scale on YouTube.
I have seen many Youtubers scaling their YouTube channel by creating a new channel & redirecting their audience to that channel.
However, this takes time. Firstly, you are required to build a great subscriber base before you create another channel.
But if we talk about blogging, you can scale your blog from day one.
How?
Blogging is not restricted to only creating content. Blogging is a real business unless you are pursuing it as a hobby.
No doubt YouTube requires extensive keyword research, but after you publish your video, you cannot do much except sharing.
In blogging, post promotion creates a significant impact on your organic search rankings.
As writing content and framing it is harder than creating a video, the keyword research & finding blacklining opportunity Is also the same.
But this scalability comes with a sacrifice. After click on the publish button, you cannot wait for the traffic to roll in.
To scale your blog, you need to mention good people, share it on all the social platforms including your email subscribers, writing answers on Quora & linking back to your post, etc.
If you devote your time to regularly doing it, there is a higher chance o your blog receiving sponsored posts opportunities from various companies.
That's the main reason why blogging has a larger scaling opportunity in the future.
5) Expenses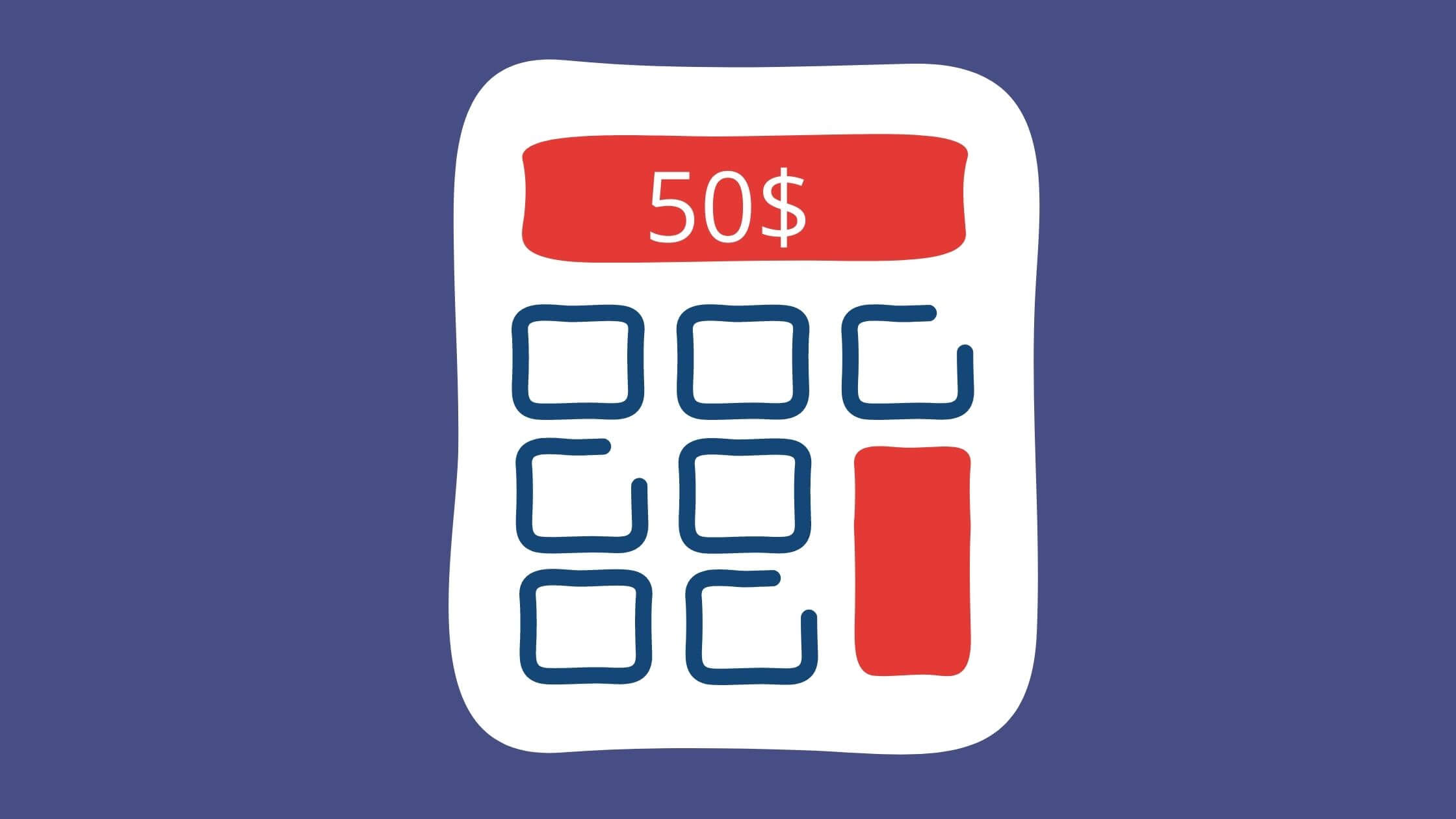 Whether you are blogging or Vlogging, you are doing it mostly for money, fame, or both. To earn money, you need to invest money.
At least, an initial investment is required to kick-start your journey smoothly.
From blogging vs YouTube, let's see who has the power to empty your pocket money faster.
YouTube –
When starting a channel, you are not required to buy all those flashy lights & green screens unless you are willing to do so. The only requirements are a smartphone or a camera, a tripod & a microphone to record in a clear voice.
If your phone's camera quality is good enough, there is no emergent requirement to buy expensive gear. You can start shooting with a mobile phone to maintain a tight budget.
Blogging –
When starting a blog with WordPress, many people will tell you to buy premium themes like GeneratePress or Kadence and premium plugins like Elementor Pro.
Honestly, it is not necessary to invest in them at least in the beginning.
WordPress offers a vast variety of free plugins & themes to design your site accordingly. Once your revenue grows, you can plan to purchase what you need further down the road.
When you begin your blogging journey, the only thing in which you need to invest is – A domain name and hosting which are easily available at a very reasonable cost if you go with Bluehost.
With super quality support & amazing speed servers, Bluehost is one of the best hostings for beginners out there. When buying hosting, you can get any domain name for free with Bluehost.
Therefore, the cost of starting either of them is minimal & reasonable. The only thing that is necessary to succeed is execution.
This leads us to your most awaited comparison.
6) Monetization
If you are reading this, thank you so much for making your way up here. I know this is the most awaited topic in almost every aspect.
Let's discuss whether blogging or Youtubing has larger scopes to monetize your content.
And the winner is ….. Blogging.
When you are starting as a Youtuber, it has very few options to monetize your video content. As you will be required to complete 4000 watch hours & 1000 subscribers to qualify for AdSense, this makes it difficult for the YouTubers to make money in the initial days or even months.
But if you are creating video content about product reviews or anything else that you can promote, I have good news for you. You can monetize your channel from the first day itself through affiliate marketing.
But at last, it all depends on the type of category in which you are creating content.
When it comes to monetization, blogging nails it like a bull's eye.
Though ad networks like Google AdSense & Media.net take time to approve, there are many evergreen methods beyond that.
From creating your products to promoting other products, you can do anything in blogging. That's the main reason people substitute blogging with their 9-5 tedious jobs. You can create eBooks, video courses, online consultancy & much more.
Many legit platforms allow you to monetize your blog through the paid sponsorships.
Learn how to monetize your blog with sponsorship opportunities.
Concluding, blogging has larger monetizing options than YouTube. However, if you are creative enough, you will surely find ways to make many with YouTube through some unique tactics.
Frequently asked FAQs
Now, you need to decide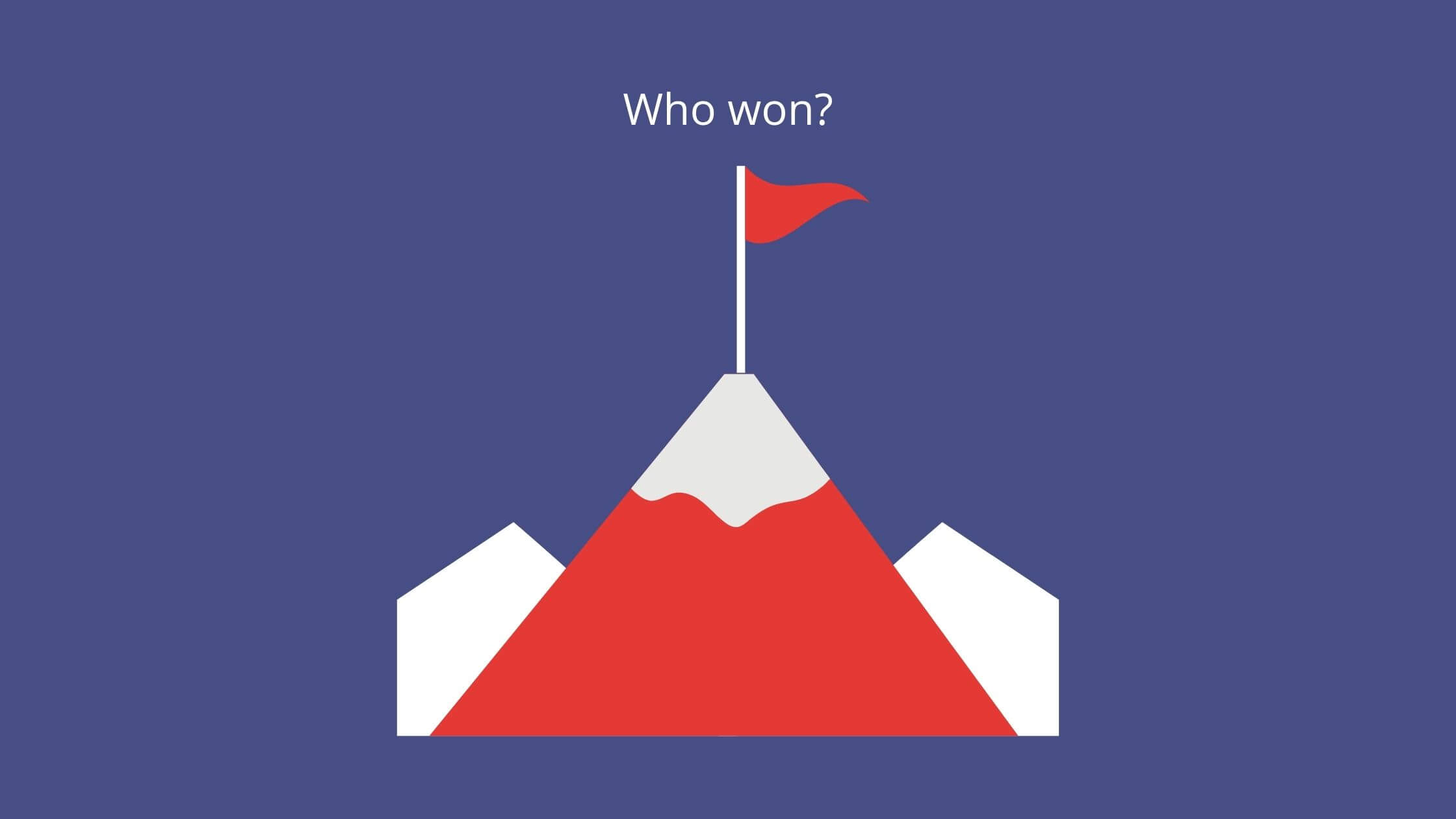 This was the ultimate guide on blogging vs YouTube. I hope you are clear & will take a better decision in choosing the right platform for you.
Here, there is no clear winner.
Where youtube gives faster results, blogging unlocks larger monetization benefits. Therefore, both of them can bless you with flying colors if you are willing to take consistent action in either of them.
This was all from my side.
Now, I am obsessed to hear it from you.
Which platform is a perfect match for you?
Also, give the reason for the same in the comments below right now.