GrooveFunnels Review 2023: Is It The Best Funnel Builder?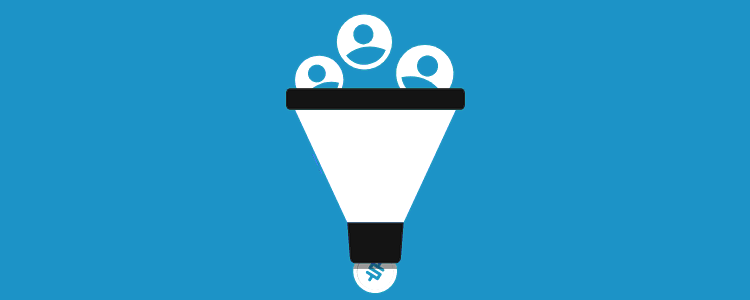 Pros
All in one marketing solution under a single platform.
Founded by a prestigious & experienced internet marketer.
Quick improvements and regular updates.
A reliable backed-up community.
Ease of use.
Lifetime FREE account with some restrictions.
Groove Academy for free marketing tutorials, training, and webinars.
A 'new feature' request page.
Execute marketing formulae with zero-coding knowledge.
Cons
Page editor sometimes causes trouble.
Few features still in BETA.
Loading speed and interface can be improved.
Cannot use a personal domain with the FREE account.
Minor bugs and typos to be fixed.
A lifetime deal is somehow expensive for a total beginner.
TLDR GrooveFunnels Review
GrooveFunnels is a good sales funnel builder. With its easy-to-use features and multiple operations under a single roof, it is suitable for all non-technical product/service owners.
Do you have a product or a service to sell?
Or are you an affiliate marketer who is the happiest person when seeing the affiliate commissions going up?
Or anyone who wishes to sell something successfully in the online market?
Here's the deal:
Selling products and services was easy in the ice age.
Tell your customers about the product, cajole them a little and they will be in.
The same tactics do not work today.
Before pitching a product in front of anyone, you need to perform activities spanning from finding your ideal customers, solving their pain points by nurturing them, and then introduce them to what you want to sell.
The process of creating such outflow may seem very complex & inflated from the outside.
But believe me, it will not remain the same after reading this in-depth review on GrooveFunnels.
In this GrooveFunnels review, I will tell you exactly how you can use this tool to build your own sales funnel, boost your conversion, and much more without writing a single line of code.
Please bear with me till the completion and let's explore GrooveFunnels.
What Is GrooveFunnels?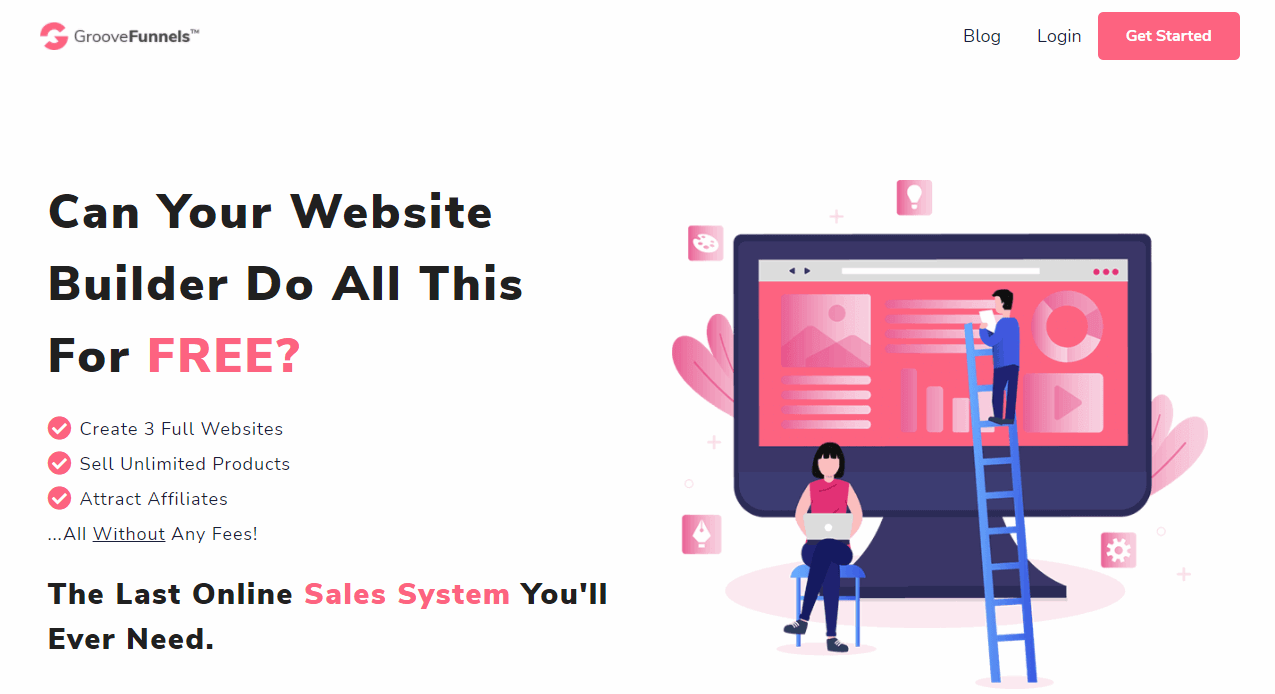 GrooveFunnels is a complete package of powerful marketing tools (they call it apps) to automate your sales pitches by creating specialized funnels to optimize conversions.
Briefly, GrooveFunnels will help you mechanize your marketing efforts all in one place which in turn will also result in time-saving.
With the help of GrooveFunnels, you won't need to move to and fro into a different tab to perform different operations.
GrooveFunnels is more than a sales funnel. you will know why in the latter part of this review.
Luckily, they have done a great job by integrating every relevant tool into a single platform.
By now, you may be thinking – "How can GrooveFunnels exactly help me?"
If you are anyone indulging in creating a sales page for products, creating email automation to capture leads, creating a blog for yourself or your business, etc, then GrooveFunnels can help you do all those stuff all in one place.
As said earlier, you won't need to waste your time integrating different tools to activate the triggers.
GrooveFunnels is specially designed to do that.
At times, I likewise used to become a skeptic and think "How can any company promise countless benefits of all in one tool and at a competitive price when its rivals are charging so high for only limited features?"
This led me to check the history of the company.
The results were fascinating and I regained my trust in GrooveFunnels.
Mike Filsaime is a co-founder of GrooveFunnels.

Before starting this company, he created many successful SaaS (million-dollar) brands like Kartra, Webinar Jam, etc.
He is a well-known individual in the internet industry. In fact, he is also known as "Michael Jordan" of internet marketing.
In short, this guy knows what he is talking about.
Therefore, there is no denying that his promises are worth giving a try especially when you et a lifetime free account.
With that out of the way, let me list out the names of the people who can be benefitted from GrooveFunnels.
Who Can Be Served From GrooveFunnels?
If you want to sell your products or services most efficiently, then GrooveFunnels is for you.
However, let me be a little more specific.
1. Product owner –
For anyone new in internet marketing & product selling, GrooveFunnels has held your back.
If you have already created a product, then you can easily sell that with the help of GrooveFunnels.
How?
Out of many APPS, one of their apps is GrooveSell. It allows you to track the sales transaction record, rebills, refunds, net profit, and much more. (More on that later).
As a beginner, it will be much easier to track the reports on the GrooveSell page due to their flexible interface.
Additionally, you can also list your product on their marketplace, create your affiliate program, and much more.
Note: If you are a course creator and want to sell your video courses, then one of the GrooveFunnels app named GrooveMember can be a holy grail for you.
Unlike platforms like Teachable, they do not charge any transaction fee.
We will go in-depth about each of these apps in few minutes.
2. eCommerce company –
If you are running an eCommerce site, you may realize how chaotic it is to create all sorts of different pages and link each other.
Generating numerous APIs, stimulating automated email marketing, creating a compelling landing page, etc, everything becomes so disordered when you do not have a single solution.
This is why GrooveFunnels is created.
Without even stepping out of their site, you can control each eCommerce operation within their ecosystem.
When it comes to setting APIs and email marketing, GrooveFunnels can be integrated with almost all relevant tools.
3. Affiliate marketer –
Even if you promote other's products and earn commissions, you do not need to worry.
Affiliate marketers also need to rely on sending bundles of emails to promote affiliate products.
They also need to create landing pages in the form of affiliate posts.
In this case, GrooveFunnels is again a savior.
Besides them, you may want to check out GrooveFunnels if you are unable to sell online with typical techniques.
Now, let's move on to the apps that GrooveFunnels has to provide.
Apps Included In Groovefunnels
1. GroovePages Review –
Need your website to be built for free?
GroovePages can be a more reliable option.
Yes, apps like GroovePages, GrooveSell & GrooveAffiliate can be used for free forever with some limitations.
With GroovePages, you can create 3 different sites as per your use. Whether you create a landing page or a whole website, they like to call it a site:
After signup and login into GrooveFunnels, you can directly access it from the top left corner.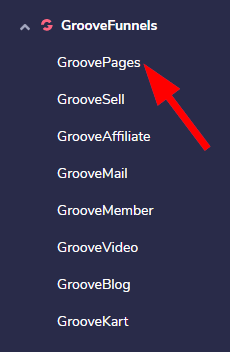 After entering GroovePage, click on the NEW SITE button located at the top right corner & you will be redirected to a page with pre-made templates that are ready to use.

Some will be free and some will be paid.
To filter all the free templates, click on the FREE tag.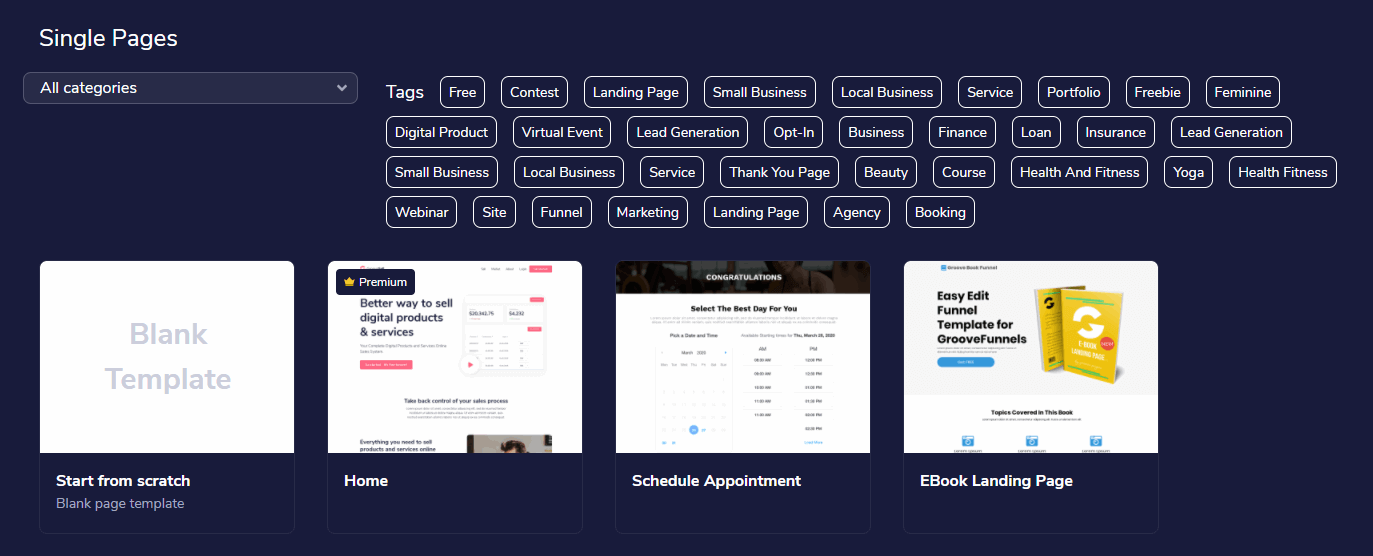 You can either choose to select any template if you like, or you can simply start with a blank template from scratch.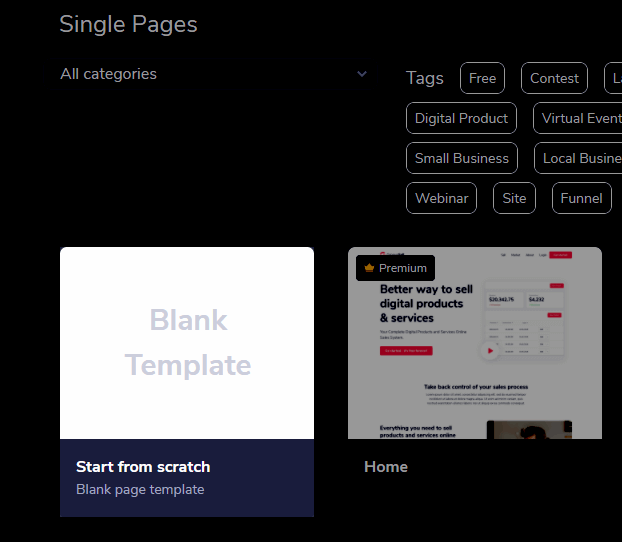 Once you give the name to your site and click on START BUILDING, you will land on the editorial dashboard:

The interface looks very clean and clear with all the editing essentials listed on the left side of the page, responsive toggle menu at the top, publishing options at the right, etc.
From creating converting landing pages to on-trigger popups, GroovePages has got you embraced.
Not only that, with their drag and drop feature just like Elementor, you can easily create the whole site in minutes.
However, unlike Elementor, GroovePages is well equipped with its responsive feature.
Once you design your website for the PC, it will fairly be adjusted to the mobile too.
I love their handy customization widgets.
If you are a WordPress user, you may know the process of connecting your website with sites like Google Analytics to track your visitors.
Luckily, you do not need any third-party add-on here.
You can directly trace the footprints of your visitors with their in-built STATS feature.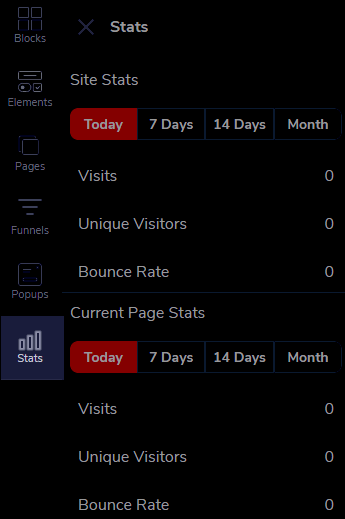 In general, if you want to build any type of website with a time-saving approach and zero-coding knowledge, then GroovePages can be the best place to start with.
Note: There is one drawback of GroovePages. If you are using their BASE PLAN (free), then you cannot add your custom domain name to it.
You will have to buy a PLATINUM plan for that feature or else you can use their predefined domains for free.
Besides this, there are many great things to explore. Once you start using the tool, you will come to know the nuts and bolts of it.
2. GrooveSell Review –
As all the product owners need to keep track of their sales, profit, rebills, refunds, etc, we have GrooveSell.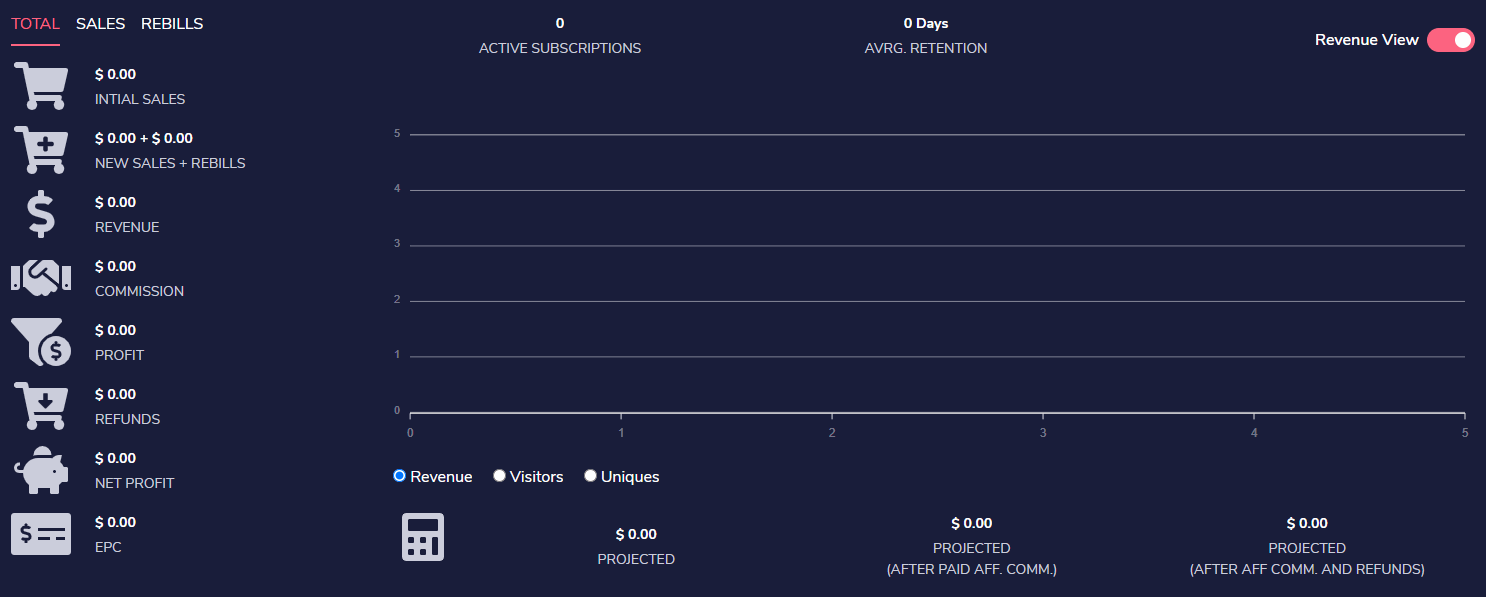 The best part:
As discussed earlier, GrooveSell does not keep any of your earned amounts if you shift to their PLATINUM PLAN.
You get everything that you earned.
Sounds good.
Just like GroovePages, you get GrooveSell for a lifetime free (at some restriction).
If we talk about its competitors, GrooveSell is better not only in terms of pricing benefits but also due to the easy mode of a learning curve.
You do not need to be the Warren Buffet of marketing to read the sales record and graphs.
Everything is put together in an easy-to-digest manner.
Another cool part:
With GrooveSell, you can do almost everything that its rivals are still longing for.
They have their personal marketplace just like ClickBank, JvZoo, etc.
Here, you can list your product easily and in minutes through GrooveSell.
Here's the simple process:
Head over to the GrooveSell page and click on PRODUCT FUNNEL located at the left bar.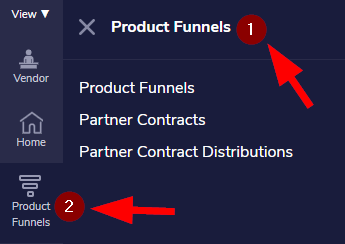 Then, click on the NEW PRODUCT FUNNEL button to connect your product.

After clicking on the button, you will see a FORM that you need to fill in order to proceed.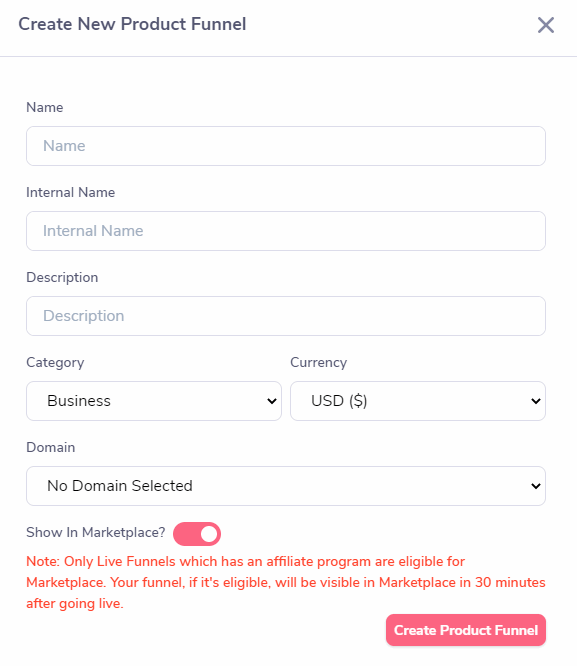 While selecting a domain, make sure you have already created a site/landing page through GroovePages, or else it will show something like this:

You will also see a warning message at the bottom. It says that "to make your product eligible to be shown on the marketplace, you need to first have an affiliate program".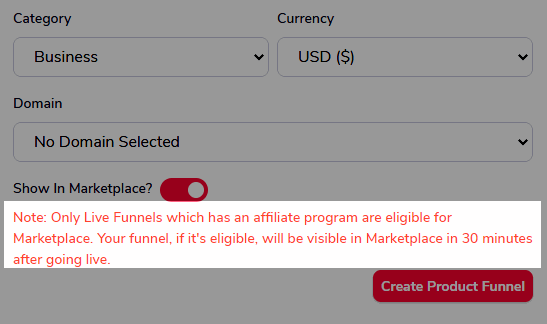 For now, don't worry about that. Follow the process, fill the form and list the product at last by clicking on the create product funnel button.
After clicking on the button, you should see something like this:
It means that your product will be eligible for the marketplace once it gets approved.
Now, let's move on to the affiliate portion.
This is the main way I have started recommending GrooveFunnels to everyone.
Here, you can do everything within the site.
With their affiliate feature, you can create an affiliate program for your product.
Here are the benefits of creating an affiliate program for your product or services:
The product will be live in the GrooveFunnels official marketplace.
Your affiliates can promote and sell your products and bring you more passive sales.
You have the right to set the affiliate commissions. Thanks to GrooveSell.
You do not need to buy any other tool to do this.
If you find issues creating your own affiliate program, have a look at this classic YouTube video:
If we talk about receiving payments, you get to withdraw your funds through GroovePay, Stripe, PayPal, Authorize.net, NMI, Braintree, etc.
You can set up the payments in GrooveSell itself by clicking on the settings.

And then select the payment method that you want.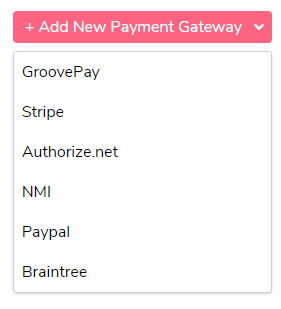 Isn't it great when you can do all sorts of things as an entrepreneur very smoothly without hiring an assistant to create intricate excel sheets?
Swaying this away, lets me show you their email marketing app.
3. GrooveMail Review–
Amazon sends super targeted emails.
Without even buying anything, once you add anything to the cart, you will get a persuasive email to buy that stuff.
After buying something, they will send you another email to write a review of that product.
In fact, this has helped increase their sales to a significant number.
But how do they do it?
Through email marketing software.
GrooveMail does the exact thing.

Just like MailChimp, GetResponse, etc, GrooveMail can help set up your email campaigns in minutes.
"This must be very hard to do, right?"
Not indeed.
GrooveFunnels has vigorously shaped every app keeping in mind the non-technical folks like you and me.
With the support of GrooveMail, you can create email sequences, broadcasts, tagging, targeted segmentation, automation, etc.
A few moments back, it was released as a beta version. Therefore, it frequently keeps getting new minor bug fixes and updates.
If you have a prior email list on other email marketing tools, you can import it directly on GrooveMail.
With that, you can also blend third-party email automation tools like MailChimp through the API.
With the free plan, you can send 5000 emails per month & use 5 free landing page builder templates.
You also need not embed lead capture form from elsewhere.
GrooveMail can also do that for you.
And at last, you can track the visits from their inbuilt stats page.
Its dashboard may look very simpler than other email marketing tools, yet it does the job well with all you need.
4. GrooveFunnels Affiliate Program Review –
This is a big one.
Just as creating an affiliate of your products with the help you GrooveFunnels, they moreover have their separate affiliate program.
If you are an affiliate marketer, then you can promote GrooveFunnels and earn a commission from it.
But here's one condition:
Unless you shift to their PLATINUM PLAN, you earn a 20% commission for every sale.
After upgrading to the platinum plan, you earn a flat 40% commission for every successful sale that you make.
If you are a lackadaisical marketer just like me, then there's good news.
Whether you promote GrooveFunnels through an email, an article, paid ads, or any other medium, they provide ready-to-use content that you can directly implement.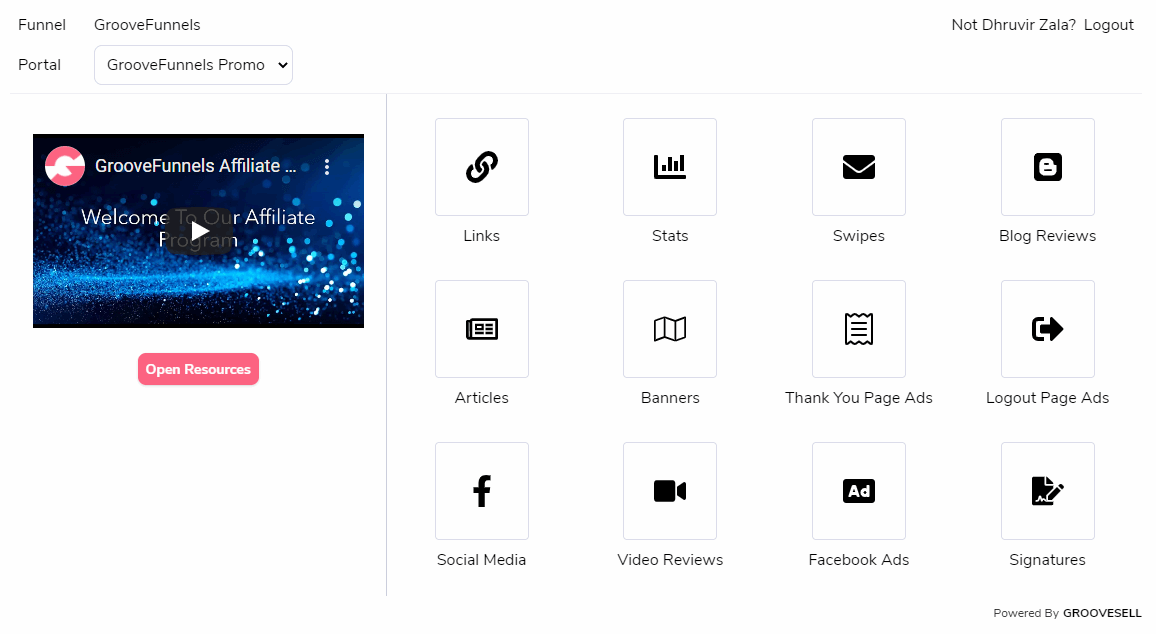 However, they have some promotional guidelines. You should definitely take a look for clean promotion.
Note: You will not receive any commission if a user signs for a free account from your link. But once he/she upgrades to the premium account, you will earn the amount.
Overall, GrooveFunnels has come up with a fairly decent associate program.
5. GrooveMember Review –
Are you fond of creating online courses similar to that in Udemy, etc?
Then, GrooveMember is what you should look for.

Unlike other LMS platforms, GrooveMember does not take any transaction fee from you.
A penny earned is penny thou.
Also, with other platforms, you need to integrate different tools for varied objectives.
To create a coupon code or special promo, for example, you need a separate tool for that. But in the case of GrooveMember, it's all in there.
From shopping cart to email integration necessities, you do not need to roam in the open market.
These were some of the most useful and commonly used apps.
However, this is not an end.
Besides these apps, there are a few more that you may want to check.
Let me shortly explain each of them:
#GrooveVideo –
Have you heard of sites like Vimeo, Wistia, etc?
If yes, then you can call GrooveVideo its better version.
It is specially created to host your videos.
The unique thing about GrooveVideo is that you can send your viewer a triggered email after he/she watches a certain amount of video.
This helps in the promotion effectively.
#GrooveKart –
It helps in promoting your product adequately through some useful metrics.
With powerful analytics features and high-converting templates, it increases the chances for your product to be sold time and again.
#GrooveBlog –
Allows you to create a separate blog or I can say a separate sub-domain for your site.
Useful if you wish to nurture your audience through a blog.
Woof… a lot of apps.
Don't stop, there are more coming soon.
Here's what you can expect:
GrooveWebinars
GrooveDesk
GrooveCalender
GrooveSurvey
In short, they are tactfully trying to capture the whole internet marketing booth.
By now, if you are a great fan of GrooveFunnels and eager to know about their more "coming soon" features, then you can keep an eye on this infographic.
This was all about their apps.
Now is the time to jump into some more earnest factors.
GrooveFunnels Support & Community
Without any doubt, the GrooveFunnels community has grown to a substantially great amount and the number is increasing.
Their official group has over 130K active members as of now.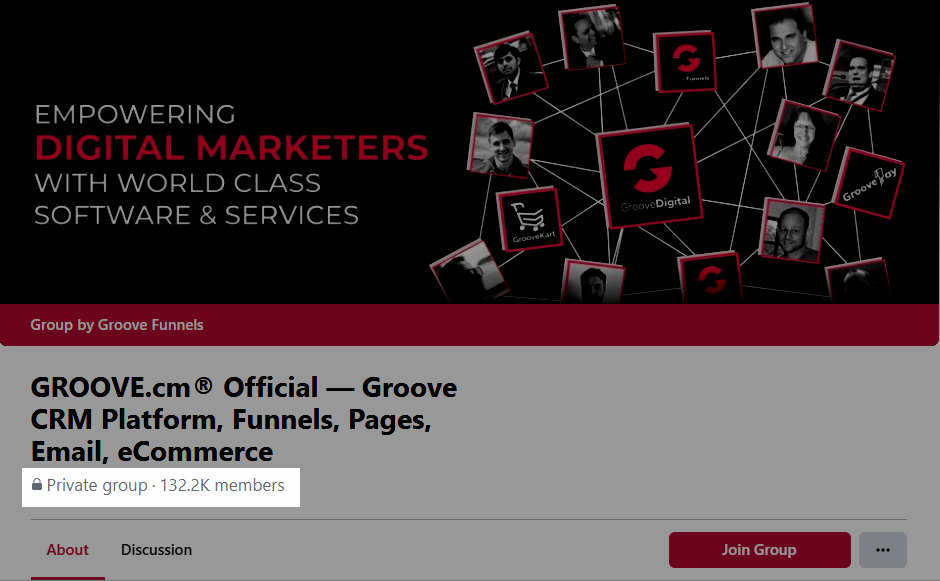 And if we talk about the support system, it's phenomenal.
In fact, I once got a reply from them within few hours of sending a mail.
And whenever you are in confusion regarding the app feature or its usage, there are a few places to go about:
Their blog.
Their separate support desk.
GrooveFunnels official YouTube channel.
Active Facebook group.
The support system of GrooveFunnels is better than most sites out there.
When you clear your doubts within the platform, nothing beats that.
GrooveFunnels Pricing
As of now, GrooveFunnels is available with two plans:
Base Plan (free)
Platinum Plan (premium)
You can use most of their essential apps for free with some limitations as discussed previously.
On the other hand, a platinum lifetime plan with a one-time fee of $1397 allows you to use all of their apps without limitations and for a lifetime.
One-time fee = Continuance membership.
Note: They are soon planning to create a separate plan of $299/month. However, if you invest in the lifetime plan now, you won't need to pay anything in the future.
You will be able to access all the new updates and apps without any outrage.
The one-time price can feel somehow costly especially if you are a beginner marketer.
But trust me, I have done the math.
If you choose to invest in different tools and integrate them, then the costs can break the sky.
In the end, there is no restriction in using their free plan.
Use it till you can and once you feel the need for the premium features, you can gear towards the platinum plan.
Commonly Asked FAQs For GrooveFunnels
Conclusive Thoughts on GrooveFunnels Review
This was the complete GrooveFunnels review.
Currently, I am also using their free plan as I do not have any products of my own. But I will truly try out the premium version once I start designing my personal products.
If you compare its features as well as pricing with its competitors, you will find a ton of value in GrooveFunnels.
They are eliminating almost every minute pain that every marketer goes through while selling any product.
And this is what I like about them the most.
They know our needs and wants and eventually keep creating opportunities for us.
This was all from my side.
Now, tell me.
What do you think about GrooveFunnels after looking at its benefits and pricing?
Is it a perfect fit for you?
Let me know by leaving a quick comment below right now.