ProwritingAid Review 2023: Choose your perfect Grammar Checker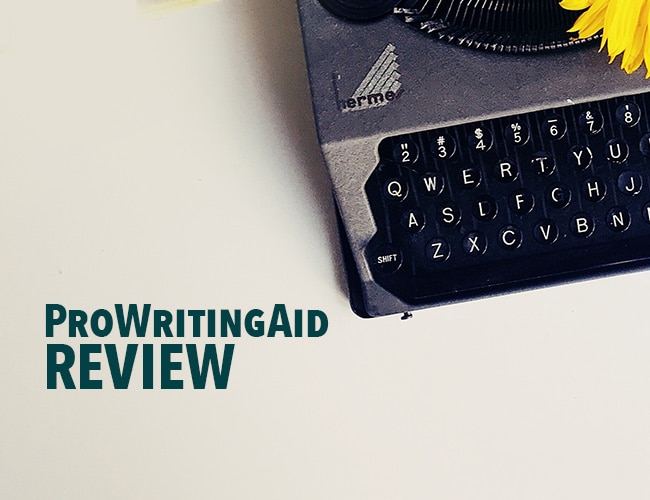 One of the very essential factors of the digital marketing business is web content. Good content is more likely to connect better with your audience and likely increase in business. Creating well-written content sometimes feels like an overwhelming task. According to Brian Dean from Backlinko, "content writing is easy if you know what to do and how to do it". That's why we are doing Prowritingaid review to sky rocket your content Marketing.
But how do you write web content that engages the readers? According to Adam Erheart, the 5 key elements of great copywriting are
Keep it Clear, short, and focussed
Edit your Copy
Write actionable content
Add images
Give Answers

Get Prowritingaid at 20% off
Get flat 20% OFF on one of the most powerful grammar checkers. Get Prowritingaid today


Editing is one of the most essential elements of any good content writing. But do all writers have copy-editing skills or do they outsource it to somebody else? The answer is yes not all writers are good at copywriting.
Top-rated novelists Robin S Sharma, JK rowling, Adaam Gresham all hire copywriters for doing the editing of their work.
What the hell?
Don't they know English grammar?
They are native English speakers how can they make mistakes while writing.
Trust me they do make mistakes and copywriting is not about correcting grammar it is much more than that.
We all need copywriters for editing our content to make it more reader-friendly and engaging. But what about those who can not hire copywriters for editing their work. This is where popular copywriting software like Grammarly, ProwritingAid comes into play.
They are way cheaper than hiring copywriters and easy to use.
Apart from correcting grammatical errors, they spot spelling mistakes, excessive use of passive voice and adverbs, and keep good readability.
I have covered a detailed ProwritingAid review, where I will tell you how this Prowritingaid is different from the other existing grammar checker available in the market.
What is ProWritingAid?
ProWritingAid is a writing app that uses AI(Artificial Intelligence) technology to enhance your writing. It helps in spotting, identifying, and resolving grammatical errors in a piece of writing and increases the readability of the content.
ProWritingAid helps in making your writing grammatically correct and error-free. It enhances your writing style, brings clarity, and helps you to write more engaging content.
How does ProWritingAid help?
ProWritingAid is a great tool for those looking to boost their writing skills. It helps you avoid common grammar errors, awkward phrases, and much more.
This will automatically check for several types of grammatical errors in the text. It also provides suggestions for how to fix these errors, which allows writers to take a step back from their content and reevaluate what they've written.
School & College Students:
Most effective for school students who want to write essays and assignments and score good grades. A better way to write Term Papers, Internship Reports, thesis Reports for all college students.
Marketing Research Personnel:
One of the key areas of marketing research is the final report. You want it to be spot on because it contains all the observations, problems, and suggestions. It has to be concise yet cover all points, focussed, and error-free.
Bloggers:
A great tool for all personal and professional bloggers for writing crisp and engaging content. A blog content that engages its readers is definitely rewarded by giant search engines like Google.
Freelance Writers:
If your dream is to make a big name in the writing community, then it helps you learn how to adapt your writing style, keep sentences short, have less passive voice, and phrase suggestions for better readability.
Novelists:
Novels, books are lengthy and contain many chapters and sib chapters. The average word count of any novel or book is 10000 words. It is difficult for the writer to go back after each chapter to edit the content, so they hire copywriters to do this.
An entry-level copywriter charges something 50$-80$ per hour. So they can be expensive for new writers. ProwritingAid is just the tool you need if you are a new writer who can not afford to hire a copywriter.
Copywriters:
If you are into copywriting, then ProWritingAid can be your best digital aid that helps you write a brilliant and engaging write-up that catches the readers' eyes.
Research Scholars:
ProwritingAid helps in making your thesis/research paper more informative and captivating that will help secure good marks in your Ph.D. or M.Phil.
News Writers/Journalists:
News spreads like wildfires and has to catch the attention of the reader. ProWritingAid makes the life of freelance and professional journalists easier as they write engaging news articles and stories.
Proof Readers and Editors:
Great support for all Proof Readers or Editors who have multiple jobs at hand and looking for a helping hand.
What are the features of ProWritingAid?
Imagine someone is there to correct all your mistakes, does not that sound cool? It gives you wings to do whatever you want and lives freely. The same happens when you write with ProWritingAid, it finds out errors, makes suggestions, automatically.
It makes you a smart writer. You write quality content at a fast pace.
It helps you write academic reports, business reports, articles, snippets, stories, memoirs, journals, novels, blogs, and website content.
Let's look at some of the important features of ProwritingAid,
Check the Grammatical errors:
ProWritingAid helps you check for any grammatical errors like wrong use of articles, subject-verb agreements, punctuations, and spelling mistakes. This tool will spot any grammatical error in your text and offer an apt solution to rectify the mistake.
Remove Vague Word/phrase:
The ProWritingAid helps spot and identify any vague, abstract, or nebulous word or phrase that you may have used in the content. This may reduce clarity and lessen the effectiveness of the write-up. Therefore, identifying vague words and removing them enhances the clarity and quality of your writing piece.
Repeated words/phrases:
The ProWritingAid helps you correct some stylistic errors and enhance the text's overall quality. Repeated words decrease the readability of the content. ProWritingAid finds these words/phrases and helps you replace them.
Plagiarism Checker:
Any written piece of content online or offline is the property of the owner and copying any [art of it, is a Copywrite infringement.
The ProWritingAid runs a plagiarism check to identify whether the written text is unique or not. It shows document-wise and sentence-wise plagiarism results and helps you modify the sentences or parts that have been identified to be similar to any other content.
You can check the plagiarism through the document editor and Microsoft word add-in (You have to connect it with your Microsoft account).
Writing Style:
The ProWritingAid helps you choose a particular writing style you want to emulate. For instance, the style for Academic Content is different from the blog content.
The style adopted for a marketing copy can't be applied to a research copy. Prowritingaid will let you know that your content is leaning heavily towards blog content, making you modify your style to that of an academic.
It also provides you with suggestions to write technical words to emphasize the technicalities in the write-up.
Perfect Delivery:
Every writer has a unique style of delivering content that might be completely off, slightly off, fine or perfect. The ProWritingAid helps check your writing delivery and lets you make adjustments to the write-up so that your writing has a perfect delivery.
The intention of Writing:
The intention of writing is critical from the writer's point of view. The intention of a writer can be
To Amuse
To Inform
To Satire
To Persuade
To Interact
To Describe
ProWritingAid helps the writers in adjusting their writing style to suit the actual intention of writing. The ProWritingAid helps you in molding the write-up to reflect the intent.
Writing Tone:
Every writer gives a voice to his opinions through words and it reflects the tone of the writer. The tone of the writer can be neutral, formal, friendly, cheerful, or analytical, and the like. Therefore, ProWritingAid suggests to the Reader several tips to write according to the article's intended tone or writing piece.
Degree of Engagement:
There is a purpose behind each and every content. Some are written to generate sales, to create awareness, to spread news, etc. The aim of any content can't be achieved if you fail to engage the reader.
To make actionable content it is essential to engage the reader from the first sentence.
According to copywriting legend Joe Sugarman, "the sole purpose of the first sentence is to get you to read the second sentence".
For making a connection with the reader, the write-up must be engaging. ProWritingAid measures the degree of engagement in the article and suggests changes accordingly.
Multiple Integrations:
ProwritingAid has the unique ability to be integrated into multiple software and browsers. It saves you the time to copy and paste into the tools browser for editing. It can be directly integrated to
Microsoft Word
Google Docs
Chrome Extension
Safari, Firefox, and Microsoft Edge
Outlook, Gmail
Facebook, Twitter, Instagram,
Medium, Wattpad, Quora
Customization:
Every assignment or writing project is different. Freelance writers often have to switch between writing styles between a UK client and an American client. Aside from spelling, vocabulary differences they also have to take care of grammar and nouns.
Some of the differences are like
Spelling Differences
| | |
| --- | --- |
| USA English | UK English |
| Defense | Defence |
| Canceled | Cancelled |
| Customize | Customise |
| Appetizer | Appetiser |
Vocabulary Differences
| | |
| --- | --- |
| USA English | UK English |
| apartment | Flat |
| trunk | Boot |
| Pants | Trousers |
| Vacation | Holiday |
Grammar Differences
| | |
| --- | --- |
| USA English | UK English |
| Informal Speech (will, Should) | Formal Speech (Shall) |
| Use of comma before and | Do not use a comma |
| Don't Need To | Needn't |
ProwritingAd takes care of the differences, you have the option to change the type of English you want to write. So change the settings to American English if you want to write for an American client.
How to use ProWritingAid?
ProwritingAd has immense power to make your content more actionable and reader-friendly. If one intends to achieve great results with any tool, then the right and optimal method to use the tool must be known. Only then the actual potential of the aid or tool could be achieved.
Here is how to use ProWritingAid Optimally:
Type of Writer Selection:
Right at the time of Sign Up ProwritingAid asks you to select the type of writer you are.
You can choose to be
Fiction
Non-fiction
Academic
Business
Blogger
Copywriter
Any other Type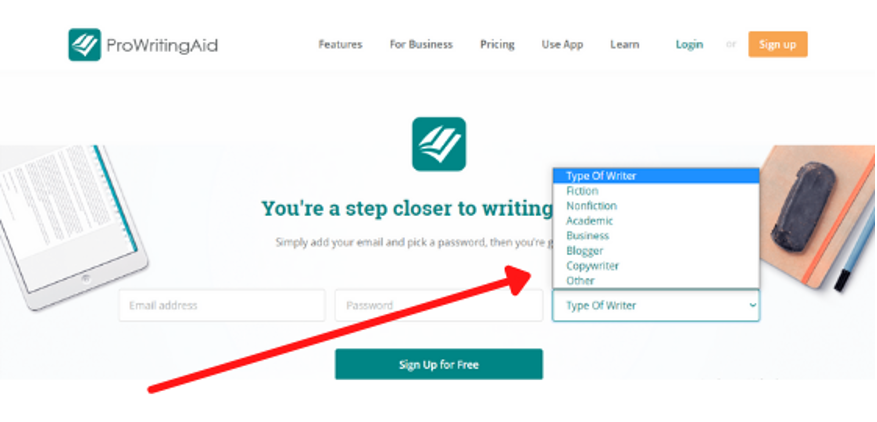 Once you have successfully signed up, the next step is to decide what type of integration you want. If you write your content on Google docs as I do, you can make that integration. Or if you prefer Microsoft Word then you can choose that also.
If you want to use the Web editor to start editing your content you can select that also.

Once you paste your content to the web editor it will show you relevant suggestions for making changes based on grammar mistakes, punctuation errors, unnecessary styling, and more.
Let's look at the screenshot below after I have copy pasted some of my written content into the editor.
The reporting dashboard looks like this(see pic below). It has all the scores for Grammar/Spelling/Style and more, so you can check the quality of the quantity and make the necessary edits to make it reader-friendly.
The scores are based on 17 parameters
Grammar/Spelling/Style
Sentence Length
Readability Grade
Sentence Variety
Inclusive Language
Passive Voice
Complex Paragraphs
Conjunction Starts
Slow Pacings
Very long Sentences
Glue Index
Emotion Tells
Starting with "Ing" Words
Dialogue tags
Unusual Dialogue Tags
Dialogue Tags with adv
And Weak Adverbs
The goal is to achieve 100% and the AI technology will help you achieve that no or a nearer no.
Currently, the dashboard is showing 29 areas of improvement. Let me correct all those and see what score I achieve for my content.
I have used all suggestions and there are 0 warnings (29 earlier) and I achieved 88% with 100% improvement.
How to achieve 100% with ProwritingAid?
Once you cover all the suggestions and warnings most of your score will reach above 80%. But to achieve 100% or near that, you have done some more tweaks to your content.
To find out these areas you have to look at the left-hand side of the editor and you will find all 17 parameters(see above).
Check which parameters are not green and time to edit according to them.

It shows 2 parameters that need improvement, one is Glue Index and another is sentences starting with word -ing.
When you use too many glue words in a sentence they become too heavy and not reader-friendly. If you click on the item it will scan the whole document for sentences with maximum glue words. If you move your cursor on the highlighted sentences it will tell you the problem and suggestions to make it the use of fewer glue words. The ideal % of Glue words in a piece of content is 40% or below.
The second one is the no of sentences starting with "ing" words like editing, copying, writing. Though it is grammatically correct, it is a habit of newbie or novice writers. The fewer sentences starting with "ing" words the better the impression of the writer.
Once you are done with the improvements you will see a better score of 90+.
How to Use Settings in ProwritingAid?
Settings are one of the important features of Prowriting aid and it should be set before you start editing your content. You can choose the type of English you want to focus on
American English
UK English
Canada English
Australian English
General English

The second type of setting is where you describe more about your writing style(academic or business writing), define your work (a sales letter or an academic essay).
It covers Academic, business, Technical, creative, casual, web, and scriptwriting.
The last part of the setting is for software integrations where you set the platforms where you want Prowritingaid to work and edit your writing for you.
Some tips to make your content editing experience with ProwritingAid smooth,
Learn all the functions and features of ProWritingAid to make adjustments according to your geography of readers,
Set some goals before writing the piece. This means that the writer must have clarity about what objectives he or she intends to achieve through the write-up.
You must understand where the article must be in terms of its tone, intent, delivery, engagement, and writing style.
When you start writing a writing piece, after every 500-word count, run a check on ProWritingAid to keep on rectifying the errors.
After finishing writing, use ProWritingAid to run a plagiarism check to see any duplicate content which needs citation or attribution.
Use it to find out the abstract words that require modification, and the use of clear words.
By using ProWritingAid in the above-mentioned way, a writer can optimally utilize all the major features of the ProWritingAid and write authentic and engaging content.
ProWritingAid vs Grammarly
Grammarly is the most used grammar correction tool in the market today Let's do a head-on comparison of ProwritingAid Vs Grammarly.
First, the Similarities between ProWritingAid and Grammarly:
Both the tools can be used to check grammatical errors, punctuations, and spelling errors. The free plan of both tools is sufficient for the basic level check-up of your content.
See the interface of both the apps,


Now let's have a look at the differences between ProWritingAid and Grammarly
ProwritingAid
Grammarly

● The free version has limited use, you can only use the web editor online. No desktop use
● The free version has fewer integrations available
● You can check only 19 documents in a month with the free plan
● There is a ceiling of 500 words to edit at a time in the free version
● Premium plans have limited plagiarism checks each year(50 reports only)
● No app support
● ProWritingAid gives an exhaustive list of errors(17 parameters)
● It has a more in-depth analysis and better report of your content
● ProWritingAid offers Combo Reports that give a granular understanding of the issues
● Suitable for Fiction writers
● The annual Premium plan is around $60 which is cheap.

● The free version can be used online and for desktops.
● The free version can be integrated into web browsers, google docs, Scrivener, and Microsoft word.
● You can check unlimited words each month in the free version
● No word limit while editing in the free version
● Unlimited plagiarism checking in Grammarly Premium
● Grammarly has a great app
● The list of errors at Grammarly is less
● Less in-depth Analysis
● No combo reports feature in Grammarly
● The annual Premium plan is around $140 which is costlier then ProwritingAid
● Not exclusively suitable for any genre of writers

ProWritingAid Plans
ProWritingAid has free as well as paid plans. This indicates that if you want, you may use ProWritingAid for free. However, if you want to access some more advanced features, you may get the paid version.
Features of ProWritingAid Free
The free version contains the following features:
Summary Reports that elucidate the key issues with the Writing piece.
19 Writing Reports
500 words can be checked for grammatical errors at a single time.
It can be used only Online.
Features of ProWritingAid Premium Plan
The Premium and paid version of ProWritingAid has the following features:
All Functionalities that are available in the free version
There is no word limit
The Desktop version of ProWritingAid is available.
Besides these, integrations are available for Google Docs, MS Word, Chrome, and Scrivener
The price for this version is $79 per year.
ProWritingAid Premium+ Plan
This is the Premium+ version that contains added features and functionalities.
All the functions available in the Premium version
50 Plagiarism checks in a year
It is perfect for Academic writings and reports.
The price for this version is $89 per year.

ProWritingAid Discounts
ProWritingAid has offered special discounts to avail themselves while buying the Premium versions of the writing app.
1 Year Pack for $45 (instead of $60)
2 Year Pack for $67 (instead of $ 90)
3 Year Pack for $90 (instead of $120)
Lifetime Pack for $ 157 ( instead of $ 210)
Why should I get ProWritingAid?
ProWritingAid has an in-depth analysis report which helps write flawless and structured content, It can b used for academic writing, research papers, thesis, blog content, website content, white papers, term papers, thesis reports, and so on.
So let's see the reasons why you should go for ProWritingaid
More Detailed Reports
The reporting dashboard shows an in-depth and thorough analysis. It is available in free and premium versions(all 17 parameters).
Avoid any errors in the content
It helps in writing content without any grammatical, punctuation, or spelling errors.
Measure the Readability
Readability is a major challenge for many writers. Though they do good research when it comes to putting them through words it becomes very difficult. A reader wants to read which are easy to understand, concise, and simple. ProWritingAid helps the writer to see the readability of the content and make changes to improve the readability.
It is said that the readability of ideal blog content should be 8 grades or less.
Understand the intent of the content
It helps keep the intent of the writer, which may be informative, descriptive, argumentative, optimistic, or interactive. Its suggestions are based on the intent of the text.
Set the tone for the content
For content to be effective, it must have a definite tone that would enhance the communicability of the content to the intended audience. ProWritingAid, therefore, helps the writer in setting the right.
Providing Combo Reports
ProWritingAid gives exceptional Combo Reports that help in better formatting and organizing the content.
Sticky Sentences
ProWritingAid helps a writer identify and detect sticky sentences that deteriorate the writing style and provide effective suggestions. Sticky Sentences are those that are heavy in glue words. Excessive use of glue words makes your reader slow and thus may not convert.
Customization
ProWritingAid provides customizations for the writer as every writer has a unique style of writing. This customization enables the writers to take up the suggestions and make them their own.
Our Verdict on ProWritingAid
ProWritingAid helps you write concise, crisp, and clear content with good readability scores ingrained for the target readers.
Why did I choose ProwritingAid over Grammarly?
It scans for any errors in the text other than grammar, punctuation, and spelling that other applications may overlook.
As a beginner, I used the free version and it was sufficient but as I scaled my writing career I choose the premium plan which has more features.
It provides comprehensive and structured reports that enable you to overview the text.
It helps enhance the readability of your content. It helps you format the content with proper structure and flow.
The ProWritingAid helps in checking any plagiarism in a writing piece. This helps in ensuring that the content is unique and establishes its authenticity.
ProWritingAid helps you set your content goals and objectives. You can set it to be academic, business, or fiction writing. The tool will adapt itself accordingly and make suggestions to make your content flow in that direction.
I liked the way ProWritingAid helps you make your content more engaging with proper flow and standard use of language. It helps you remove the unnecessary adverbs, ing words, duplicate words making it appealing to the reader.
You may find good alternatives to your Sticky sentences thanks to ProWritingAid. They give apt alternatives that provide more meaning and clarity to your content.
ProWritinAid helps you make customizations based on your writing style.
Conclusion:
ProwritingAid is a great tool that can help you not only with your basic grammar and spelling but also with more advanced issues like subject-verb agreement and wordiness. It's important to have tools like this one to keep your content at the highest quality possible.
We're excited to see what you think of it! Let us know by leaving a comment below.
---