5 Pivotal Purposes of Creating a Blog in 2023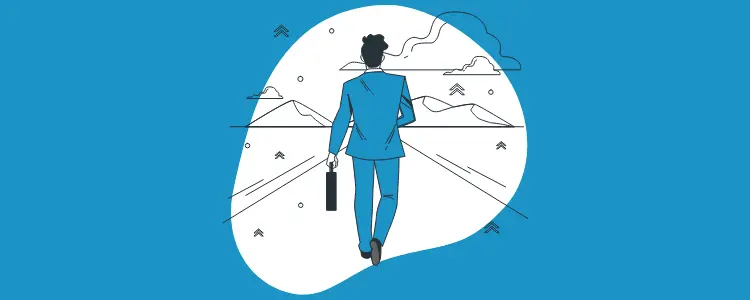 Have you ever experienced this anxious feeling when you started a blog just after discovering about its real opportunities from one of your friends or a YouTube video only to regret it later?
I am lucky enough not to make this same mistake.
But everyone is not an exception just like me.
Starting a blog without knowing your main purpose may end you up in sheer breakdown sooner or down the road.
And most of us overlook this important step thinking that it requires reading truckloads of books or connecting with other bloggers to find out your true blogging purpose.
That's plain madness.
You can easily find a purpose to blog sitting on your couch.
In this article, I will tell you exactly how to do that.
So, if you want to kick-start your blogging journey with a sure-fire purpose and finally cherish it, then you will love this new guide.
Keep reading.
State The Purpose of Creating a Blog
1. Chore blogging
Chore blogging is also notably referred to as – blogging as a hobby, meaning the main purpose of a hobby blogger is not to become famous or earn money.
It is rather exploring oneself further.
Hobby blogging was a huge trend back then when people didn't know much about blog monetization opportunities.
As of now, not many people have their personal blogs. The main reason for its obsolescence is the upward growth towards Vlogging.
People prefer watching personal vlogs rather than reading huge blocks of texts about a person's journey.
In my recent guide on Blogging vs YouTube, this was one of the key points that I emphasized.
Even today, some people favor chore blogging and that's fine.
But if you do so, always remember that you are doing it for yourself as no one else (or very few) will read it unless you SEO optimize your articles.
Takeaways: As a hobby blogger, writing down your daily routine on your blog in a clear format can surely help you keep track of your wellbeing.
In fact, you can even write a book, if possible, on the things that you wrote for years.
Who knows what hits your eye. Everything's possible. Just hold tight.
2. To create mass impact
This is a huge one.
If your main purpose is to make this world a better and fair place to live, then you can surely try our blogging.
A great example of this type of blog is Change.org: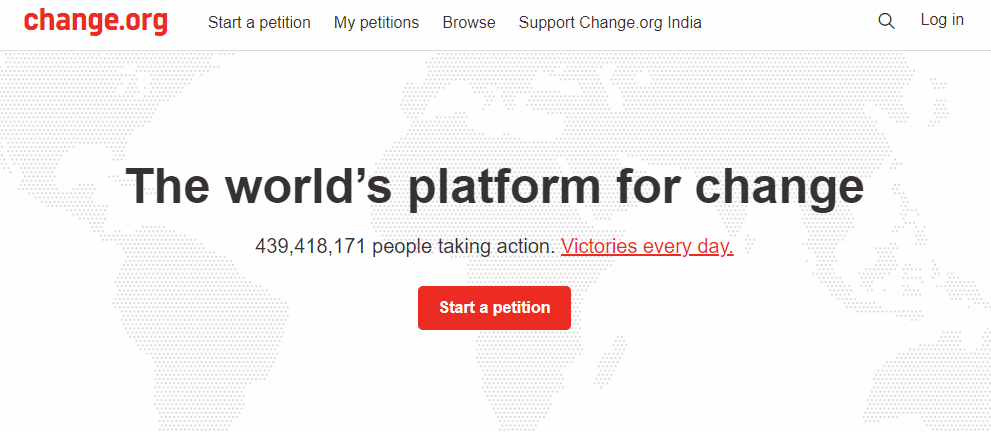 It is an American-based non-profit organization blog started with the main purpose to give justice to people (in any field) by signing the petition and approving them.
You need not start with something similar and massive.
By picking a single domain and progressing towards it, you will keep unlocking opportunities for the other.
If you want to start this kind of blog, you may be thinking – "How will I get my blog noticed when there are already successful portals on the same?"
Here's my four-step proven formula to make this type of blogs successful (without spending more money):
Step 1: Start as a normal blog initially. Here is the comprehensive blog launch checklist that you can follow.
Step 2: Write great blog posts on the topics that you want to support. Writing content will take time but once your articles start ranking organically, you will start getting consistent traffic from search engines.
Step 3: Don't let that traffic gets wasted. Instead, implement this secret tip to convert strangers into visitors and visitors into fans.
Remember Change.org?
Let's look at their monthly traffic distribution:

What do you see?
They get around 5% visits every month just through an email.
Now, that's insanely great.
In just three words: Start Email Marketing.
Ask for their email address and give something valuable in exchange. In this case, aware them regularly through a series of educative mail on a certain topic.
Step 4: Lastly, once you have a genuine amount of monthly visits and email subscribers, you can gradually convert your blog into a petition website or something that you wish.
If required, hire a developer to make responsive forms and all more attractive.
This isn't as difficult as it sounds, meaning following the above steps and starting with SMALL is the name of the game.
Down the road, you can always build a reliable team.
Takeaways: Impactful blogs have less competition as very few people think this way.

They think you will not be able to make any money from these types of blogs. Let me tell you, you can charge a monthly membership and run display ads.
If asked by anyone, tell them that you need some amount of funds to keep your site alive being a solo founder (which is mostly the case).
3. Blogging as an authority
This is what I do here, at Scale Blogging, and recommend you do if you want to build a brand as well as make a living from blogging.
In authority blogging, blog branding, publishing content on a specific niche, and building genuine connections play a huge role.
Authority blogging is for you if are serious about taking your blog as a start-up and work seriously and regularly on it.
Through an authority blog, you can:
Create a super-targeted audience base
Bring converting traffic to your site
Get loved and promoted by search engines
Become an industry expert in your niche
Build invaluable connections
Make a ton of money
And there is no end.
No wonder why I keep pressing largely on the sentence – "Authority Blogging is the future" throughout my blog.

Recently, we published a definitive checklist of 10 things that you should never do when starting a blog where I explained some important steps of authority blogging.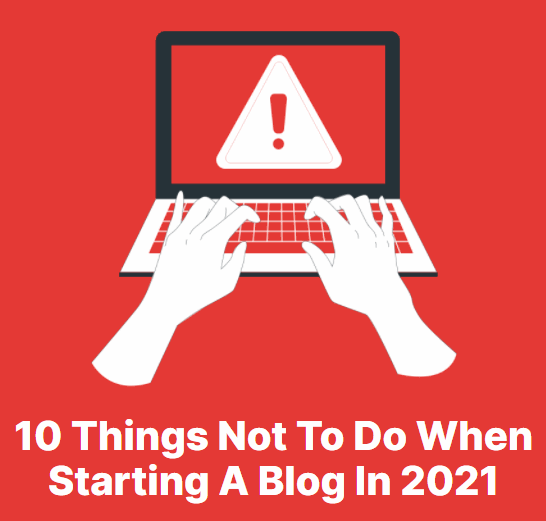 Have a look at that article to learn more about the importance of authority blogging.
One more query that usually triggers the person's mind is that – "I want to start authority blogging but I am confused about picking a niche. What should I do?"
In this case, most invest in a domain name without even thinking about the niche.
Pro Tip: If you are baffled regarding the niche selection, do this – Use your name as a domain so that you can shift between niches until you come up with a strong one.
Have a look at the definitive guide on using your name as a domain to eliminate unsolicited bloopers regarding the same.
By and large, blogging isn't dead if you follow the path of authority blogging and work your way around it.
Takeaways: Google loves authority blogs due to the core E-A-T algorithms. You do not want to build a blog that talks about a little of everything only to lose trust.
If you want to start blogging, become an authority blogger. It will remove all the cons of blogging by itself. That's the beauty.
4. Blogging for your business
If you are running (or wish) to build a company or a SaaS business, then blogging can aid you, and in lavish amounts.
You know Walmart, right?
It is a multinational retail business and it also has a blog and fortunately, a significant amount of their traffic also comes through the blog and gets freely advertised.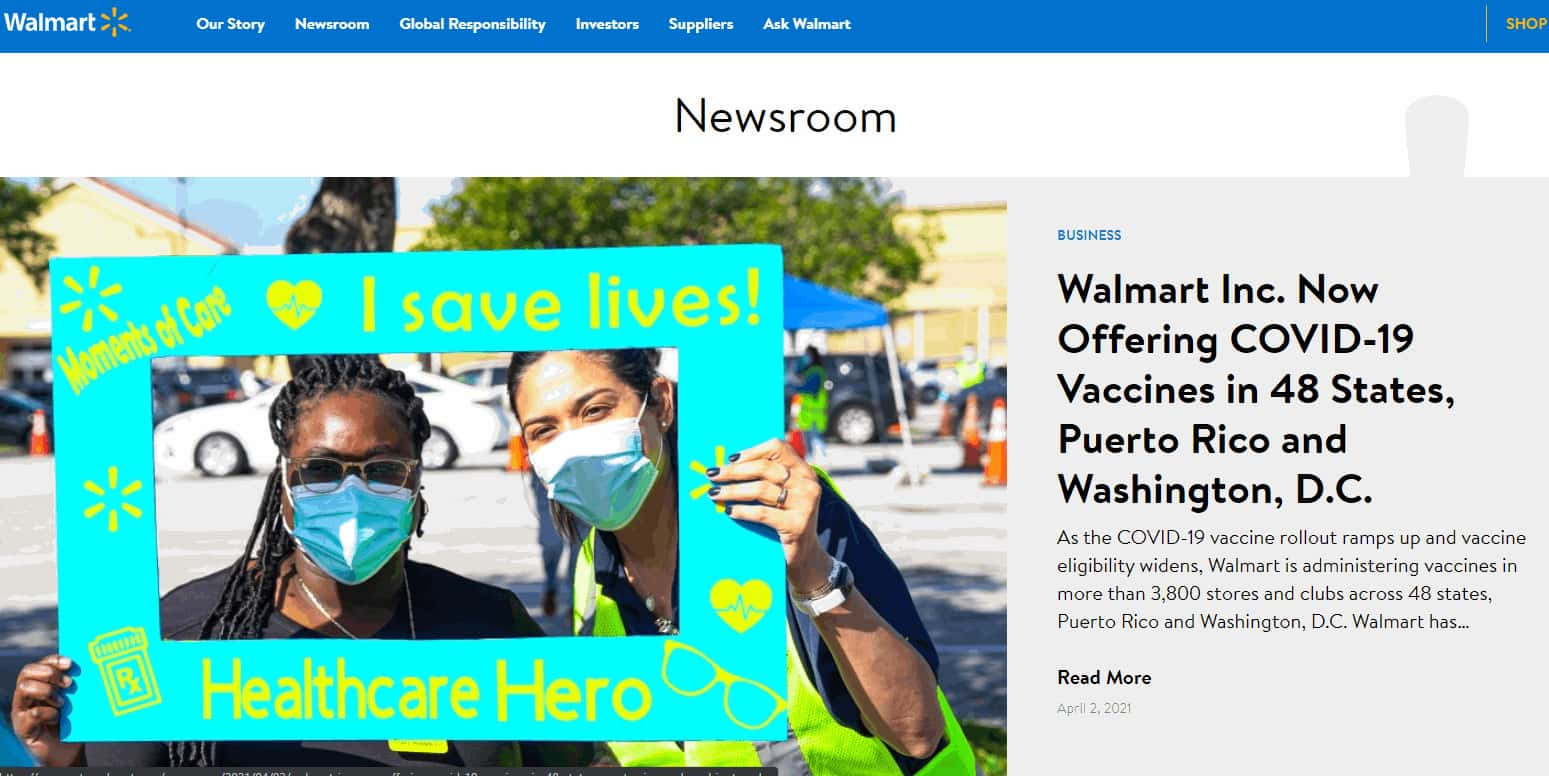 That's the real power of blogging the right way.
You name it and they will have their blog. Most colossal company shares its latest news and updates through its blog.
Ranking their articles in SERPs, they can bring an extra amount of highly targeted customers to their site – all without paying for any advertising.
If you have your product/service, you can leverage blogging to multiply sales within a record time.
Even an offline store does not take much time to transform into an e-commerce store and start generating revenue with less bookkeeping.
All you have to do is to create a blog around a topic of your product or service, nurture your audience and eventually pitch them the products through your blog.
Takeaways: There's nothing wrong when you can save a hefty amount of funds from advertising through blogging and using it for a better purpose.

Blogging has made it possible, luckily.
5. Blogging for portfolio boost
Source: Innovativeink by Elna Cain
Lastly, there are folks (mainly freelancers, job seekers, etc) who can get much out of a blog.
From portraying all your achievements into a neat gallery to using your blog as a resume, you can do so much with it.
You can create a minimalist blog where you can post all the accomplishments to date. It can include certificates, completed courses, testimonials, and whatever else you can think of.
Nowadays, almost every company or brand asks for your site (if you have one) meaning that almost every individual should possess at least one website where he/she can update the growth.
The main beneficiaries are freelancers. It is easy to get a job/contract in freelancing sites when you have a website.
This is because most clients ask for some social proof that can be stored on your website without a mess.
Try to include your site in all the places where you can. It can be social media platforms, LinkedIn, and other relevant bookmarking sites.
Takeaways: Having and maintaining a website isn't hard at all. A portfolio does not need regular updates like a blog. You can use the "set and forget method" here and whenever you achieve something new, you can add that to your site.


It will increase your overall authority and online presence as an individual.
These were the five major purposes to create a blog.
Now you know the possible purposes of blogging. However, you may want to know how to find your actual purpose.
Let's quickly jump on to that.
How to Find Your Purpose in Blogging?
To find the spot-on purpose, don't ask anyone else.
All you need is to ask this ONE concrete question to yourself – "What is my main reason to start a blog or what do I want to achieve at the end?"
There are many reasons to start a blog but you should always have your distinct one and not the influenced one.
By answering this one simple question, I bet you will become a better blogger no matter what you choose.
If you still face issues deciding your true blogging purpose, then you may want to have a look at the definitive checklist on 11 reasons to start a blog for a glimpse.
Start with the right purpose and you will enjoy the process.
And that's what matters in the long run.
So, What's Your Plan?
That's all.
Hopefully, you learned something new from this article and may have reduced your doubts to scarce if not zero.
Whatever your purpose for blogging is, my suggestion would be to take action as fast as possible – may be right now.
Your purpose will dissolve into nothingness if you do not take prerequisite steps. Move slowly but keep moving.
It's not hard.
Now, tell me: What is your purpose to start a blog?
Also, did I forgot any other essential purpose to blog?
Either way. Let me know by leaving your thought below right now.