How to Use Grammarly for Google Docs?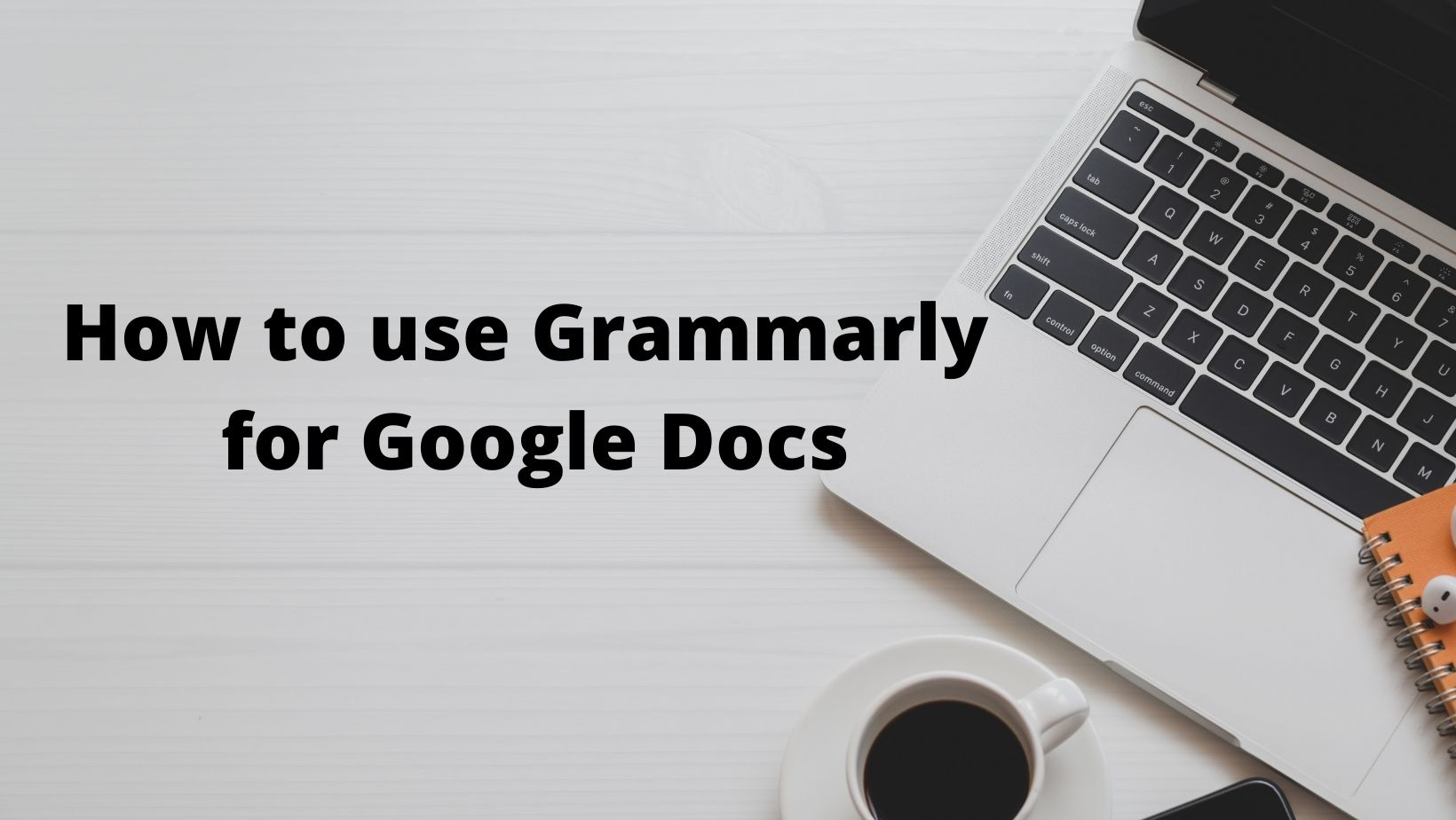 What if you can proofread your Google Docs directly? Sounds good right? So here comes Grammarly into play. Grammarly is a free tool that helps you make sure your emails, social media posts, and documents are clear, mistake-free, and impactful. Grammarly is a widely popular online grammar checker that can be used in most browsers and even on mobile devices. So today I will let you know how you can use Grammarly for Google Docs?
The company claims to have the world's largest library of quality grammar checks, with more than 250 billion words checked every year.
So, if you really want to make sure your writing is top-notch, Grammarly might be just the thing for you. The free version of Grammarly does its job so well but the premium version is remarkable. If you are a student then you can avail some of the good discounts on Grammarly.
Here we will discuss how to use Grammarly with Google Docs to mark the mistakes in your writing with corrections and explanations right inside the doc itself. Grammarly's AI technology can now write better than you literally.
What is Google Docs?
Google Docs is a free service that allows you to create, edit and collaborate on documents. It's easy to use, it's fast and it's powerful. As a writer, I can't imagine my life without Google Docs.
There are many elements in Google Docs like
Docs- You can use docs to write your posts, articles, or any other content, it is mostly used by writers and professionals around the world as it has far more convenient features than Microsoft word. Editing docs is very easy and has many features like Heading, title, and subheadings. It is most preferred by writers globally. You can also access Google docs from anywhere, you just need to log in to your Google account and you will find all your content.
Sheets- Google sheets are as good as MS excel and you can do even more things with this. Apart from functionalities, you can also access them from anywhere unlike Microsoft excel.
Slides- Google slides are the same as Microsoft PowerPoint but it has a better use. You can access them from any part of the world and you don't need to carry them with you as long as you can log into your Google account.
Forms- It is one of the most widely used Google docs elements in the world. Google forms are used to collect feedback, and reviews, get the contact numbers of attendees, etc. Google forms are widely used for online events, webinars for filling up applications, taking feedback, and more.
In this article, we'll take a look at how Google Docs can help your business run more efficiently and make every employee an effective team player.
Now comes the exciting part.
How to Integrate Grammarly for Google Docs?
Grammarly is a powerful tool to help you write better. However, it's not available only in the Grammarly extension for your browser or the Grammarly desktop app. You can also use it directly in Google Docs! no Grammarly plugin for google docs is required for this.
It is a powerful tool that can help you identify grammar, punctuation, and spelling mistakes in your google docs document. You can also use it to find plagiarism in your work. The Grammarly extension for Google Docs is easy to install and configure. It's compatible with other writing tools such as Microsoft Word, so you can use it while writing documents on Gmail or other online platforms too.
There are 2 ways you can integrate Grammarly into Google docs and they are –
Adding the Google Chrome Extension
Installing Grammarly for Desktop/Laptop
Make sure you follow each and every step cautiously otherwise Grammarly not working in google docs.
1. Adding the Google Chrome Extension
Adding the Grammarly extension to chrome is the easiest solution if you are using Goog;e chrome web browser. Most people use Googe chrome so Grammarly has an extension for users to add to their web browser.
In order to add the Grammarly Chrome extension, you have to click on the 3 dots on the extreme right-hand side of the browser. Then select "more tools" from the dropdown menu and it will open another pan where there is one option called "Extensions". Follow the path shown in the picture below.
If you click on the extension tab, it will take you to the Chrome extension page where you can add and manage your extensions. See the reference image below where all the chrome extensions that are active or downloaded, or added for your browser are in one place.
Now search for the Grammarly extension on the search bar(type Grammarly). It will open the Grammarly extension available in the Chrome browser. See the reference image below. Since I have added the Grammarly extension already it is showing like this.
But when you search for the Grammarly extension in the Chrome Webstore it will display the options right away. See the image below.
The direct link to the Grammarly app of Chrome Web Store is this- https://chrome.google.com/webstore/search/grammarly
Now you have to click on Add Grammarly Extension and it will install the Grammarly extension for you. Follow the process as shown in the picture below.
No wits activated you are all set to write and edit with Grammarly but before that make sure you are logged in to your Grammarly account. Once you are logged in you can start editing with Grammarly.
Now all your documents on Google Docs are covered by the Grammarly extension.
Writing and Editing with Grammarly for Google Docs
Once the Chrome extension is successfully installed on your chrome browser you are good to write and edit with Grammarly. See the reference image below. I have created a sample Google docs file and wrote some random words and Grammarly is showing all the possible suggestions for edits.
The suggestions, and errors are highlighted in red underline color so you can easily spot them. And when you take the cursor in the error it will show you suggestions on how to correct it. You can see the big red underlines in the reference image below those are suggestions by Grammarly for a possible grammatical error or spelling error, wrong use of adjectives, repeated words, and many more.
See the reference image below for how Grammarly shows suggestions for each highlighted error. There was a spelling error as "Instructions" was mistyped as "Instructions" so it asked you to change it to the correct spelling. If you click on the Instructions then it will correct the spelling error automatically.
In some cases, it does not recognize a word that is not in its dictionary avoid such errors using the add to the dictionary or dismiss option so that it stops showing you an error.
2. Installing Grammarly App in Your System
The other way to enable Grammarly in Google Docs is to use the Grammarly Installer to install Grammarly in your system(laptop or Desktop). This will activate Grammarly for all your web browsers. It supports all types of web browsers like Chrome, Safari, Opera, or Firefox.
Grammarly supports all types of mail clients like Gmail, MSN, Yahoo, Mail.com, and other leading names.
Grammarly supports all Microsoft office elements like Word, Powerpoint, Excel, Access, Outlook, and more. It also supports online editing and writing documents like Google Docs. Google Sheets, Google Slides, and google forms.
So let's begin with how to add Grammarly to your laptop or Desktop.
Download and Install Grammarly for Windows
Most computers(laptops or desktops) have the Windows operating system and the Grammarly windows application installer is for them.
Follow this path https://www.grammarly.com/desktop/windows, to download the Grammarly app and install it on your windows system. See the reference image below for a clear understanding. Click on the download Grammarly button and it will download the Grammarly installer the next step is to install Grammarly by using the installer.
We have a detailed guide on how to install Grammarly for MS Word and Outlook where we have explained how to install Grammarly in step-by-step detailed instructions. 
Download and Install Grammarly for Mac
For those who are not using a Windows computer and are using Mac from Apple then Grammarly has a special version curated for them.
Follow this path https://www.grammarly.com/desktop/mac, to download your mac version of the Grammarly app. You have to follow simple screen instructions while installing Grammarly.
These are the two ways you can install Grammarly or integrate Grammarly into Google docs page. Grammarly works in Google docs to help you catch and correct common grammatical errors. A lot of people use Grammarly, but they don't realize that it works in Google Docs. So this Guide is for those who are still using the Grammarly app and using copy-paste method to check for errors. Using Grammarly helps in proofreading and it makes the copy more readable and better understandable.
checkout the video here –
Conclusion:
One of the most important parts of completing any work is proofreading. If you want to make sure that your work can be understood by the widest audience possible, then look no further than a good grammar checker like Grammarly.
Grammarly gives you the confidence that your grammar, spelling, and punctuation are flawless. A lot of people use Google Docs for their writing, but do you know what happens when you miss a typo? If you're not using Grammarly yet, we highly recommend it! We hope these tips were helpful!
If you will get any problem in setting up the Grammarly for Google Docs please do comment and let us know.