Grammarly Plagiarism Checker Review- A Comparison with the Best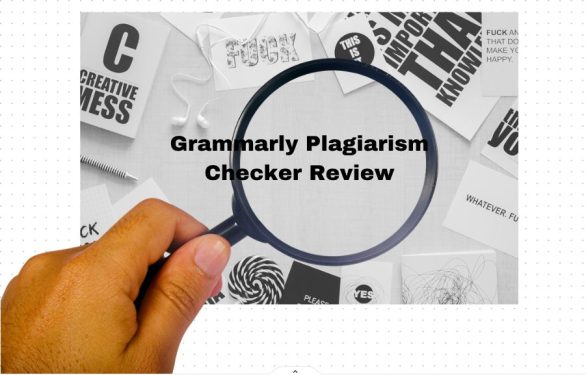 There are many free and paid tools available to detect plagiarism but only a few of them really detect plagiarism. So, here we will review Grammarly Plagiarism Checker and will compare it with another Plagiarism checker available in the Market.
When the text we write is not unique it is called plagiarism. Sometimes even if the context and thinking are different but the same words are used to describe something then it can be detected as plagiarism.
In this post, we are going to explain one such paid but a quality tool that detects plagiarism in our written texts. Here Grammarly plagiarism checker, we will not only see how it works but we will compare it to some other reputed plagiarism checkers like Prowritingaid and so on.
Grammarly Plagiarism Checker Review
Grammarly Plagiarism Checker can be used to check for plagiarism in any type of document, including essays, research papers, theses, dissertations, and more. All you need to do is to upload your document and wait for the report. The report will show you the percentage of plagiarism in your document, as well as the sources of the plagiarism.
If you use an online plagiarism checker, then you should definitely try Grammarly Plagiarism Checker. This tool is designed to help users check their documents for plagiarism, so they can be sure that they are not accidentally committing plagiarism.
In this review of Grammarly plagiarism checker, we will look at its features, how it works, advantages, disadvantages, and pricing, and will compare it with 3 other reputed plagiarism tools.
Features:
Grammarly is a Online Grammar checker tool that is used by many writers and students to ensure their work is original. The Grammarly has many features like Grammar Checker, Plagiarism checker and so on, that make it a useful tool for writers and students.
Let's look at the features of Grammarly plagiarism checker,
It can detect plagiarism in any kind of text be it academic, blog post, marketing copy, research document, or scholarly article.
Grammarly plagiarism checker scans the document or text and highlights the plagiarism sentences that need modification or citations
It also gives writing enhancement suggestions that come free with the plagiarism checker
The plagiarism checker is designed to work for students, teachers, writers, researchers, scholars, bloggers, etc
The Grammarly plagiarism checker can check for plagiarism in a variety of languages. This is helpful for writers who speak multiple languages or who want to check their work in different languages.
The Grammarly plagiarism checker can also check for plagiarism in a variety of formats. This includes checking for plagiarism in Microsoft Word files, .TXT files,.ODT files. RTF files, and even web pages. This is helpful for writers who want to check their work in different file formats.
How It Works:
A plagiarism checker has a unique algorithm that scans pages for structured patterns and unique identifiers to denote a score for each page. Then this automatic scoring system is analyzed to find the best possible matches.
When you upload any file or text to the Grammarly plagiarism checker it scans the texts of the documents and tries to run matches with its database of 16 billion web pages, 6 billion digital pages, 4,50,000 e-books, 20 million dissertations, and 90,000 authoritative sources.
If it finds any matches then it returns and highlights that part in the document.
It also shows the reference of the web page or the document which matches the text in the document. It is a huge relief for the writer as he/she can directly see the source of plagiarism and decide whether to edit the text or cite the source article.
Advantages:
Highlights passages for easy understanding
Citation assistant to help you cite original sources
A huge database of webpages and access to the ProQuest database for academic and scholarly articles.
It can process multiple languages and its language assistant feature is the best one
It does not sell your uploaded content
Apart from plagiarism detection it also helps you correct written words and enhances your writing
Disadvantages:
It doesn't have any free plans, you have to upgrade to a premium plan before you can use the plagiarism checker
You can search a limited number of characters (20000) in each batch
It suits more for commercial purposes and self-checks than the academic purpose
Adds you uploaded content to the database
Pricing:
The Grammarly plagiarism checker is not a free tool or app. To access it you have to pay for it. To use the plagiarism checker you have to upgrade to the premium plan. However free plan also work but not in the professional manner.
The Annual Premium plan starts at $12/month for a single user.
The Quarter premium plan is $20/month for a single user
The Monthly premium plan is $30/per month for a single user
If you have multiple users then you can go for an enterprise plan which starts at $15/month/user
You can get Grammarly student discount if you are in some college or University.
Grammarly Plagiarism Checker VS Turnitin
Both plagiarism checkers have their pros and cons and are used at various levels to check both business and academic content.
| | |
| --- | --- |
| Grammarly: Standard level of an algorithm to detect plagiarism was built to help students with correcting their writing detect plagiarism but its accuracy can be shaky at times it for commercial or business-related content | Turnitin: A more developed algorithm than Grammarly to detect plagiarism Turnitin was developed only to be a plagiarism checker accuracy is damn straight to the point always fit for everything but specializes in academic content, scholarly articles, and research papers |
Turnitin is more accurate when it comes to identifying plagiarism, but it is also more expensive and harder to get to use as a private account. Grammarly is less accurate but is more affordable.
Grammarly Plagiarism Checker VS Quetext
Grammarly and Quetext are easy to use and have a lot of features. However, there are some key differences between them.
| | |
| --- | --- |
| Grammarly: Matches the whole sentence or a larger part of the sentence. Comes with a citation assistant with minimum functionality accuracy is moderate but detects most of the plagiarism supports multiple languages fit for detecting commercial content It uses the same color highlight for multiple sources which makes it harder to distinguish and does not do good when it comes to detecting spun or rephrased articles. | Quetext: Partial matches with short parts of a sentenceTh Citation assistant is just better than GrammarlyQuetext matches shorter parts of the sentences and it has more in-depth accuracy than Grammarly does not support multiple languages fit for commercial content but not research and scholarly articles different color for different sources and partial matches are highlighted in yellow and orange while full matches are highlighted in Red. This makes distinguishing plagiarised parts very easy. |
Important Factors of an Accurate Plagiarism Checker
But before we get on with our review of the Grammarly plagiarism checker, we must know the factors that make any plagiarism tools effective and accurate.
Be it academic writing, marketing copy news article, or a blog post a good quality plagiarism checker should be accurate enough to detect plagiarism. Though the level of database access required to check academic writing varies significantly from that of a written blog post.
An accurate plagiarism checker should be
Able to check plagiarism from open and closed sources
Access to a large source of databases, and libraries
Able to detect texts that are spun or rewritten
Conclusion
The Grammarly Plagiarism Checker is a handy tool that can help you avoid accidentally plagiarizing someone else's work. It's quick and easy to use, and it's accurate in detecting copied content. If you're looking for a plagiarism checker to use for your blog posts and news articles that are accurate and cheap, this is a great option.
Strengthen Everything you Write | Grammarly