Honest GeneratePress Review (2023): Tried and Tested
Pros
Fastest WordPress theme out there.
Highly secured.
Ease of use and beginner-friendly.
Total theme size less than 10 KB (lightweight).
Lifetime free account and competitive pricing for a premium plan.
Ready to use dozens of templates in the premium version.
Compatible with most plugins and even the page builder like Elementor.
Cons
The free version has feature limitations.
The company isn't backed by a group but by a sole developer.
The customization method can be improved.
TLDR GeneratePress Review
GeneratePress is one of the commonly used and most loved WordPress themes out there.
With countless premium modules, ease of use, solid speed optimization & over 3 million downloads (as of now), GeneratePress tends to be one of the best WordPress themes for years.
WordPress themes are like delicious ice cream.
Your soul does not satisfy even after having one and craves for more and more.
There is a problem of choice is which theme to go with.
What about Theme A?
No, it will slow down your speed.
Okay, then what about Theme B?
Try again, it is not mobile-friendly.
These are some of the most typical answers that we face while choosing the best WordPress theme.
Me neither being an exception, I too fall into the analysis paralysis when it comes to theme selection.
But after activating multiple themes, I finally found a perfect match.
Today, Scale Blogging uses GeneratePress premium and I am happy about the decision that I took a while back.
I think you are here for the same reason. Aren't you?
Don't worry.
Whether you are just starting a blog and filling your blog launch checklist with top themes or you want a better theme for your website, this definitive GeneratePress review is for you.
It worked like magic for me. But will it work the same for your online business?
Let's find out.
What Is GeneratePress?
GeneratePress is a multipurpose, highly praised WordPress theme into existence for over six years now.
From providing exceptional support to presenting innumerable unique features, GeneratePress becomes one of the popular themes out there.
Even if you head over to the popular themes in the WordPress themes directory, you would discover GeneratePress hanging at the top.

And their reviews & downloads per day also prove the point.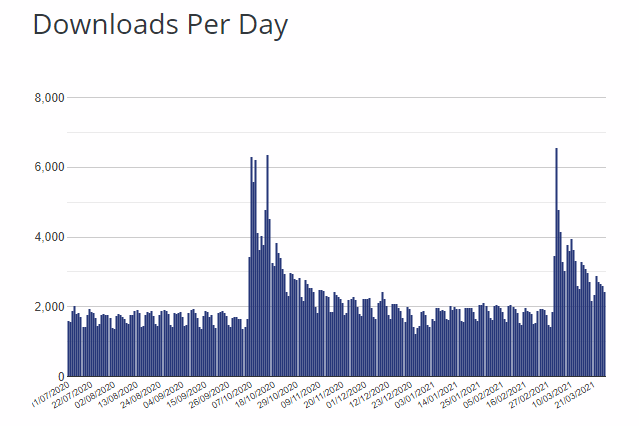 That being said, it is clear that WordPress is a thing.
But this isn't enough.
GeneratePress Speed and Performance
As my blog uses GeneratePress premium, here is the site speed performance from Google Page Speed Insights: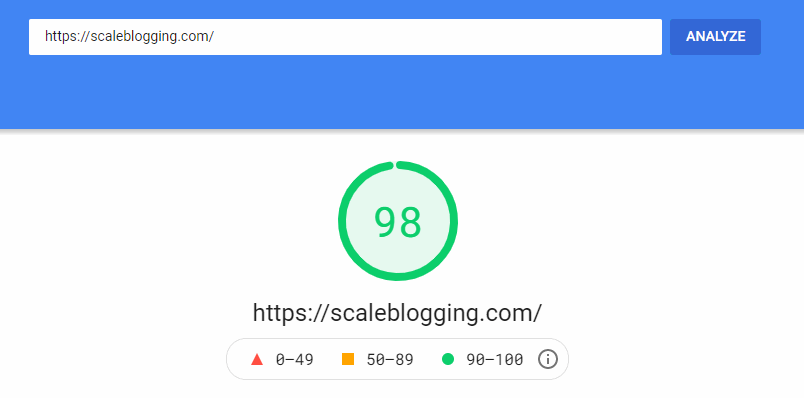 And this is from GTMetrix:

And the last one, Pingdom Speed Checker: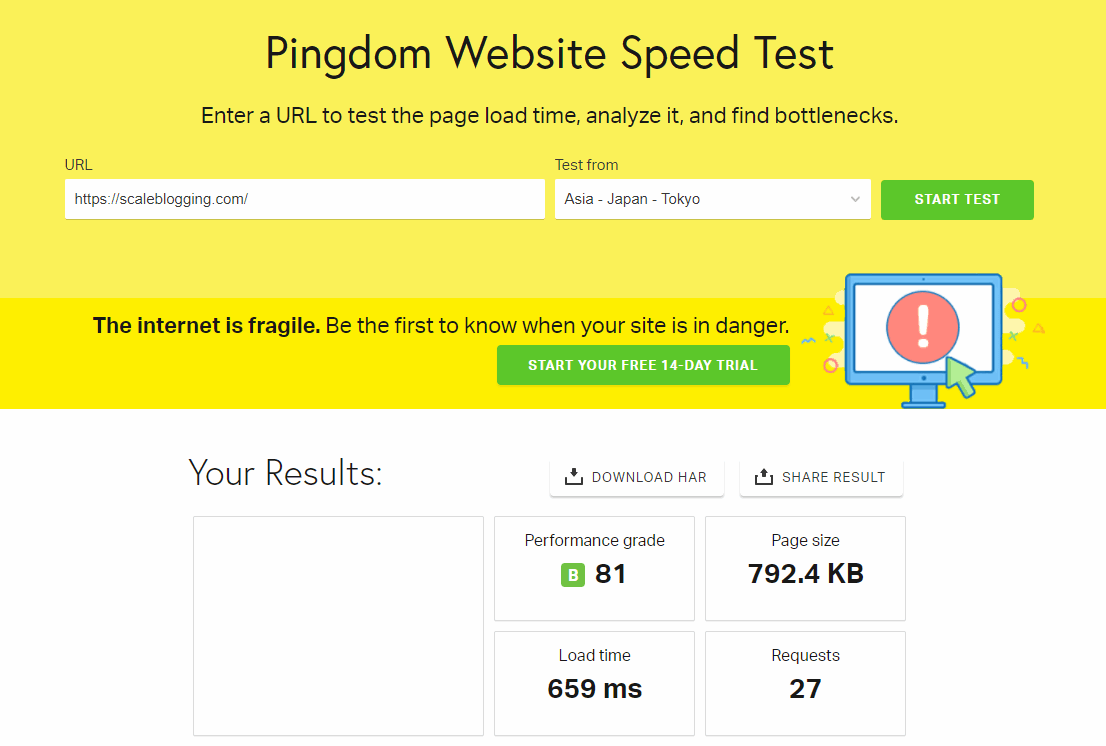 Quite impressive.
Even after using multiple media formats & lots of images in a single blog post, GeneratePress does a great job of maintaining the speed of the blog.
In fact, as speed is also one of Google's core ranking factors, GeneratePress has kept itself up to date from upcoming algorithms.
This is the main reason why I never looked back after investing in GeneratePress.
Currently, three of my sites (including Scale Blogging) uses the GeneratePress Premium theme.
Speed and all is okay.
What excites most of us is the benefits that this theme has to provide.
Benefits of Using GeneratePress Theme
To be honest, GeneratePress is great in itself not only due to the "lightweight theme" name given to it but also for the various features that it serves.
There are very few themes that try to solve the majority of a website owner's pain points through a theme itself.
And GeneratePress is one of them, luckily.
GeneratePress features are the main reason that helped in branding my blog the precise way.
Some of its key features:
1. Secured theme –
If you are a blogger or a website owner, one of your main concerns might be regarding the optimum security of your site.
This is where GeneratePress truly nails it.
With clean coding, Tom Usborne (founder of GeneratePress) has tried his best to keep the theme structured & fluff-free.
This in turn helps in removing redundant clutter of code and enhances encryption.
Not only that, before they launched GeneratePress, their code was reviewed by WordPress community leaders for the betterment.
And the regular updates keep the theme fresh and bug-free with constant minor improvements.
This will help you sleep peacefully without fearing losing your website all the time.
2. Total theme size of less than 10 KB –
This is a big one.
According to them, the default (free) version of GeneratePress takes less than 10 kb.
And they are true when they say it.
Even the free version is super-fast and optimized for almost every type.
Be it an e-commerce site or an authority blog, GeneratePress can adapt itself to extreme environments.
Where other themes are settling themselves in 100s of KBs (if not thousands), GeneratePress is initially less than 10 kb which makes it agile than most.
3. Top-rated theme –
The data speaks for itself.
If you head over to GeneratePress official page on WordPress, you will SEE something like this:

Over 1000s of five-star reviews along with 1000s of downloads every single day.
Besides this, Tom is an experienced web developer. He has made many plugins successful through his marketing mix & programming talent.
In short, he knows his stuff without anyone's consent.
4. Enhanced for everyone –
No matter how small or big your online portal is, GeneratePress has got you covered.
In GeneratePress Premium (aka GP Premium), you get different premium modules that help design your site smoothly without downloading any external plugins.
One of their modules is Woo Commerce. Therefore, if you run an e-commerce site and are using Woo Commerce plugin, then this module can be of great help.
In the later part of this GeneratePress review, I will tell you exactly how every module can help you.
It comes with templates that fit all.
Even if you are editing your posts and pages with page builders like Elementor, Thrive Architect, etc, GeneratePress has separate ready-to-use and customizable templates for all.
As a blogger, it will become easier than ever to arrange and plan your blog content and do many more cool things.
5. Schema & search engine optimized –
Not all themes are schema optimized. Many just promise but there are no results in the end.
However, GeneratePress has rich schema results enabled.
It means you can play around with different types of articles that you are going to write and display relevant snippets.
For a product review, for example, you can display RATING or something similar to it.
Here is an example of a schema optimized for sitelinks search box.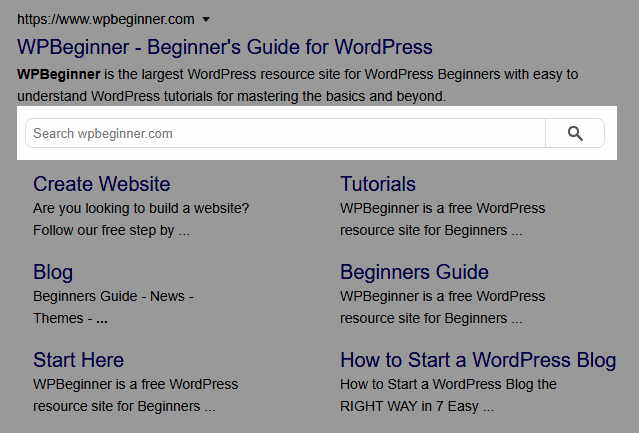 They get their answer directly from searching your article and your Click Through Rate eventually increases.
6. Speed optimization –
By now, you know that GeneratePress is less than 10 KB which makes it the most lightweight WordPress theme.
This, without any doubt, makes your site load super-fast.
It is very helpful as search engines are pressing more into core web vitals which also includes the First Contentful Paint.
By using GeneratePress, you eliminate the fear of degrading your site's performance.
Not bad.
7. Variety of options makes it unique –
When you hunt for any new plugin, it makes you happy.
When your site loads within 3 seconds, it is even better.
But when you can do all those things without installing any external plugins or add-ons, nothing beats that.
GeneratePress does that.
Believe it or not, you can even import/export the customization setting from one side to another.
This is just one feature out of many.
The free version is limited to basic editing. But once you move to their premium version, you can do whatever you can dream of.
Though GeneratePress is not equipped with a drag and drop feature, it is easier to edit pages.
Note: And you don't even need drag and drop from GeneratePress when WordPress 5.7 has fulfilled that dream too.
Besides this, it is also available with some awe-inspiring features as shown below: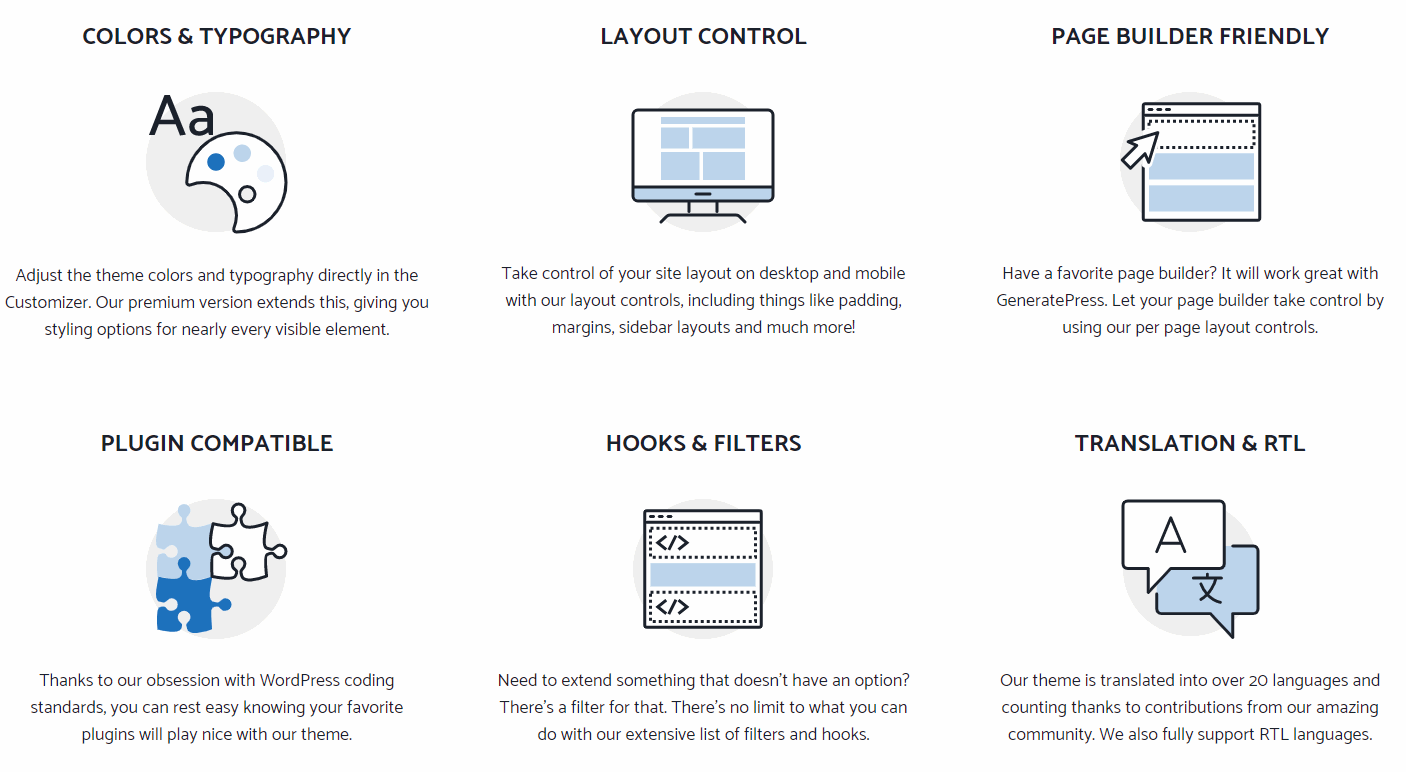 This was all about the GeneratePress benefits. Now, let's move on to the crucial comparison between the free and the premium version.
GeneratePress Free Vs Premium
GeneratePress comes with mainly two options:
Lifetime free plan (with restrictions)
GP premium (costing $59 for lifetime access)
Les go in-depth for both:
GeneratePress free plan features
The free version is not exceptional but it's better than the majority of free themes out there. The main reason being its lightweight coding structure.
If you are just starting as a blogger, affiliate marketer, or anyone with the sole purpose to keep your site clean and simple, the free version is for you.
In it, you will be able to customize all the basic things that you can do in other free themes such as changing the color, fonts, etc.
But, for you to be able to perform more advanced operations like a sticky header, creating custom hooks, add custom CSS, and do almost everything without writing a code, then you may want to check out the premium plan.
With that, let's discuss all the benefits of GeneratePress premium at length.
GeneratePress premium features
| Feature | Usage |
| --- | --- |
| Site Library | A demo site-library of premade templates that are ready to use within a click of a button. |
| Colors | More than 60 color options to play around with different color styles for better branding. |
| Typography | More than 70 font variants to give an extra punch into your site appearance. |
| Elements | Helps in extra customization options through WordPress block editor. Much suitable for coders. Create headers, hooks, and almost everything else. |
| WooCommerce | Optimize your e-commerce store with infinite typography and tweaking possibilities. |
| Menu Plus | Make your header sticker, separate mobile header customizations, off-canvas menu, etc. |
| Spacing | Alter the padding, margin, etc just like a page builder. |
| Blog | Control your blog (archive) page as well as single posts appearances from featured image to the font styles and much more. |
| Secondary Nav | Similar to the primary menu, play among a secondary menu with the same options. |
| Backgrounds | Easy to add background images through a site or at specifics. |
| Sections | You can call it a mini version of a page builder in itself just with a little less freedom than the actual page builders. |
| Disable Elements | Hide or disable elements that you do not wish to show. It can directly be accessed from the WordPress block editor. |
| Copyright | Remove the footer copyright and substitute it with whatever you need to write. |
| Import/Export | Import or export the theme settings that you have formulated in a couple of clicks. |
The table was a sneak peek behind all the cool GP premium features.
Let me show you how each feature can benefit you.
Site library –
The site library is full of pre-made templates that can be used with a one-click installation.
The best part:
They have got templates for block builders as well as page builders.
You can use templates that are specifically created for page builders.
That's why you will see three options to select your template: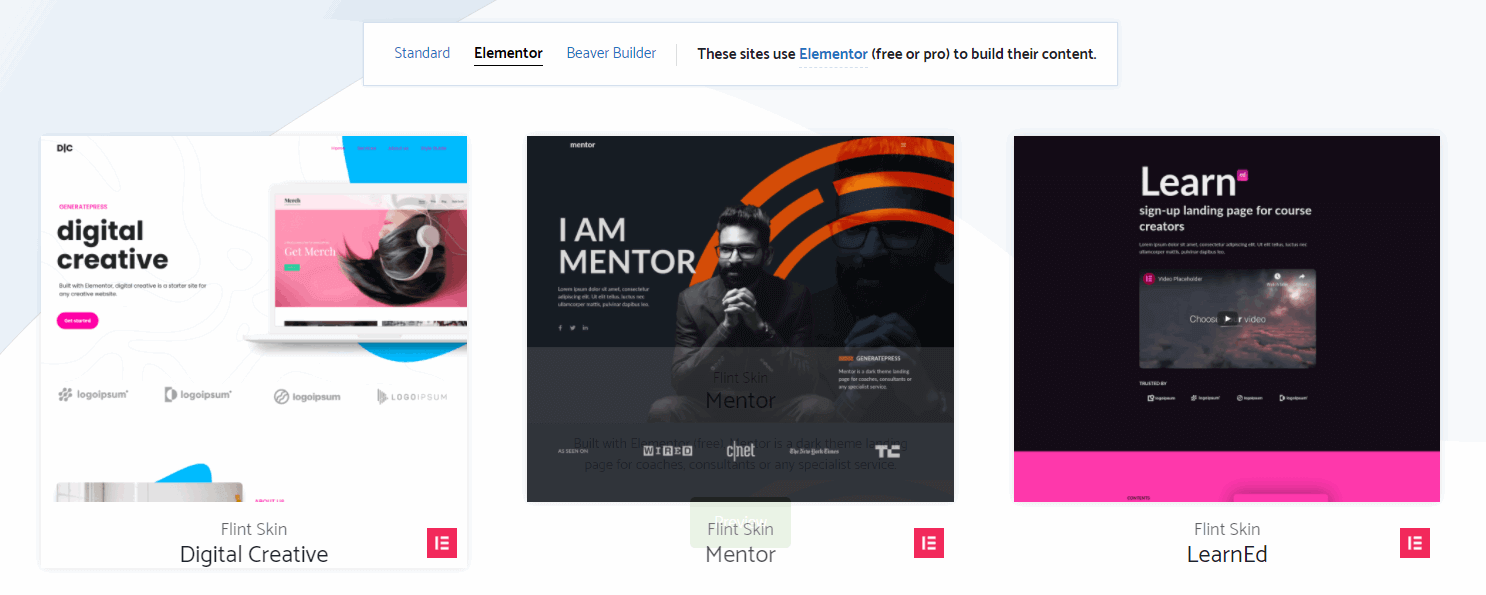 Not only that, all the templates are up-to-date and mobile-friendly.
You can edit, add or remove whatever you want from the templates.
When I started my first blog, Site Library was the place from where I took inspiration to create the utmost converting templates.
Overall, it's a great feature by GeneratePress premium.
Before installing any model, you can also preview them by clicking on the PREVIEW button.
Get access to dozens of templates that suites every niche.
This is very helpful especially when you are a novice and feeling lost about the designing part.
Colors –
Colors are the heart of branding.
And GeneratePress is great at listening to the marketer's needs.
With their Colors feature, you can select and set a specific color for specific purposes.
Just like any page builder, it gives you options to choose a color for almost every element present on the screen.
Header, content, links, etc, everything can be defined as a primary color, color on hovering, background color, border color, and whatnot.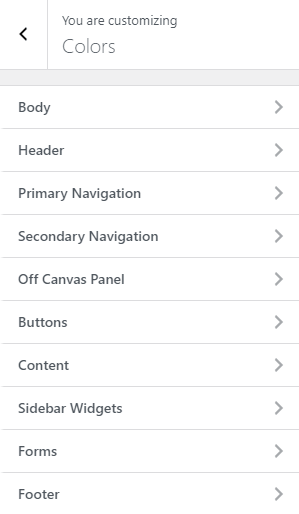 And the best thing is that everything is presented in an easy-to-digest manner. That's why I endorse GeneratePress to every non-techie friend of mine.
It makes you feel you got some abilities without even writing a single line of code.
Typography –
Just like Colors, it has another separate option for Typography in the appearance > customize which allows inserting different fonts at distinct places.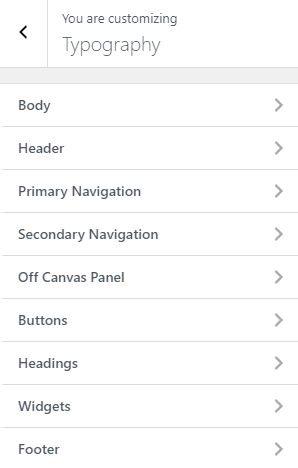 For instance, if you want to change your body font, you can simply do it by first heading over to the colors option in customize and then selecting body.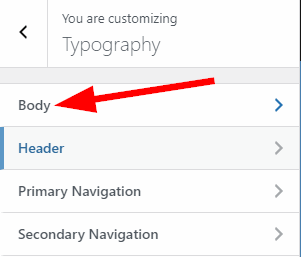 You will see these options: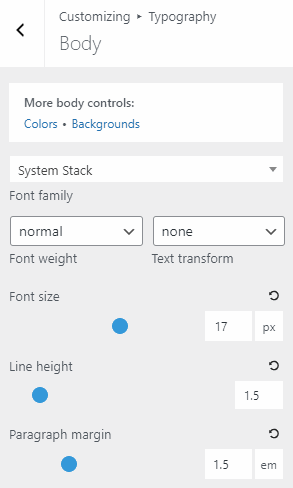 Now, you can change font family, font-weight, size, height between lines, and the margin between the paragraphs.
Pro Tip: Though there are multiple fonts to get obsessed with. However, it is better not to use more than two font families on a single page.
I don't mind using it, but Google does.
Using different fonts makes your site loads slower and eventually slows down the overall loading speed.
Google doesn't like that.
Make sure you are using two or less than two fonts in the overall site for profound performance.
Elements –
Elements are somehow similar to Elementor pro "globally saved widgets".
With elements, you can not only create different hooks such as header, author box, tables, etc but also use them anywhere on your site.
The only problem:
You need to know some amount of HTML and CSS coding to use elements.
Why?
If you want to create blocks, you can do so only by pasting the code.
However, many ready-to-use codes are mostly available in Google if you take some time searching them.
Once created, a hook can be used anywhere in the WordPress block editor.
For example, you can create an author box using the GeneratePress elements and use it anywhere on your site.
It is very useful if you are creating something like an affiliate table that you will need in future posts as well.
To access the elements feature, head over to appearance > elements.
Once the new page loads, click on the "add new element" button.

Select the type of section you want to create.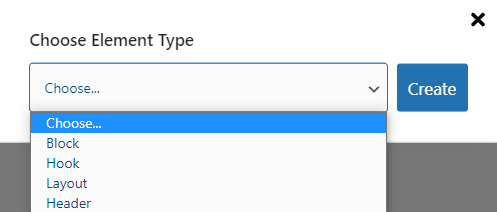 Lastly, start crafting by writing or pasting the code.
You can also set the display rules to show your block in the places where you want it to be displayed.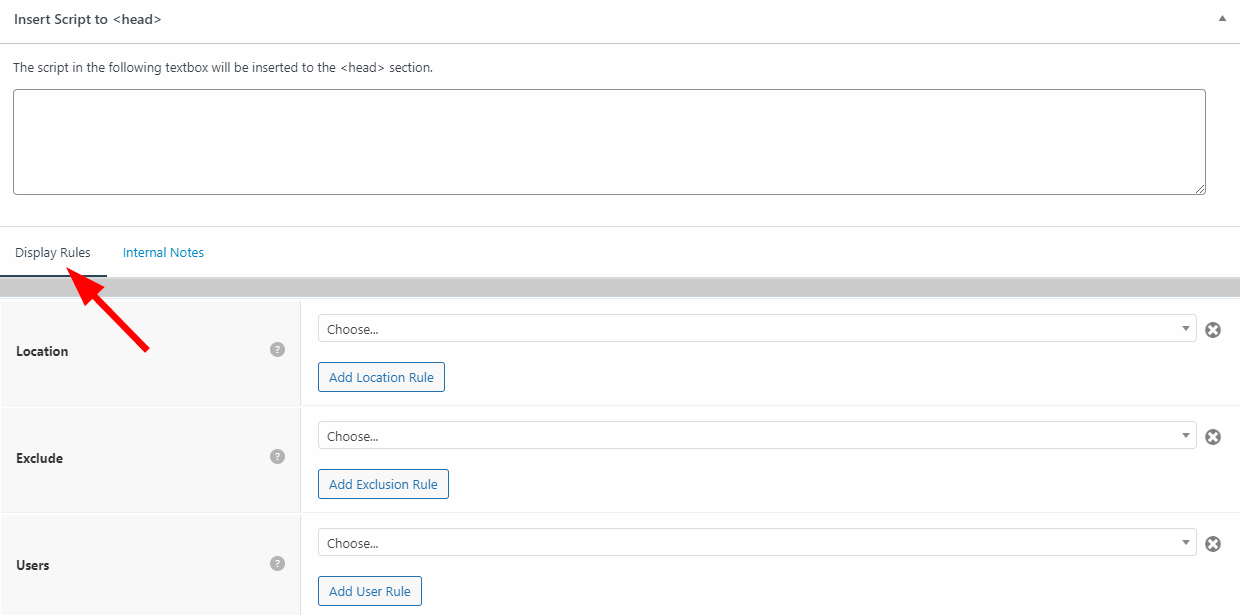 Blocks work more efficiently with their free GeneratePress blocks plugin.
Though I am a pure non-technical person, I love this feature because it saves you from installing a couple of other plugins for the same task.
Woo Commerce –
With WooCommerce, you can optimize your e-commerce store the way you want.
Note: This module does not work unless you have the WooCommerce plugin installed. Make sure you are already using WooCommerce if you want this feature to work.
I have never used this as a don't sell my own products as of now. However, you can try this out if you are running an online e-commerce site.
It is helpful, I promise.
Menu Plus –
With a free version of GeneratePress, you can do only so much with the header.
But once you shift to the GP premium, even the sky is not the limit.
With the menu plus module, you can:
Create custom gorgeous headers
Use a different header for mobile
Make the header sticky
Transparent header
Design main menu as well as off-canvas menu easily
And much more.
To access this option, head over to appearance > customize.
Then, click on LAYOUT.
You will see the HEADER just after the CONTAINER. Click on that.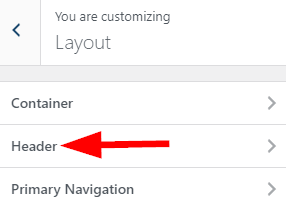 Now, it's all yours.
From padding to selecting navigation as a header, you can do all sorts of things here.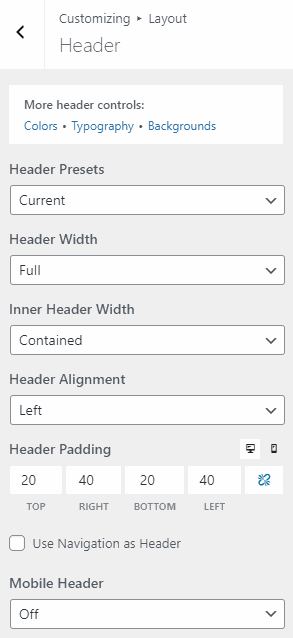 You can also turn on the mobile header to activate the mobile header trigger as discussed earlier.
Followed by HEADER, you will also see options such as primary navigation, secondary navigation, and sticky navigation.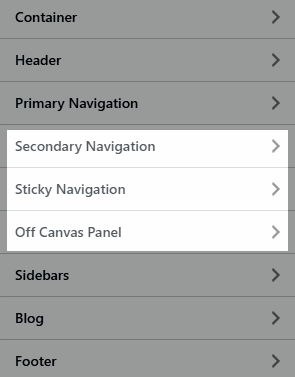 Play around with all those items to see how you really want your header to be.
Everything is super straightforward to edit and nothing technical.
That's what makes the GeneratePress theme most loved by the community.
Spacing –
The spacing feature was introduced to make your pages and posts highly responsive and ideal for the user experience.
Initially, it was hard to edit a custom landing page just through a theme. Therefore, people starting shifting towards page builders.
But with GeneratePress, that problem is solved too.
You can define margins and paddings to every element according to your satisfaction.
Blog –
The blog is a great feature. In fact, it is one of the best features I have even come across.
As usual, head over to customize > Layout.
An option named BLOG will appear somewhere at the bottom.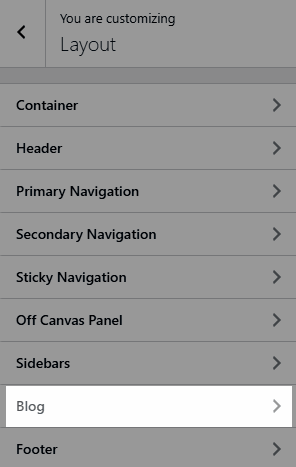 Here, you can not only edit your single posts/articles but play around with the archive (blog posts) pages too.
You can add a read more button, for example, in your archives, display postdate, enable infinite scroll, adjust the featured image size, etc.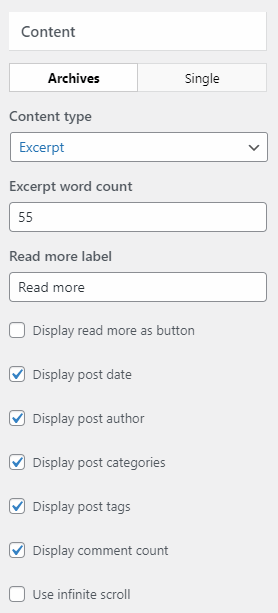 In the single post, you can do all sorts of the same stuff and set the margins and padding.
Overall, a blog is a place that decided the structure of your articles.
These were some of the main features of GeneratePress premium.
Yet, this is not an end.
Besides them, they also have trivial yet useful features such as backgrounds, import/export, section, disabling elements, Etc.
You will find a short and easy-to-understand explanation of all those features in the table given above.
Once you start using the theme, you will come to know that there is so much to explore.
As you now know about its main features, let's get to a bit more serious part of installing the theme and the premium plugin.
How to Install GeneratePress Premium?
First of all, head over to appearance > theme.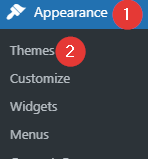 At the top left corner, you will see a "add new" button. After clicking on it, you will be redirected to the free WordPress library.
Search for GeneratePress and install and activate the free version from here.

Give a pat on your back, you just downloaded one of the best WordPress themes in the world.
The free version is ready and active.
Now, click here to visit their official website.
The homepage will look like this:

If you are new to the theme, you will be asked for a free sign-up. Do that right now.
Afterward, hit the PREMIUM button.
On the new page, you will find every detail about the GP Premium that we just finished discussed a few sentences back.
Scroll to the bottom until you see the two pricing plan: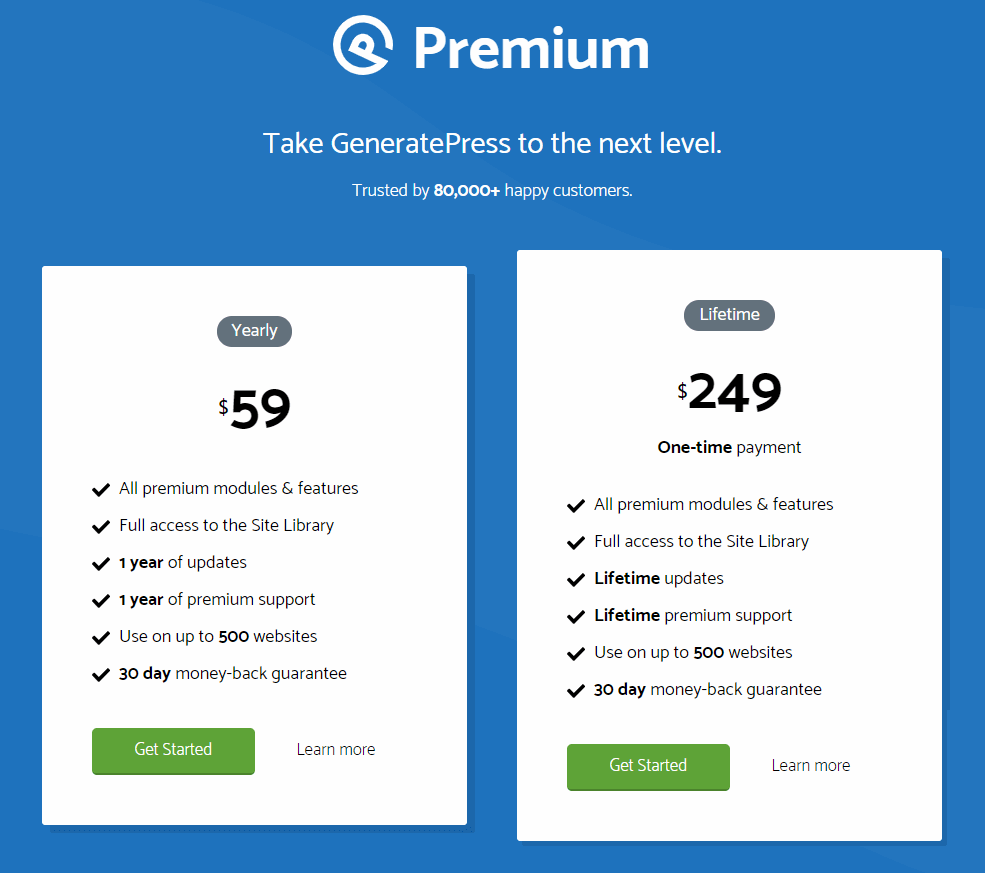 Select a yearly plan of 59$ if you are just a beginner.
Note: Though the plan is yearly, you will get lifetime access to it. The only thing you will miss out on is their new updates after a year if you do not reinvest after a year.
It's not a big deal. I use the same yearly plan.
After clicking on the GET STARTED button on either of the plans, you will land on the checkout plan.
You can fill in the required details and then pay through either a credit card or PayPal.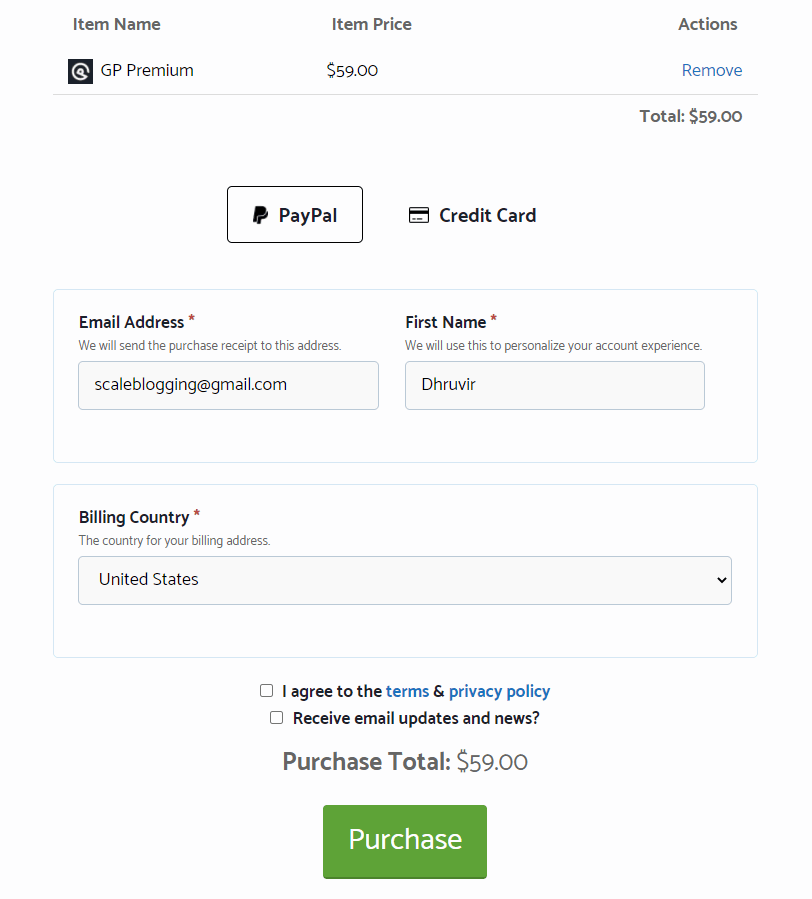 Once paid, you will get access to one zip file. This is nothing but the GP Premium plugin file.
The activation key will also be inside that zip file. Keep it safe.
Congratulations, you have made it.
Very few people invest in the things that matter.
Now, come back to the WordPress admin panel and head over to Plugins > Add New.
Smash the UPLOAD PLUGIN button located at the top left.
Upload your ZIP FILE and click on install now.

Once your plugins get installed and active, all the hard part is over. The premium version is now vigorous.
Once the premium plugin gets installed, refresh the page and you will be able to see a new item named GENERATEPRESS in the customize section: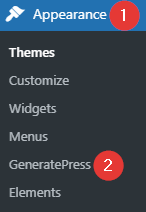 Activate all the premium modules and now everything is running.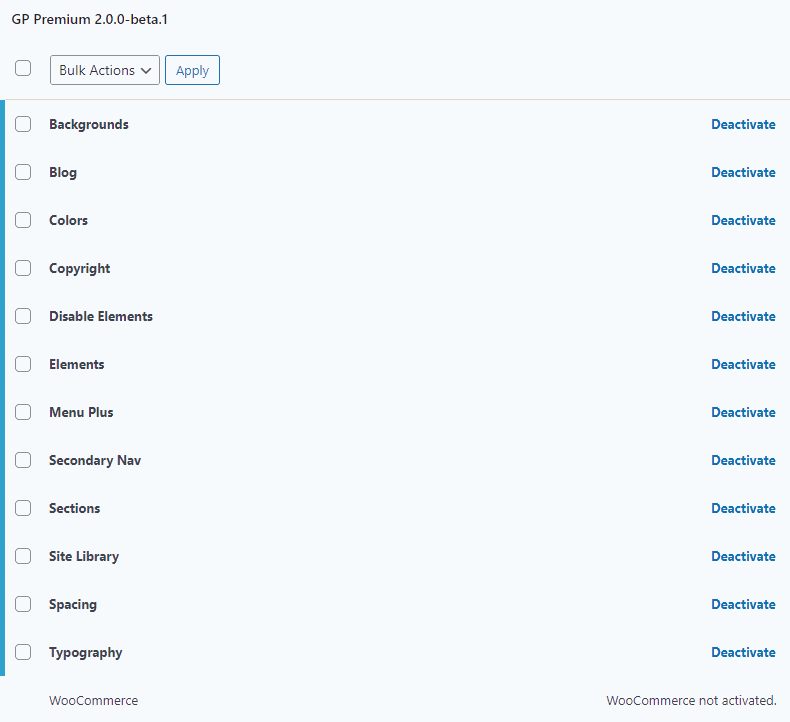 Also, insert the ACTIVATION KEY located at the right. You will find it in the zip file itself.
The installation part is now over. You have made it till the end.
I have one bonus tip for you.
Head over to Customize > General.
Check the two boxes that you see in the screenshot below:
It will help boost your site performance and users will be able to scroll smoothly.
With that out of the way, let talk money.
GeneratePress Pricing
GP premium comes with two premium pricing plans:
Yearly ($59)
Lifetime ($249)
As said earlier, both are lifetime enjoyments apart from the update exception.
In the most popular plan i.e. $59 plan, you will get:
All the premium features
Access to the site-library (complete control)
Can be used on up to 500 sites (my favorite)
One year of update and premium support
30-day money-back guarantee period.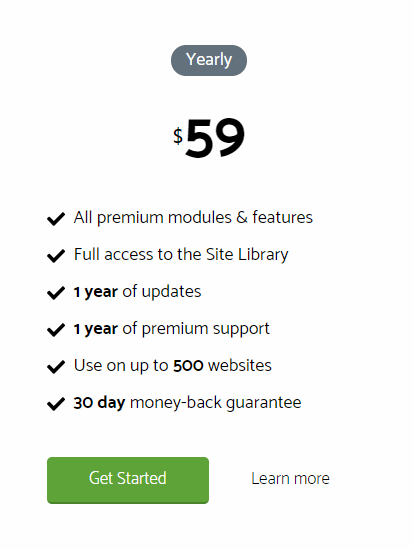 You see, there is so need to reinvest on the plugin again after one year unless you want to keep receiving their premium support and updates after a year.
Talking about support, let's see how surpassing is their support.
GeneratePress Support System
GeneratePress provides support through three main mediums:
Contacting them directly through an email from this page
A documentation page is a type of support blog with answers to almost all queries related to GeneratePress.
Actual support page where you can read other's queries and raise your tickets.
Their support page is like a forum where you can pitch questions and get answered.
In my opinion, I love their services as their mail replies are fast as well as the raised tickets get resolved quickly.
That's all about GeneratePress.
Commonly Asked FAQs On GeneratePress Review
Final Decision
This was the complete and honest GeneratePress review.
Hopefully, you learned something new from this ultimate review guide.
If you were searching for a perfect theme for your WordPress site for a long period, then, fortunately, your wait is now over.
Without looking further, GeneratePress is a superb theme with a prodigious bundle of features.
And once you start using the theme, I bet you won't look back.
Go for it.
That was all from my side.
Now, I would like to hear from you.
Did you find GeneratePress according to your pre-set expectations?
Let me know by leaving a comment below right now.
Disclosure: This post contains affiliate links. This means we may make a small commission if you make a purchase.