GrammarlyGO: The AI-Powered Writing Assistant from Grammarly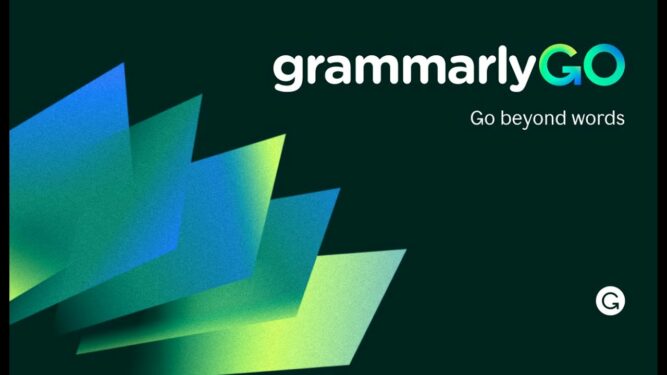 Grammarly has recently launched a new software called GrammarlyGo. It is an innovative tool that harnesses the power of artificial intelligence (AI) to generate and rewrite written content.
Introducing GrammarlyGO—a new generation in writing.

Speed up your workflow with instant drafts, ideas, replies, and revisions in your unique voice. 💡

Beta coming in April: https://t.co/0oXfBmWqMG pic.twitter.com/8E4JKohZMR

— Grammarly (@Grammarly) March 9, 2023
In the past, Grammarly was primarily used to correct grammatical errors in texts. However, with the incorporation of advanced AI techniques such as natural language processing and machine learning, the software's capabilities have been greatly enhanced. As a result, users can now enjoy more advanced features, including improved contextual suggestions, style enhancements, and vocabulary improvements.
Thanks to the introduction of GrammarlyGo, individuals and businesses can now create more engaging and precise content with minimal effort and time. The AI-powered software provides assistance in various writing tasks, ranging from emails and reports to social media posts.
What is Grammarlygo?

GrammarlyGO is an advanced writing assistant powered by artificial intelligence (AI) that offers a wide range of in-app writing support for all types of writing, from short emails to lengthy reports. Developed using OpenAI's GPT-3-derived API, GrammarlyGO is a contextual-based writing tool that produces high-quality writing and edits that are suitable for the task at hand.
How to access GrammarlyGO?

Users who hold a Grammarly Premium account will have immediate access to GrammarlyGO once it is released. Furthermore, a substantial percentage of Grammarly Business and Grammarly for Education users will also receive access to the beta release. Additionally, people with free Grammarly accounts in selected countries, such as Australia, Canada, Germany, Japan, New Zealand, Poland, Ukraine, the United Kingdom, and the United States, will be able to use GrammarlyGO at the time of its launch, with more countries set to follow suit in the future.
The process of accessing GrammarlyGO is easy and straightforward, with no tedious sign-up procedures or additional premium pricing. Users can simply install Grammarly and wait for the beta release to become available.
Grammarlygo Pricing

Grammarly, the popular online writing assistant, has recently announced that it will offer its new writing tool, GrammarlyGo, at no extra cost to its users. This feature will be included in its Premium, Business, Education, and Developer plans, as well as for its free plans in selected markets.
This new feature is designed to work in conjunction with Grammarly's existing suite of writing tools, including the Grammarly app, the Grammarly Chrome extension, the Grammarly add-on for Microsoft Word and Slack, and the original Grammarly add-on for Google's Gmail.
This seamless integration means that users can use the new Grammarly AI writing tool anywhere and at any time, whether they are composing an email or writing a document in Google Docs. The addition of GrammarlyGo to the existing Grammarly features ensures that users have access to a comprehensive writing solution that can help them produce high-quality content with ease.
What are the features of GrammarlyGO's AI?
GrammarlyGO leverages contextual awareness and customization, allowing users to select the format and purpose of their writing, and use their preferred writing style and brand identity through its analysis. While similar to other AI chatbots like ChatGPT, the Grammarly AI team claims that its features differentiate it, making it more relevant and effective for each customer.
Users can use GrammarlyGO's generative AI with complete confidence in its commitment to enterprise data security, user privacy, and ethical AI development. It offers several features, including personalized voice, suggested prompts, trustable AI, fast performance, and unique context, which enable it to deliver a high-quality, custom-tailored, generative AI experience.
Both individuals and enterprises can benefit from GrammarlyGO's generative AI. Users can adjust their text's tone, clarity, and length, write a prompt, or use the new Grammarly AI writing tool to break through writer's block and spark new ideas.
Grammarlygo release date
According to the company, GrammarlyGO will begin its beta roll-out in April. Initially, the tool will be accessible to users of Grammarly Premium, Grammarly Business, and Grammarly for Education. Additionally, free users in the United States, Canada, the United Kingdom, Australia, New Zealand, Germany, Poland, and Ukraine will have access to the beta version of the tool.
Source: Grammarly