How Did I Generate $23k+ from a Single Parasite? (Case Study)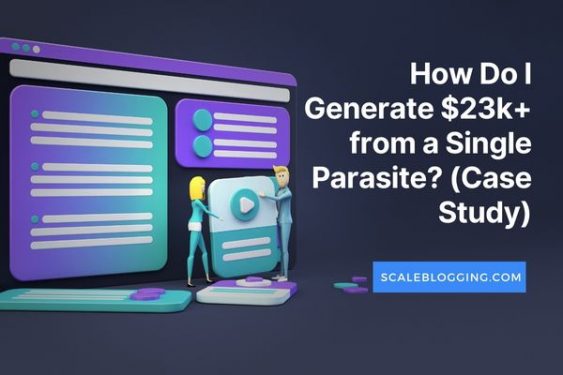 In this article, I'm going to show you how do I generate $23k+ from a single Parasite in just a few months.
The average person has dozens of different options when it comes to making money online. However, very few of those options are actually viable long-term strategies.
This case study will show you the exact methods I used to make this happen, including the tools, and services I used. This is perfect for anyone who wants to learn how to make serious money online.
So, if you're ready to learn how I generate $23k+ from a single parasite, then keep reading!
The $23k+ from a Single Parasite Case Study
So before I start I just want to tell you that I am not gonna share which parasite I use and of course keywords too.
What I will share?
The Broad Niche
How did I start?
Strategy Used
My Income- How Much I Made?
1. The Broad Niche
Niche – Education Related Software
In order to build a website, you will first need to determine the purpose of your site and your target audience. Once you have a clear understanding of these two aspects, you can begin to create content and design your site.
It is important to remember that your website should serve a specific purpose. This could be anything from promoting a business to sharing information about a hobby. Once you know the purpose of your site, you can start to create content that is relevant to your niche.
It is also important to keep your target audience in mind when creating a website. Depending on who you are trying to reach, you will need to tailor your content and design accordingly.
By taking the time to understand your purpose and audience, you can create a website that is both informative and visually appealing.
2. The Start
If you will ask, does Parasite still work? Yes, it works perfectly and without much effort.
Keyword Research:
The most important factor for the success of any website lies in Keyword Research. So I jumped on to search for low competition keywords but those which can earn me good money.
As you all know Keyword is the kingdom. Yes if the content is the king then I must say Keyword is Kingdom.

Anonymous
I spent a hell lot of time on it and then got this awesome keyword. however, MS is not that much but I target small MS-related keywords.
Competition:
Competition is moderate according to the KW Finder, which shows 39 but I don't rely on this solely. I checked the top 10 sites on the first page and finalize the keyword.
Content:
I wrote about 5k+ words of the article for it, also I didn't over-optimize it. I used more LSI keywords in it which helped me to get a ranking for those small keywords without any effort.
Indexing:
After setting up all the things in Parasite I did force indexing on GWMT (Google Webmaster Tool). Yes, I verified that parasite in GWMT.
As you know Parasite takes time in indexing but after force indexing, it got indexed within 1 hour of force Indexing. and Later I checked where it landed? It landed on page 4.
Then I waited for at least 1 week to see the movement of it. and it keeps on hopping between pages 4 to 9. But again settle down on page 4.
3. Strategy Used to Rank the Parasite
Now the Exciting part, How did I manage to rank it on the first page?
Link Building:
I did some web 2.0, social signals, and profile links in tiers, I took some services from BHW and at last, I used My PBN to push the main keywords. I waited 1 month to see where the site moves and it landed on page 2.
I send more social signals to it but it keeps on hopping between page 2 and page 3.
Later I bought an expired domain related to my niche and wrote 5 to 6 posts related to my niche. I leave it for 1 week for indexing naturally. After that, I create a post having an interlink of all those 5, and 6 posts and 301 it to that parasite. within 4 days, my parasite went up to page 1 at #7.
It stayed there for 1 month later it again keep on hopping to page 1 to Not found and this kept on doing like this for 1 month. I send more links to the naked URLs only and then it went stable at #4.
It's been 2 years and it stayed there on page 1.
Affiliate Networks Used :
I used Shareasale.

The total time for rolling Money is more than 2 months. It took 2 months for stable money to roll in and as soon as more small keywords got ranked, earnings went up and up.
4. My Income

This financial year's income:
This Single parasite gave me $23k+ and still 2 months left to complete this financial year.
The Takeaway
The parasite generated over $23,000 in revenue in less than a year through a variety of methods. I did affiliate marketing and promoted digital products.
By understanding the target audience and using effective marketing techniques, the parasite was able to generate a significant amount of revenue. If you're looking to generate revenue from your parasite, make sure to target your audience and use effective marketing techniques.
PS: I experiment with lots of parasites, and I found these 2 are good for the long run. You can use sites.google.com and Blogger.com. If I miss something, Please ask your questions in the comments section.