WP Engine Vs Bluehost- An In-Depth Comparison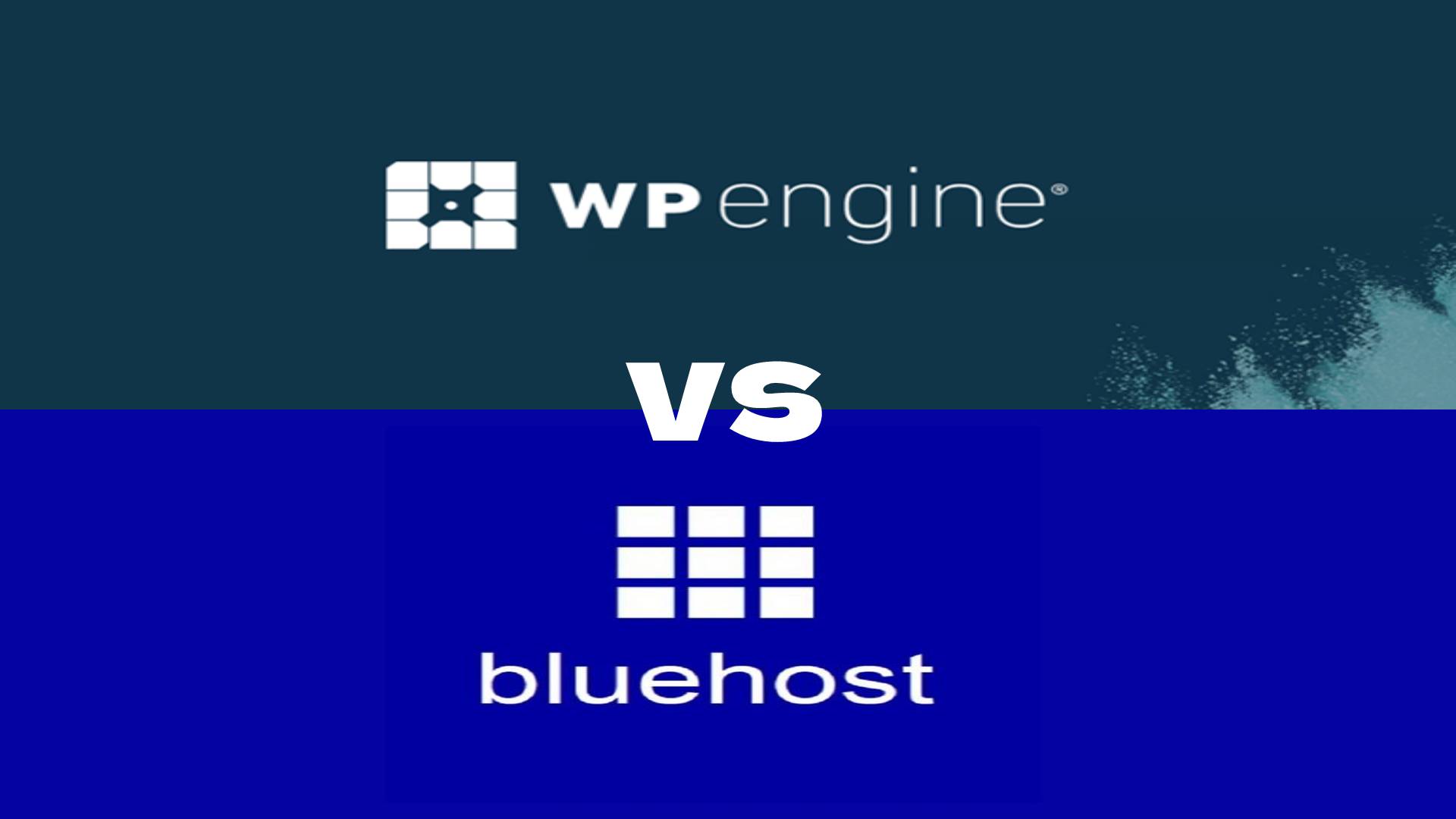 Building digital assets take a lot of effort and time. Digital Assets can be Company Websites, E-Commerce stores, Affiliate Marketing Sites, Personal Blogs, Mobile Applications, etc. One of the very crucial parts of building and running these assets is the platform on which it is created, that is the Hosting. So we have chosen two hostings and today We will give you an in-depth analysis of WP Engine vs Bluehost.
Hosting is the most fundamental part of any website, blog, or application. It is where all of your website files are located and makes them accessible through the internet. The host provides you with a server that has enough space and bandwidth and security features like a firewall.
Though the hosting software and technology differ from company to company, the purpose is the same. Here we will talk about two very reputed and well-known hosting companies in the world, Wp Engine and Bluehost.
If you are just getting started out with building an online business then you will probably feel overwhelmed by the number of hosting options available. When it comes to choosing the right web hosting service for your website there are so many factors to consider.
We are here to give you a hands-on comparison between Wp Engine Vs Bluehost and will help you decide which one suits you better for your online business.
Comparison between WP Engine vs Bluehost
| | | |
| --- | --- | --- |
| Features | Bluehost | Wp Engine |
| Type of Hosting | Shared | Managed |
| Cost | Starts from 2.75$ per Month | Starts from 25$ per Month |
| Uptime | 99.90% Uptime for last 2 months | 100% Uptime for last 2 months |
| Page Load Time | Avg Page Load time is 2 Seconds | Average Page Load time is less than 1 second |
| Security | Server Firewall | Platform Level Firewall, Malware Scanning & Removal, Multi-Factor Password Management, Threat Block |
| SSL | Free SSL | Free SSL and SSH |
| Site Speed | Cloudflare CDN | Cloud CDN, Server Level Caching |
| WordPress Themes | Only Free Themes | 10 Premium Studio Press Themes |
| Site Development | No Staging | Staging and One-Click Install |
| Backups | No automatic Backups | Daily Automatic Backups |
| PHP Update | No Automatic Update | Automatic PHP, WordPress, and Plugins Update |
| WordPress Installation | One-Click Install | Automatic Install |
| Customer Support | 24/7, Chat and Ticket | 24/7/365, Phone, Chat, Ticket |
| Website | Wp Engine | Bluehost |
WP Engine Pros and Cons
A managed hosting provider focuses on one specific CMS platform WordPress. It is known for its speed, security, customer support, and performance. Let's see the Pros and Cons of the hosting,
| | |
| --- | --- |
| Pros | Cons |
| Get 40% faster speed when you host your sites with WP Engine. | Expensive than other Managed WordPress Hosting Companies |
| Free 10 Studiopress Themes | No Traditional Cpanel |
| Built-in Free Cloud CDN by AWS, digital ocean | Does allow all Plugins to be installed |
| Free Genesis Framework for Website Developers | No more .htaccess files |
| Built-in One-click Staging for local Development | No emails |
| Best In Class Customer Support 24/7/365 | |
| Best Class Protection at Platform Level, Website Monitoring, DDOS Protection | |
| Free Updation of PHP and WordPress | |
| In-Built Evercache caching Technology | |
Bluehost Pros and Cons
Bluehost is a leading shared hosting provider in the world. It has very cost-effective hosting plans to suit beginners to experts. You get a free Domain with every 1-year plan. Let's see the Pros and cons of Bluehost
| | |
| --- | --- |
| Pros | Cons |
| Cheapest hosting plans at 2.75$/mo | Slow Load Speeds |
| Free Domain | Two Server Location USA and India |
| Free SSL | Hard to Create an Email Account |
| Cloudflare CDN | Part of EIG (cheap Services) |
| Uptime is Reliable | Tech Support is Worsen |
| Easier Backend is Beginner Friendly | |
We have compared WP Engine VS Bluehost on 10 factors and here they are,
1. Performance:
Once a website is established it attracts a lot of users or traffic. So as the no of users increases the speed gets reduced as the server handles more requests and traffic. Resources in shared hosting are limited so an increase in traffic affects the speed of the website. This hampers the user experience as the loading time increases and indirectly affects the ranking of a website.
But this is not the case for managed hosting it can handle more traffic monthly and also traffic spikes.
Two major factors impact the performance of a website and those are Loading Time and Uptime.
Let's see how these two hostings perform,
Loading Time:
The Loading time is the time taken by the server to display the requested page. It is the time duration between a user clicking on a link and the time it is displayed on the screen. An Ideal page Load time should be less than 1 second.
Page Load time depends on a few factors and they are
Internet Speed
Server Speed
Browser
Location
Device
Internet Speed-
This is quite obvious if you have a fast glazing Internet speed then the page loading time will be faster than someone with a slow internet speed.
Server Location-
The same page can have two different page loading times depending upon the location. If your Web servers(it is where your all website files are stored) are in the USA and two users One from Denver(USA) and another from Paris, are clicking on the same page then the page load time will be different. The person from Denver will find a faster page loading time than the person from Paris.
Browser-
The same page will have different page loading times in two different browsers like Safari and Chrome
Device-
A device can also impact the page loading time. a website optimized for mobile devices will load faster than a Desktop or Tablet.
Servers-
This is where all the game begins the server time is a critical factor when it comes to page loading time. The page loading time depends on how fast the servers are because they serve the pages to a user through the internet.
If you have a better page loading time then it is because you have fast servers.
So let's see how these two hostings perform when it comes to page loading time.
Bluehost:
Shared hostings are known to be slow and have a higher page loading time. Bluehost shared hosting is slow so it makes the page load time go higher. It creates a bad user experience, lower rankings in the eyes of google.
Bluehost servers are located in the USA and India.
Wp Engine:
Wp Engine offers managed hosting on the WordPress platform. They are customized and optimized to have a faster page loading time. They have server-level caching and in-built CDN which makes them super fast and have the least page loading time.
The in-built CDN stores your website files in over 220 locations worldwide and that facilitates faster page loading for any user from any part of the globe.
WP engine servers are located in 6 countries Th USA, Australia, Germany, Belgium, The UK, and Taiwan. So it has a competitive advantage of greater geographical coverage.
They have a page performance monitoring system in place and continuously work to make your site load faster. After HGoogle's Core Web Vitals Update every one is trying to achieve a better page loading time. But if you are Wp Engine's servers then no worries for you.
WP Engine wins big time when it comes to page loading time.
Uptime:
Uptime is the time the host is working without any downtime. Everybody wants to be online 100% of the time so are the websites. They need to be live all the time. If your site is not live then you lose money, lose rankings, create a bad user experience, and more.
Bluehost-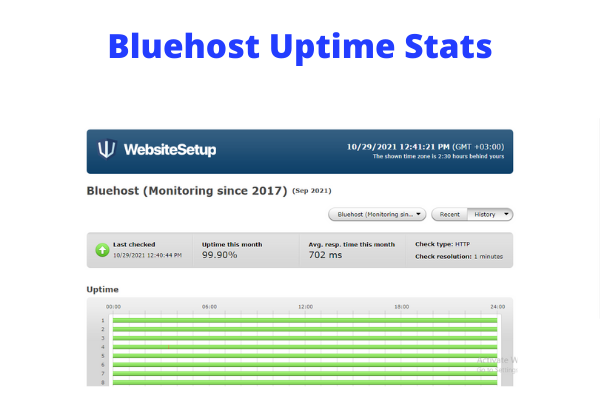 Bluehost is no failure in uptime they have a staggering 99.90% uptime in the last 2 months which is very good from the standards of a shared hosting plan. We were verifying the reports of Stats.pingdom.com and which is monitoring the uptime and downtime of hosting companies from 2017 and it says Bluehost's uptime is 99.90% for the last 2 months.
WP Engine
WP Engine has a legacy of a 100% uptime record. Below is a screenshot of WP engine uptime stats. They have a 100% uptime for the last 2 months.
So again Wp Engine wins when it comes to server uptime.
2. Company Credibility
It is always essential to know the credibility of your hosting company. By credibility, we mean its reputation, Leaders, financial position, employees and their experience, and many other factors.
Online businesses take time to establish and they bring huge rewards when they do. But hosting is a big factor that should not be changed frequently. There can be transfer lapses, missed migrations, bad user experience, lost rankings, and many more factors while changing hosts.
Hosting companies should have a good reputation for Technology, support, technical staff, tech expertise, server locations. Stability in the company operations, etc.
So, when you plan to buy hosting for your website you should always look for long-term plans because they come cheaper.
Let's look at the two hosting companies in a nutshell.
| | |
| --- | --- |
| Bluehost | WP Engine |
| Founded in 2003 and has 18+ years of experience in hosting. | Founded in 2010. |
| Matt Heaton and Danny Ashworth are the two founding Partners. | Jason Cohen is the Founder of the Company. |
| Hosting over 2 Million Websites worldwide. | Hosting 1.5 Million WordPress Websites Globally. |
| 750 + Employees | 1000+ Employees |
| Headquarter- Jacksonville, Florida | Headquarter- Austin, Texas |
| Offices in | Offices in 8 locations Austin, Australia, Poland, Ireland, UK, Omaha, Nebraska, and San Antonio |
Bluehost: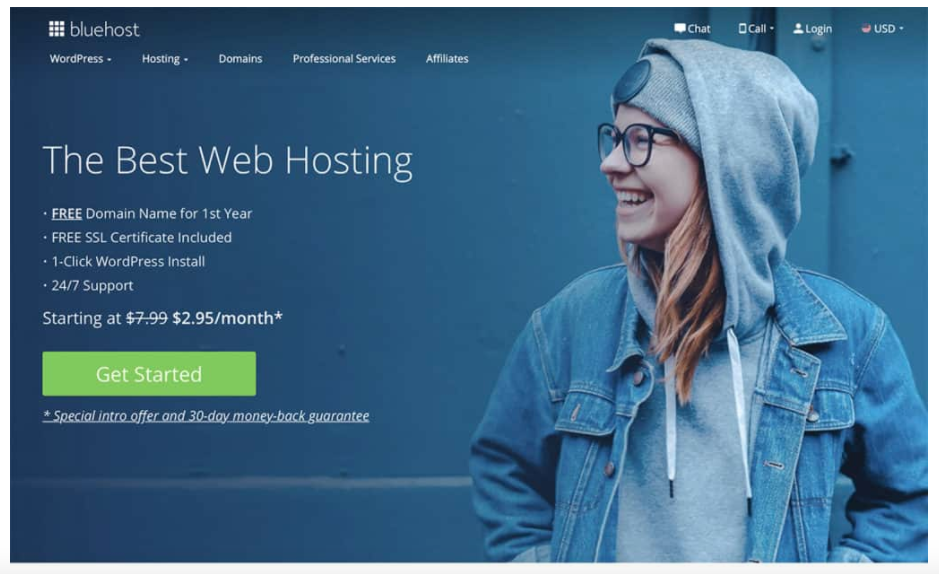 Bluehost is an EIG (Endurance International Group) company started in 2003. EIG is infamous for its cheap hosting servers and also owns other hosting brands like Bigrock, HostGator, Resellerclub, and Email Marketing company Constant Contact.
Apart from selling hostings, Bluehost is also divested into Domain selling, Professional emails, and other digital marketing services.
WP Engine:

WP Engine is a reputed WordPress hosting provider founded in 2010 headquartered in Austin, Texas. They have not diverted into other products but focusing on one thing powered Hosting for WordPress. WP engine provides managed WordPress, unlike Bluehost which sells shared hosting.
WP engine has a great team of technical staff Fabio Torlini, Jason Teichman, Sajal Aggarwal, Jason Cohen, who are more experienced and working in the company for a long time.
Here is a hands-on comparison between the people of both the company on Linked In. You will see a huge number of employees in WP Engine are from customer service which means they care more about their customers. Mishaps happen all the time you need someone to back you up when you are down.
Our Verdict:
Bluehost's image as a cheap hosting provider makes WP Engine a clear winner when it comes to company credibility, focus, experience, & expertise of its technical team is concerned.
3. Costing:
Cost is a very important factor when someone is starting out their journey in building websites or blogs. They want to keep the investments to a minimum level. This is where Bluehost wins. They are beginner-friendly, have some basic cheap plans to make a start. They sell shared hosting where you share a piece of servers with 1000 other sites hosted on the same server.
Whereas WP engine does not sell shared hosting they are into managed WordPress hosting.
But what is the difference between Shared and Managed Hosting, Let dive into this.
Shared Hosting VS Managed Hosting
There are different types of hosting options like Shared Hosting, Dedicated Hosting, VPS Hosting, Managed Hosting, and Cloud Hosting. These different types of hostings are ideal for different websites. The type of hosting you choose will affect your website's speed, performance, scalability, security, and management.
So it is critical to learn which type of hosting will be suitable for your website. Here we will discuss specifically WordPress CMS and Hosting.
Shared Hosting- Shared Hosting is where you share the same resources on a server with many other sites. A single server hosts multiple websites and they share the Storage space, bandwidth, security features, and more. It is like renting a room in the house with your roommates, you share electricity, laundry machine, water, and all other resources.
Who should choose Shared Hosting,
If you are a beginner
Small Website with limited Traffic
No technical knowledge and wants easy setup process
Limited Budget
Managed Hosting: In managed hosting, you get server-level management taken care of by the hosting company. You get a server depending upon your requirement and you have to install your CMS like WordPress on the server and you are ready to go. They take care of updating, taking backups, security, staging for development, and speed.
Managed Hosting is faster and has a very small loading time.WP engine managed to host is customized for WordPress.
Who Should Choose Managed Hosting,
Expert Level handing of your website's Performance and Security
Large Website with Huge Traffic
Automatic and frequent backups, Automatic updates, One-click backup install
Development Support like Staging
Expert and Reliable Technical Customer Service
Server Level Performace Optimazsations
| | | |
| --- | --- | --- |
| Feature | Shared Hosting | Managed Hosting |
| Suitable for | Small Websites, Blogs | Bigger Level Websites |
| Cost | Cost-effective | Expensive |
| Traffic | Limited up to 10,000 | Huge Traffic |
| Tech Knowledge | Not Required | Limited Knowledge Required |
| Customer service Expertise | Lower Levels | Higher Levels |
| Security | Limited | Extended and Managed |
| Speed | Slow | Fast |
| Development | Staging is Not available | Multiple site Staging Available |
| SSL | Free SSL | Free SSL and SSH |
| Backups | Monthly | Daily Backups |
Bluehost:
Shared hosting plans at Bluehost start from as low as 2.75$ per month. Bluehost has cheaper plans for e-commerce stores, and the cheapest managed WordPress hosting and Managed Hosting.
Bluehost has 4 types of shared hosting plans Basic, Plus, choice Plus and Pro with monthly costs of 2.75$, 5.45$, 5.45$, and 13.95 $ respectively for 12 months.
Will do an extended plan comparison in the next section.
Wp Engine:
Wp Engine offers only managed hosting plans focused on WordPress only. They are super fast, come with daily backups, website staging, and 1 click install, enhanced security features.
They have 4 managed hosting plans Starter, Professional, Growth, and Scale with a monthly cost of 25$, 49$, 95$, and 241$ respectively for 12 months.
Our Verdict:
If you are looking for cost-effective hosting then shared hosting is best for you plus they are beginner-friendly. So Bluehost wins if someone is on a tight budget.
4. Site Backups:
Backups are required for the unintended circumstances when you lose your content in a cyber-attack or there is a mishap in designing. There can be so many lapses while maintaining and updating a website in those times you need backups which can be used to restore the website as it was before the mess.
So, websites need to take frequent backups.
Bluehost:
Automatic backups are not available until you take a Choiceplus plan for 12 months or more and the 1st year is free. But it is not automatic as you get a Codeguard tool and users can create backups on their own.
WP Engine:
WP engine offers Daily automated backups for your website and they are free for as long as you are signed up for them. So any time you want to switch back to a previous version of your site you are just one click away.
So When it comes to site backups WP Engine again shines bright.
5. Customer Support
When you are in the business of creating a digital business certain things are inevitable and they are not pretty. They are failures, problems, mess, etc. Maintaining a website small or big is no joke as there can be cyber attacks, failed updates, failed migration, problematic transfers, problems in staging or backend. You need someone who can watch your back while you are in trouble and that is the time when the customer service comes in.
Irrespective of the type of problem their only priority should be to solve your queries.
Let's see how these two hostings companies perform when you need their support.
Bluehost: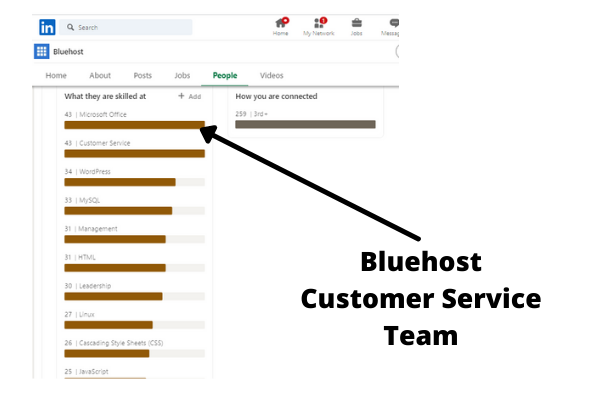 Bluehost is cheap and when you buy a cheap plan you don't get a priority service. The average response time to tickets and chats is more than 15 minutes which is high and expected from a shared hosting service.
Resolution and help are limited and sometimes staffs are less technical to handle your case. So in some circumstances, you are on your own to handle your mess. Once you reach a larger stage switch to a better managed hosting or update to a better plan within Bluehost.
WP Engine: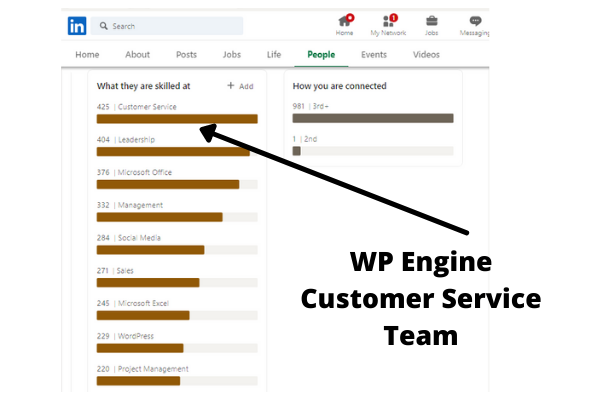 Wp Engine is known for its fast responses to tickets, chats, or even calls. The average response time is 2 minutes which is very good from the industry standards.
The team that handles your cases is very technical and provides faster resolutions. Be it malware attack, updates, development error, or any technical or security problem they are the best team to handle your case.
6. SSL
SSL is important for Google and your users. Google doesn't like sites that are not secure or do not have a valid SSL certificate. These SSL certificates protect the user's financial and sensitive data from being stolen.
When the user sees a secure or lock button next to your site he/she trusts your site for sharing data or making any transaction. This is a must for any e-commerce site.
Bluehost SSL:
Bluehost provides free SSL for every site that is hosted on its servers but they are free and not premium.
WP Engine SSL:
WP Engine provides free premium SSL or Positive SSL for each of its sites.
7. Site Development
It is really necessary to keep updating your sites with new features, improved design, and content. But it is difficult to do it on a live site and if some things did not work out the way you wanted it will put you in a spot of bother.
To avoid any mishaps with the design and content on the site developers are looking for features where they can test a new version of the live site without making it go live. This process is called staging where you test the new improved version of your site and check if all things are working fine.
If all is well you can just make it go live with a single click.
Bluehost:
Bluehost shared hosting plans don't provide a staging environment for development and no one-click staging go live function.
WP Engine:
All hosting plans of Wp Engine provide a staging environment where you can test your new design before making them live.
So if you are a developer you will love working with WP Engine.
8. Security
Another important feature is the security of the websites. Cyber attacks are frequent and hosting companies play a bigger role in mitigating these threats. They have firewalls, added security levels to defeat these attacks.
Websites are vulnerable to malware attacks, hacking of sites, spamming, bot visits, etc. The technical team of good hosting companies works 24/7 to keep these in check.
Let's see how these two companies score on this front.
Bluehost:
Bluehost Shared Hosting plans do not have malware removal or any advanced security features for their customers other than protecting their servers through firewalls. So, if any mishap occurs you call, or create a ticket and they will try to resolve the issue. If you want an immediate measure you may not find a suitable solution you have to wait your turn.
WP Engine:
They are the masters of the game. They have protection at platform levels which is more secured and dedicated. They offer advanced security features like multiple factor password authentication, automatic WordPress, Plugin and PHP updates, advanced DDOS mitigation, and more.
The technical team is continuously working on making sites more secure with multiple levels of security.
When there is a need for resolution the team is variable 24/7 and they are real experts who are going to help you solve any security issue starting from malware scan to bot attacks.
When it comes to Website security WP Engine is the best (winner again)
9. User Friendliness:
Most Hosting companies use Cpanel which is easy to use, easy to navigate, and full of different functions.
Bluehost:
Bluehost provides the classic Cpanel which is user-friendly. They allow all popular CMS like WordPress, Joomla, and Drupal. One-click WordPress install and free website builder.
WP Engine:
Wp Engine also has a customized backend for its customers. This is not the typical Cpanel but it's easy to use. It has 10 premium themes available for free. It has automatic WordPress installation, free staging environment, automatic PHP, WordPress and plugin updates, and one-click staging installation.
They also offer free migrations of the website and a very dedicated and faster support team.
This makes WP Engine far superior and a clear winner in being User-friendly.
10. Plan Comparison
Wp Engine is a managed WordPress hosting and thus is expensive than Bluehost. If we look at the starter plans for both hostings then the starting price for Wp Engine is 25$/Mo and 2.75$/Mo for Bluehost.
Let's compare the Starter Plans for Both the Hosting companies,
| | | |
| --- | --- | --- |
| | Bluehost | WP Engine |
| Name of the Plan | Basic | Starter |
| Cost | 2.75$/mo(12 month plan) | 25$/mo |
| No of Websites | 1 | 1 |
| Storage | 50 GB | 10 GB |
| Visits per Month | 10,000(approximately) | 25,000 |
| Bandwidth | – | 50 GB |
| Themes | Free Themes | 10 Premium Themes |
| Customer Support | Chat | Chat |
| SSL | Free | Free SSL & SSH |
| CDN | Cloudflare CDN | Cloud CDN |
| Free Domain | Free for 1 year | No |
| Free Migration | Yes | Yes |
| Automated Backups | No | Yes |
| Server Level Caching | No | Yes |
| Money-Back guarantee | 30 days | 60 days |
Bluehost Plans:
Bluehost shared hosting offers four plans Basic, Plus, Choice Plus, and Pro. The plans start from 2.75$ per month and the Pro plan is 13.95$ per month. All Plans have free SSL certificates and free Cloudflare CDN.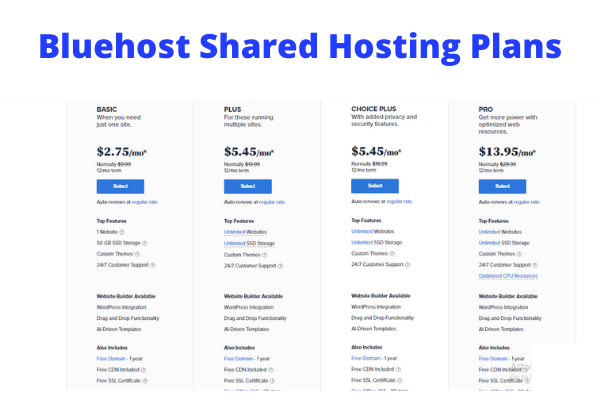 The Basic plan can host 1 website and allows 50 Gb of local storage and bandwidth. It comes with 1 free Domain for 1 year. Th Proplan can host unlimited websites and unlimited bandwidth is given. It comes with a free domain for 1st year, Free SSL certificates, automated backups, and dedicated IP.
All Bluehost plans come with a money-back guarantee for 30 days i.e if you don't like the plans you get a full refund of your money.
Recommended Plan- Blue Host Choice Plus is a recommended plan that comes at 5.45$ per month. It offers unlimited websites, unlimited storage space, unlimited bandwidth, automated backups, free domain, free domain privacy, and Dedicated IP.
Wp Engine Plans:
The starter plan of the WP engine costs 25$ per month and the top plan costs 241$ per month. WP engine has 4 plans Starter, Professional, Growth, and Scale. All plans come with automated Backups, free SSL and SSH, Automated site migrations, 10 premium Studiopress themes, and site staging features.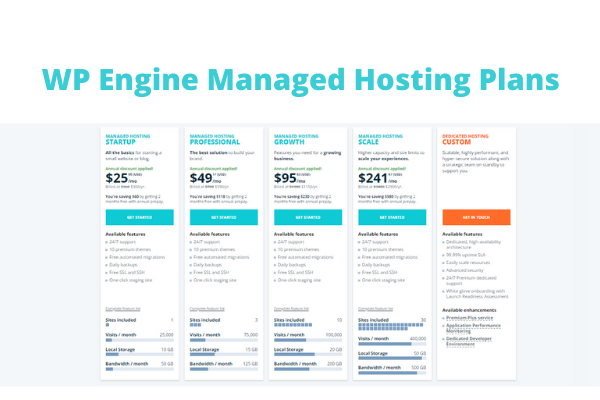 All Wp Engine plans come with a money-back guarantee for 60 days i.e if you don't like the plans you claim a full refund.
Recommended Plan- WP Engine Growth Plan is the most recommended one since it is the most value for money plan. It costs 95$ per month and you can host 10 sites on it. Apart from this it also offers 20 GB of storage space, 200 Gb bandwidth, 1,00,000 visits per month, phone and chat support, WordPress multisite, GIT and SFTP connections, and more.
Why Choose Bluehost Over Wp Engine?
Here are the reasons or conditions when it is wise to choose Bluehost over WP Engine.
You are On a budget and need hosting that is cost-effective
You have a smaller site with low traffic of less than 10000 per month
You are working as a freelancer
Why Choose WP Engine over Bluehost?
Here are the reasons you want to go for WP Engine over Bluehost
You have a bigger website with huge traffic
You want a faster website
You want a more secure website
You want a holding hand in the time of any crisis
Conclusion
So we have done an in-depth camparison of WP Engine vs Bluehost and he is our conclusion. WP Engine offers Managed WordPress hosting while Bluehost offers shared hosting so judging them on a single platform is difficult. However, if you're looking for a managed host that offers the best security and performance, WP Engine is a clear choice.
But Bluehost is the best choice if you are looking for cost-effective hosting.
Hopefully, this article has helped you to better understand what makes WP Engine and Bluehost different from each other and will help you make an informed decision when choosing your host.