What is ELeavers Ad Network? How does it work for Clickbank Affiliates?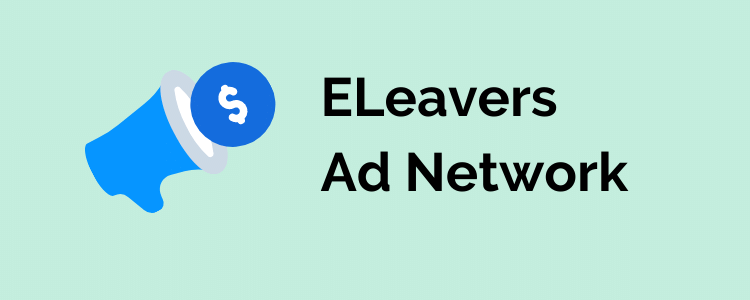 ELeavers is an ad network just like Google Adwords but it was mainly used by affiliate marketers especially Clickbank affiliate marketing. You can launch PPC ad campaigns to promote your affiliate products and links. But it is not limited to only affiliate marketers it can be used by anyone who wants to drive traffic to its website or products.
You can use the ELeavers Ad network in two ways one is to use its ad network to advertise your products and another is to earn by displaying ads on your site and blog as a publisher. So it works for both advertisers and publishers.
ELeavers charges advertisers for all clicks and pays publishers for each click on their banners or advertisements. 
Company Information:
ELeavers Advertising and Marketing network is a USA-based company headquartered in Michigan State.
Unique Features of ELeavers Ad Network:
Here are the best features of ELeavers for which it is very popular amongst affiliates and other advertisers.
The best part of using Eleavers is that it is a PPC (Pay Per Click) ad network so you pay when there is a click on your ads not per impression or views.
You can directly promote your affiliate links for products or services on ELeavers which is not allowed in Google Adwords or Facebook Ad Campaigns.
You don't need to create landing pages to run campaigns, unlike Facebook or Adwords. 
At Eleavers you don't have to create separate landing pages for different types of products that you want to advertise.
 You will save time, money, and energy from creating multiple landing pages, multiple designs, product descriptions, and many more.
You can advertise any product except adult content or websites.
Pros and Cons of ELeavers Ad Network:
Pros:
You can target your customers all around the globe it's not limited to the USA only. You can advertise to your prospects in India and Pakistan by running a campaign from the USA.
You can put your affiliate link or Hop Link directly in the ad campaign as the destination URL.
You pay for clicks and all affiliate marketers generate a lot of clicks to their links by running ads on ELeavers.
They have the lowest CPC in the industry.
You pay for real and Unique Clicks and visitors who land on your site.
There is no limit to no. ads, unlike Google and Facebook.
No stringent policy for advertisements, campaigns, and banners.
Millions of Websites across various regions are in the network of this company for a wider reach.
Ads are instantly approved and no need to wait for hours for approval.
Cons:
The minimum Ad spent is 25$, though you may not use it at one go but this is the minimum amount you have to sign up with.
How to Sign Up With ELeavers and Start Advertising
There are 6 Steps involved in Signing Up and start advertising with ELeavers:
Creating Your Ad
Selecting Countries
Deciding Cost and Budget
Review Your Ad Details
Completing Th Account Creation
Add Funds to Your Account
1. Creating Your Ad:
This is the home screen of ELeavers and Here you have to sign up with your Personal details and the ad you want to run.
Link to Eleavers Sign Up Page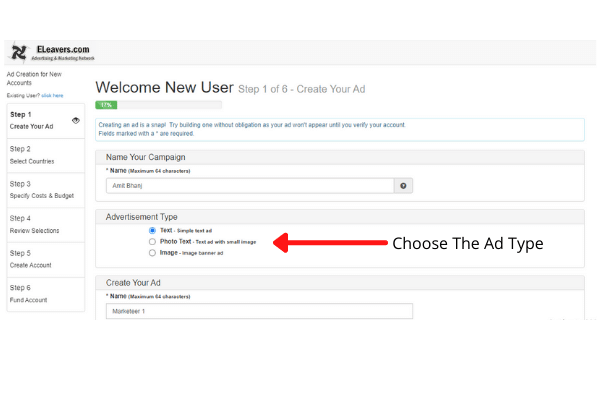 There are 3 advertisement types you can run with ELeavers
Text Ads
Text and Image Ads
Image Ads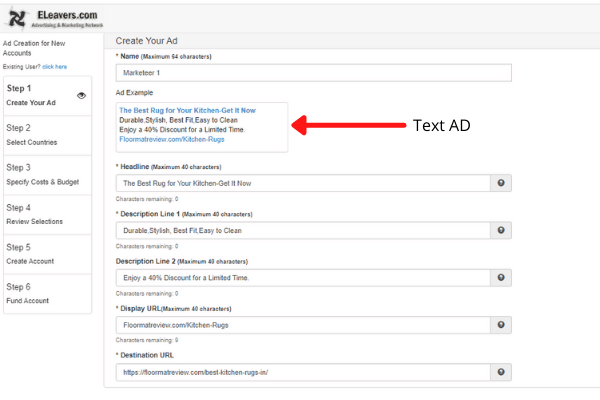 If You want to Create a Text Ad then You can Write the Headline, Description Line 1, Description Line 2, and the Display URL. The display URL can be different from the target URL but it will land on the target page.
In some cases, the Post/Landing page/Website URL is long and complex so to avoid that a Display URL option is there which is simple and looks nice.
In the Text and Image Ads, you can add an image along with texts. The size of the image is 112 x 84 Pixels. This type of Ad gets maximum views and clicks.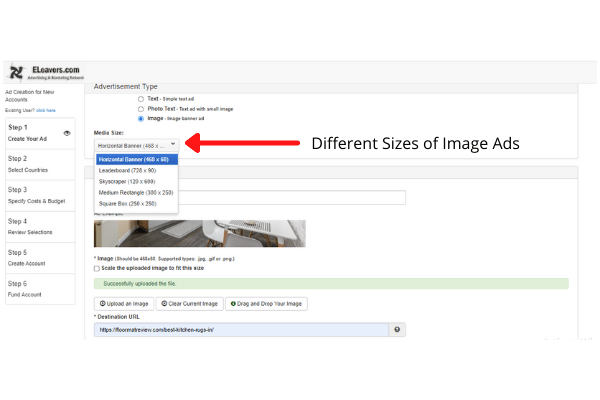 The Image or Banner ad consists of an Image and directs to the Tragerted URL when somebody clicks on the ad. These Image Ads are available in 5 sizes:
Horizontal – 468 x 60
Leaderboard – 728×90
Skyscraper – 120×600
Medium Rectangle – 300×250
Square Box – 250×250
2. Selecting Countries: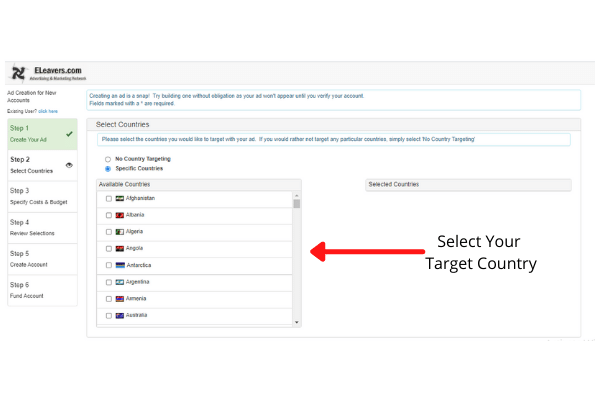 If you have some specific countries that you want to target then you can set them here.
Once you have selected your target countries you can move to the next step of creating ad spend and your budget.
3. Creating Ad Budget
2 Important parts here, One is determining the maximum bid for CPC, you can click on the suggested maximum bid range it will show you approximate numbers to set your max. Bid for CPC. Another part is setting the daily budget, you can set the amount you want to spend on ads daily. The minimum daily spend amount is 1.00$.
N.B.- The minimum CPC bid allowed is 0.05$.
4. Review Your Ad details: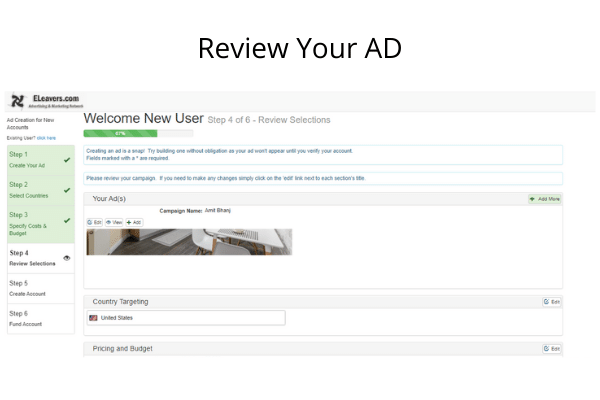 Review all your ad credentials here, if you need any changes you can go back and make the changes.
5. Create Your account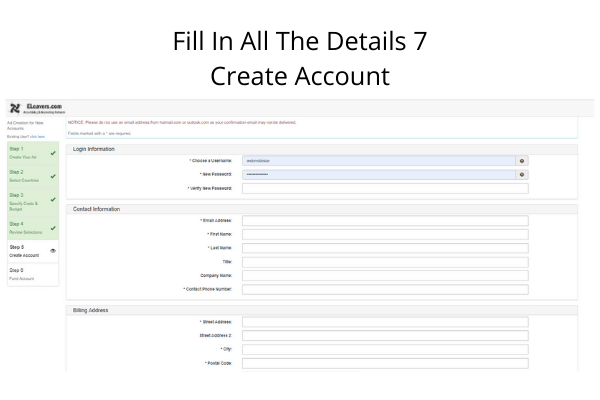 Fill in all the details like your Login Information, Contact Information, and Billing Address. Once all details are filled click on Create account and you will be sent to the next page.
6. Add Funds to Your Account
The next and last step is to add funds to your account. The minimum amount is 25$ and you can add your money either through Credit Card or Bank Transfer. Now you are ready to start showing ads in Eleavrs Ad Network.
Final Wrap
ELeavers Ad Network and Clickbank Affiliate products are used hand in hand to promote products and services and earn money. To date, it is one of the best platforms to promote affiliate links because it's easy to use, has instant approval, and offers the lowest CPC bids.