What to Look for When Proofreading? 7 Best Tips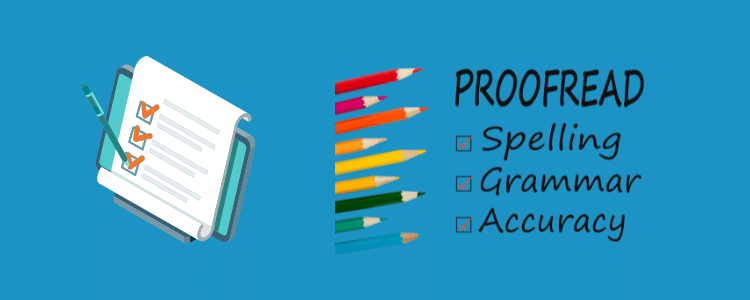 What is proofreading? Proofreading is a revision of the final draft before publication. Proofreading is the final thing to do in the writing process. It involves correcting typographical errors in sentence structure, capitalization, spelling, grammar, punctuation, and style.
The proofreading process focuses on the superficial aspects of language and ensures consistency and accuracy in the author's written text. The fundamental part of revision is proofreading. Its main purpose is to make sure that the document is correct in grammar and vocabulary.
There are few common mistakes individuals make while proofreading like being overeager and skipping over words or sentences they think are correct. This leads to errors in grammar, spelling, and punctuation. But here we will tell you what to look for when proofreading and how these common mistakes can be easily avoided with few seconds of careful inspection.
Importance of Proofreading
The proofreading process is an essential part of revision. It helps eliminate obvious language errors and makes writing easier and faster. However, if the text is full of grammar errors, the reader will focus more on the words than the concept.
Proofreading is not just about getting writing accepted. It's also about communicating ideas clearly and accurately to ensure that your readers have a positive experience.
Types of Proofreading
Proofreading is an important part of writing. There are 6 types of proofreading and they are as follows:
Proofreading academic papers: Proofreading is a collaborative effort with professors. It helps to increase authority and trustworthiness within the scientific community.
Proofreading for book and manuscript: This helps authors improve their writing and facilitates publishing.
Proofreading for businesses: Most commonly, I was involved in the maintenance and establishment of professional reputations and communication.
Essay proofreading: Proofreaders ensure that academic writing complies with English standards, regardless of its length.
Proofreading resumes: This serves to build a strong personality while approaching the job market confidently.
Student proofreading: There are many proofreading services available, including writing assignments and personal statements.
Different Techniques Used in Proofreading
After the hard work of creating and presenting ideas is done, it's time to focus on the details of the written content. Proofreading is a challenging process that can prove difficult for anyone unsure where to begin.
Every proofreader must have technical knowledge strategies to implement the document proofreading process. We offer the following tips to help you look ahead before proofreading begins.
Keep your distance from the text. It's normal for the eyes to become too familiar with text when writing text. This can lead to a tendency to overlook simple errors and make poor decisions. It is good to keep the paper away from the writer if the author decides to proofread the paper.
Between proofreading and writing, it is a good idea to leave the manuscript unfinished. This should be done at least overnight. Take a walk, run, or go to the beach. It is amazing how quickly fresh eyes can spot even the smallest mistakes in written content.
A good proofreading job requires a lot of concentration and focus. Avoid distractions such as television and coffee shops. Instead, choose quieter places such as libraries. It will be surprised how a qualified environment can improve the quality of your work results.
Print a hard copy. You can't skip over errors, regardless of whether you are working on a printed copy or a computer screen. It is possible to read the text from a printed copy depending on your proofreader preferences. This will increase efficiency. Choose the best medium to proofread your work!
You can plan the proofreading process using small blocks of time. Each person has different levels of concentration maintenance ability. Instead of proofreading the whole paper at once, you can use the time or paragraph blocking technique. This allows the work to be broken down into smaller tasks and is less time-consuming.
You should have enough time. Each proofreader strives for quality work. Having enough time to do the job is crucial. It is also important to be able to read the text with fresh eyes. It is important to allow the proofreader enough time to read the text slowly to spot any errors.
It is important to identify oneself as a reader's point of view. It is highly recommended to read the text from the reader's perspective, as this will help you understand the publishing process. Playing the role of reader can open up new perspectives and allow you to see the paper differently.
First, think about common mistakes! Recognizing patterns in mistakes can save you time and help you identify errors faster.
What to look for when Proofreading?
Once the document has been edited thoroughly and analyzed for any language errors, it's time to begin the proofreading process. Here are some things to consider when proofreading. These are the four steps you should consider when proofreading:
Separate the text into separate sentences. It is good to divide the text into individual sentences to make it easier to read each sentence. To isolate the sentences in a printed copy, use an opaque object such as a piece of paper or a ruler. Use a ruler or piece of paper.
Make sentences more complex. It is essential to first focus on the overall theme of the paper before you begin to correct sentences at the sentence level. If necessary, make changes to the organization and structure.
It is highly recommended that you prioritize the sentences with a lack of length or supporting information when looking at the overall structure of the paragraph. The sentence's main topic and length.
Make sure you check the sentence formats and tense. The following formats should be used depending on the narrative style.
Abstract – Past tense (the summation of what was done).- Introduction (description of the study for the reader in the current moment).

Review – Past Tense (revision of existing studies).

Methodology – Past tense (description for synthesized data that has already occurred).

Results – Past tense (descriptions of findings already discovered).

Discussion – Present Tense (present talk about how the author interprets the findings).

Conclusion – Present Tense (summary at the moment).

Eliminate unnecessary words. It is important to remove unnecessary words from the paper before you look for errors.
Review the references list. Last, but not least, part of proofreading is to go through the source material and verify that they have been correctly cited in your bibliography.
Strategies after You are Done Proofreading
1. Ask a friend for help. A good proofreader will have fresh eyes. Sometimes, mistakes may not be detected after proofreading. It is a good idea to have someone proofread the text. They should be able to use English grammar and spelling and provide comments about the overall structure and content. Sometimes, errors in writing that the proofreader missed will be discovered by another person.
2. Give feedback to the author. A proofreader will spot common errors made by authors after they have finished proofreading the text. These insights are extremely valuable, and it is highly recommended that authors receive feedback or recommendations on how to improve their writing skills. Each author will appreciate any insights that can help improve their professional skills.
3. Ask your mentor for feedback. It is important to not only improve the author's skills but also those of the proofreader. Talking to your mentor or professor is a great way to improve your proofreading skills. Get better at proofreading.
4. Create a style guide to share your experiences. Each proofreader has a different style and uses different strategies. We encourage you to share your experiences and provide tips and tricks for future proofreaders.
Do's and Don'ts while Proofreading
Proofreading can be tedious for some people, but it is easy for others. Proofreading is a rewarding aspect of writing. You must have a clear rhythm, strategy, and a plan for how to proofread correctly.
Dos :
You can repeat the process of proofreading more times than once.
You should look out for typographic, grammatical, and spelling errors.
Be aware of frequently misspelled, incorrectly typed, or misused words.
Don't:
During editing and writing, proofreading
Only proofread a portion of the document
Don't spend too much time proofreading
These tips are essential for planning proofreading tasks.
Benefits of Proofreading
The scientific community recommends that one first improves his professional and personal skills before deciding whether the paper should be proofread by someone else or by a professional.
It is recommended that one increases his reliance on outside services to become an independent writer. What are the advantages of proofreading services?
Respect for privacy and security. The professional proofreader will proofread the content, but the paper's privacy is protected, and security is maintained.
Clarification of the main message. Proofreading offer valuable assistance to the author in clarifying the main message. Incorrect spellings and words can distract readers from the main message. Corrections for mistakes improve the clarity and experience of the reader.
Focus on the best part of authorship – writing. Editing and writing are two different stages in content creation. They should not be done simultaneously. Professional proofreading of text gives the author peace of mind and allows them to communicate effectively while still focusing on their core writing.
Readers will not leave negative feedback. Not only does it help to manage the author's time better, but it also prevents negative feedback from readers.
Respecting strict deadlines is crucial for paper publishing. Respecting deadlines is crucial for paper publishing. Publishing paper successfully depends on the timely delivery of written content.
Keep in mind that documents are edited and proofread only by humans. The more time is given to proofreaders, the better. No matter how large the document is, proofreaders are professional and take deadlines seriously. Every author is informed about the estimated time for major proofreading.
Should the Author Proofread their Works?
It is not advisable to rely solely on your proofreading skills. It is more likely that mistakes will be missed if the author was involved in document creation. A fresh set of eyes is required for quality proofreading.
Authors cannot always spot all errors in a document because they have been familiar with it before. The proofreader has a deep understanding of grammar, punctuation, and spelling. This can help to improve the quality of written content. For this, you can take the help of Grammarly in order to proofread your article. I have tested this software on my own and I can say Grammarly can be really helpful for the students.
Skills and Qualifications required to be a Proofreader
As stated before, the proofreader's role is to be a fresh pair of eyes and spot any errors. The most important skills a proofreader must have are attention to detail, focus mental, and knowledge of grammar, spelling, language, and grammar.
While they may have a technical understanding of the language, a well-trained proofreader will likely be passionate about correcting errors and finding them. They should also be able to adapt to any style. These personal skills, which include being critical and meticulous, are a charm and an asset well-received by the scientific community.
You can either become a proofreader yourself or hire one. It is important to understand the requirements to know the differences between a professional and an average proofreader.
Attentiveness for details. Precision and patience are two of the most important skills needed to proofread. From misplaced parentheses to missing periods of word-to-word, sentence-to-sentence, or paragraph-to-paragraph revision- all these complex details need patience and focused attention to detail.
Thorough knowledge of the English language. This type of work requires a solid knowledge of grammar, spelling, punctuation, vocabulary, and other aspects.
Excellent oral and written communication. The main task of the proofreader is to clarify the main message in the written material. Professional communication skills are essential for high-quality work.
Ability to meet deadlines. Professional strengths are just as important as personal ones. Proofreading text is a responsibility that requires the ability to plan work according to your schedule and adhere to strict deadlines.
Future and Job Prospects for a Proofreader
Pros:
Financial security. You will be rewarded for the eagle-eyed abilities you have!
Cons:
It takes time to complete tasks. Clients reach out to proofreaders because they lack time. Quality proofreading requires patience and time. Do not rush things!
Find Clients. Finding clients can be difficult if one doesn't have recurring work.
COPY EDITING VS PROOFREADING
When they are not in conflict, proofreading and copy-editing can be confused. Copy-editing, which is the identification and correction of errors or inconsistencies in proofreading, is more subjective.
It involves actual rewriting style, flow, or changing the tone of the manuscript. Although copy-editing includes corrections and fact-checking grammar corrections, it is not as simple as proofreading. The text must be correct or incorrect, regardless of its style or tone.