7 Best Tactics To Find & Solve Your Audience Pain Points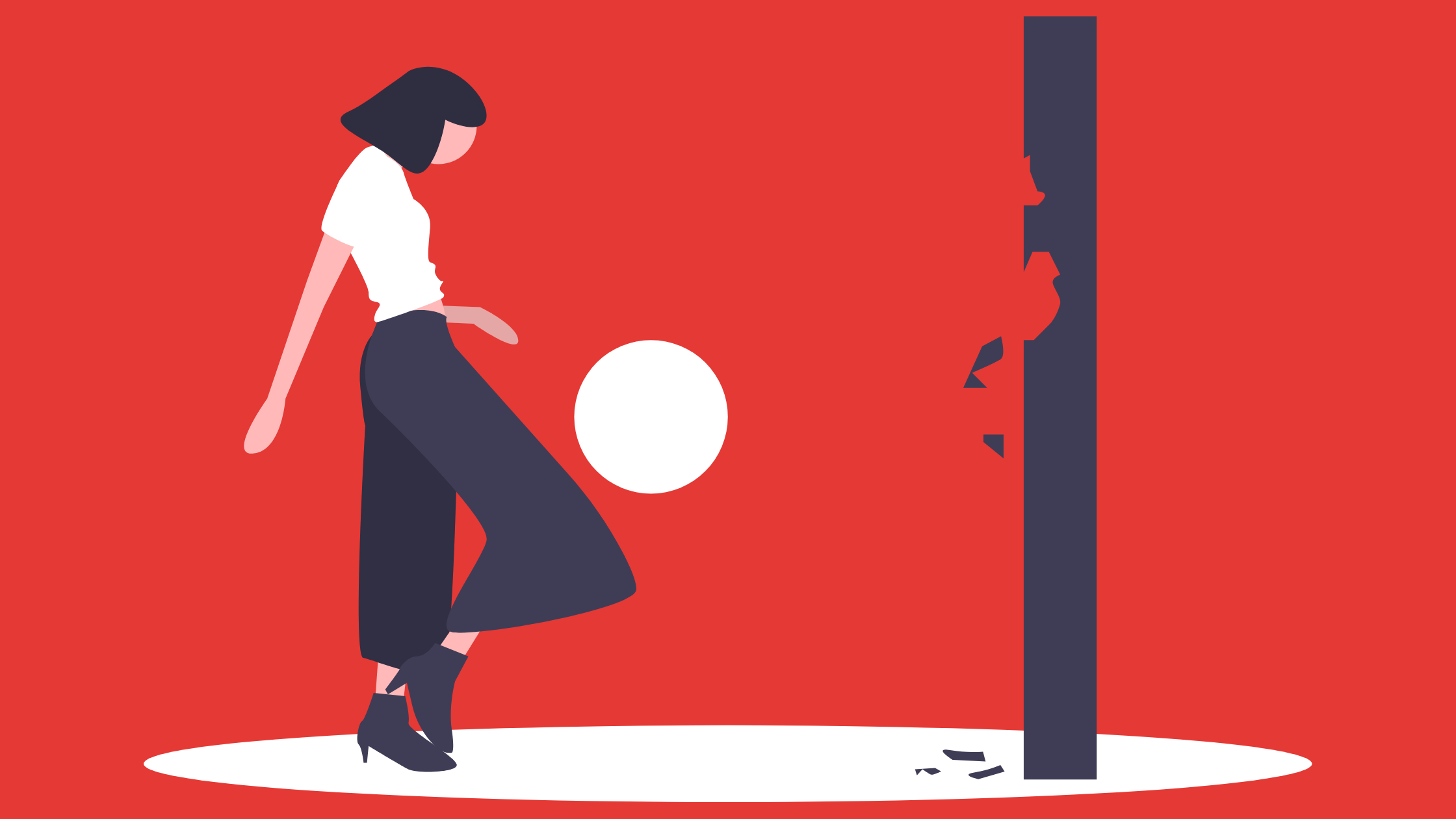 You are an affiliate marketer.
You are promoting affiliate products through your blog.
You know how to write epic content that ranks on the top of Google.
Problem:
You do not know whether that product solves a real pain point of your audience & end up making very few sales.
Or maybe you are an online entrepreneur & planning to sell your professional digital video course through advertising.
You believe in yourself and your product.
Issue:
You are not fully about the type of problem your product is solving. Or even worse, whether it is solving any problem at att.
If you are anyone who wants to sell online but is confused about whether your audience will buy it or not, you are not alone.
This article will help you find & solve all the pain points of your audience so that you can deliver something that converts.
If you want to create an impact on any of your products, you will love this new guide.
Let's begin.
7 Best Tactics To Find & Solve Your Audience Pain Points
What Is The Customer/Audience Pain Points?
Pain points or also known as customers' needs are the real difficulties that a specific customer or a group of audience is facing in various contexts.
In other words, pain points are the problems of the customers that are not yet solved by any producer.
Different audience or an individual may have different pain points related to his/her category.
However, it is very much critical for a business owner or a blogger like you & me to find out all the pain points of our audience & solve them in the best possible situation to create a win-win situation.
Be it an online business or a local shop, you cannot sell your product/service successfully if it does not solve a major problem for your customer.
Therefore, it is clear that your product should be super valuable & problem-solving.
But to solve any pain point of potential buyers in your industry, you need to know the types of pain points they can go through.
To be more specific, let's discuss the different types of audience pain points.
Types Of Customer/Audience Pain Points
There are four major types of pain points out of which you will get a glimpse of the one that your customers are facing.
1. Financial/Monetary –
The financial pain point is all about the economic impact on the product. Here, whether your potential customers like or dislike your product, they will not buy it till it reaches their budget range.
By chance, if your product has high demand by the solopreneurs but the price may be out of budget, then there are high possibilities of low product sales.
Even after the superb quality service offered by that product, no one will be interested to buy that product due to the extraordinary cost.
Therefore, you need to look into the monetary equation while marketing the same.
2. Productivity –
As the name reveals, productivity pain point occurs when your targeted audience is looking for a product through which they can boost their productivity.
By saying productivity, I mean anything that can help your niche audience get more things done in as much less time as possible.
In short, they are in search of a product that can help efficiently manage their time & energy.
3. Process –
Here, your audience isn't able to follow the process.
In other words, they aren't able to learn significant things & apply the same. Either they are unable to cope up with the advanced technology or they are facing challenges operating the existing ones.
To solve this pain point effectively, you need to provide valuable knowledge to your audience which can be consumed by them in an easy-to-digest manner.
4. Support –
Your audience may not coincide with your niche or the product that you provide. It means there is no constraint in terms of money or knowledge. They find it difficult to trust your product, services, or content.
I could go much deeper with all the four types but I think the above information should suffice your need to solve an issue for the betterment.
With this out of the way, let's get into the real job of finding & solving your audience's pain points the right way.
7 Tips To Find Your Audience's Top Pain Points (And Solve
Them)
1. Read the reviews –

If you are an online shopper or frequently engage in buying stuff from e-commerce sites, you may write a review of any product that you purchased.
Even if you omit writing a review, you may have surely read a couple of reviews of a certain product before purchasing it.
People portray their opinions by mainly two types of emotion:
Without any doubt, if you buy, let's say a "hairdryer" and the same stops working after 23 days, then you by no means will jump out of gaiety.
Instead, you will expose a certain brand by negatively reviewing it.
In this way, the review will act as a signal which tells people not to buy that specific product. On the other hand, if the product is up to the mark, a user may want to give a compliment review.
How is this all helpful?
Let's say you want to promote the same product i.e. "a hairdryer". Therefore, instead of direct blind promotion, a product review can help you decide whether it solves the real pain points of its buyers.
If the product is new & has by chance no reviews, you should wait for people to buy that product & test it.
And if you are selling your products, you can always analyze your competitor's products to fill in the missing gap.
2. Take a survey –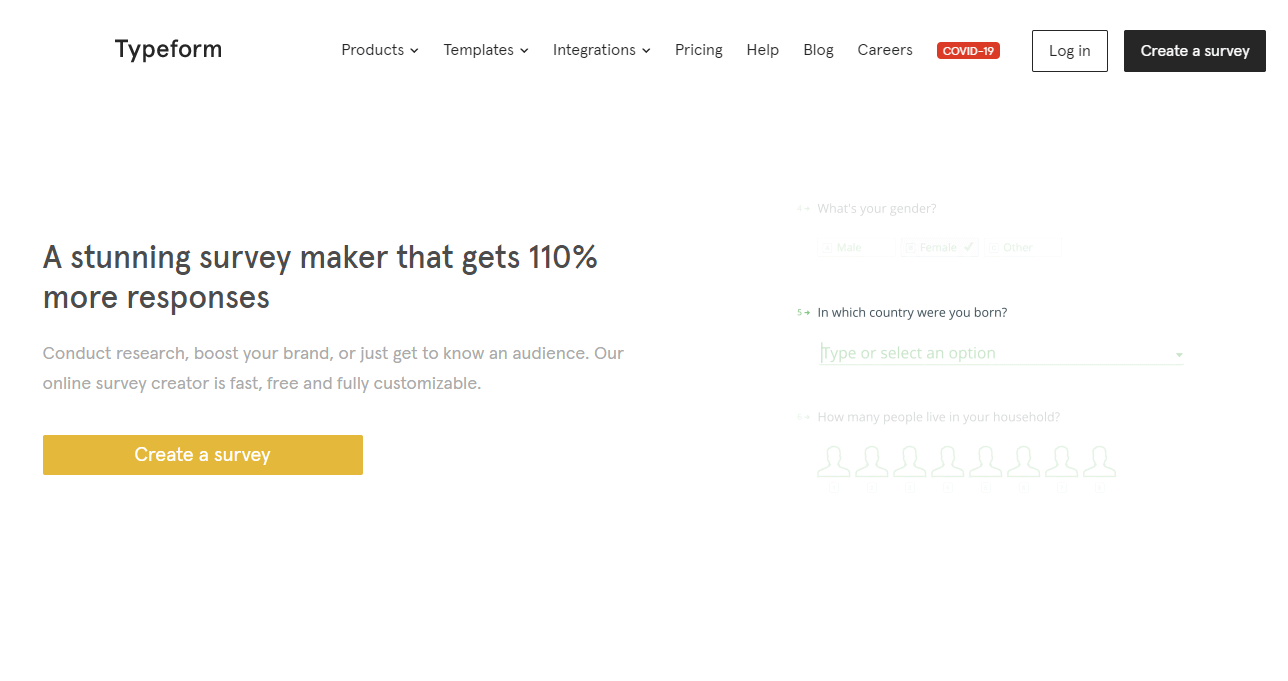 Let's say you are a blogger and have an email list of a substantial amount.
In this case, if you have engaged the audience, you can send them a survey form by asking a few questions related to the product that you want to sell.
Simple & sweet.
In these types of surveys, you can include questions related to whether the product that you want to sell can create an impact or not.
If the response arrives in your favor, you can expect your product to catch momentum among your audience.
Among all the strategies, surveys cannot be called the most effective way to find out your pain points but sometimes it can be of great help.
You can easily create a survey questionnaire on TypeForm or Google Forms.
3. Use a keyword research tool –

When it comes to gathering customers' data, preferences, etc from the web, keyword research tools are the perfect bet.
A keyword is everything.
Your prospective audience searches for any product or information mostly in terms of keywords.
And to be honest, keyword research tools do a great job in collecting all the data & showing it by keeping it on the clean desk.
But how can you find out the real pain point of your audience through a keyword research tool?
With a keyword research tool like KWFinder which is easy to use and cost-effective, you can put in any keyword as per your need & get results accordingly.
Here, you will get to know what types of keywords or questions do your audience responds to very well.
Besides this KWFinder will also, show you the amount of difficulty per keyword and its CPC. 
In short, you will learn everything about whether the keyword you want to target is a perfect fit or a waste of time.
That's the main reason why it is nearly impossible to live without keyword research tools especially for bloggers & affiliate marketers.
This is how keyword research tools can assist not only bloggers but anyone who wants to sell their products online.
Keyword research tools can perform much better operations once you learn to use them the correct way.
4. Ask them –
According to my expertise, this is the most appropriate method.
Instead of guessing out your audience's biggest pain points, you can directly ask them.
How?
Social media can be the best bet when it comes to making direct connections. Suppose you are an active Twitter user. So, you can type a specific keyword in the search section.
All the people with a similar interest will appear.
If you find a certain person resonating with your niche, you can directly DM him/her and & about the major pain points.
I know some of them will not reply but even a count of a dozen works.
5. Put up a question/poll on a social platform –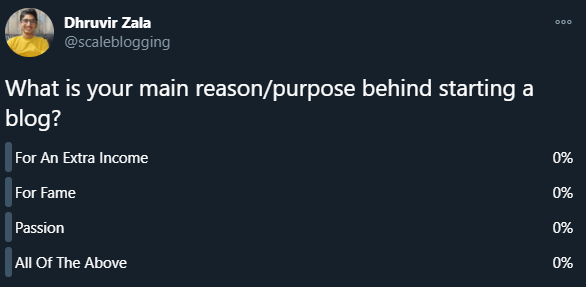 A myth about "having a large number of followers is the only solution" is a myth.
If you are an online entrepreneur, you may be in the right lane.
By no means do you need a hefty following to find their pain points?
If you have 200 active followers on Twitter who are engaging with your tweets, this means that they care about the value that you provide.
And almost every social platform allows putting polls.
You can craft a question poll by including different options to find out what bothers your audience the most.
If interesting, polls are rarely avoided.
6. Leverage forums –
Forums are where you get an answer to your questions & you can even answer other people's questions.
In short, you can solve others' pain points or get your problem solved.
To join any forum related to your niche, type in the "focus keyword of your niche + forums" in Google.
For example, Golf forums.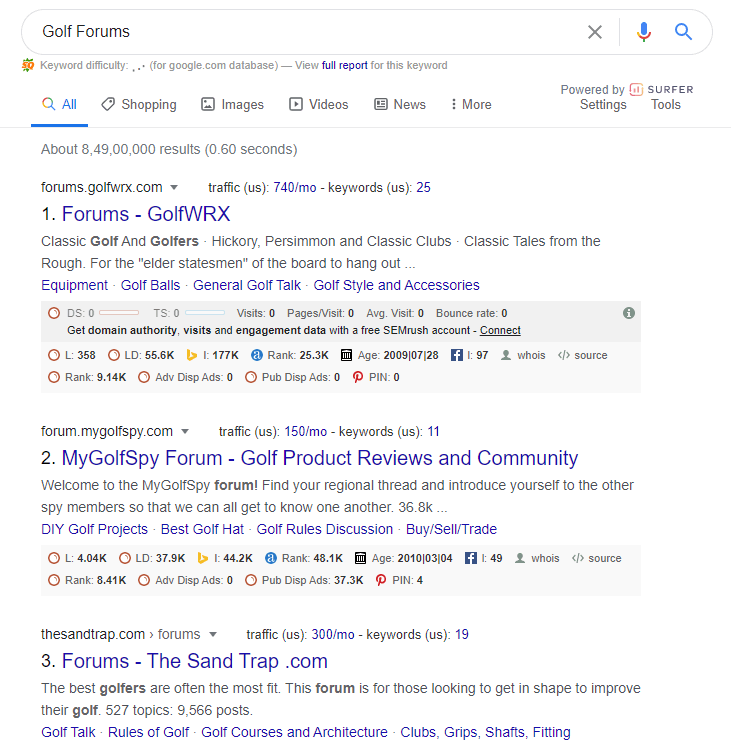 There are forums for almost every specific topic available on the web.
Forums are effective because people put in real problems that they are facing in the form of a question.
You can also leverage Quora & Reddit as these guys are top forums for every niche.
7. Have a look at the ads –
Advertisers are well equipped with knowledge about what currently works best for their audience. Therefore, you can never miss the chance of not analyzing the ads that they run.
You do not need to pay to see their ads. Ads run the search engines.
If you find a suitable ad on a blog, analyze it from top to bottom to see what type of problems they are solving.
Almost many of us ignore ads & if you too are doing so, you are missing a lot.
From Google to Instagram, ads are available all over the internet.
Pick up a few, hone them all & conclude.
Ads come online to solve the user's problems. So why not learn from them directly?
These were the seven best tips in finding & solving your audience's biggest pain points. There may be many other methods besides this, but I choose to prefer these as they work well for me & many others.
This leads us to how pain points can become our biggest befit as an online seller, blogger, marketer, or anyone who sells online.
How To Benefit From Your Customers Pain Points?
Customers' pain points are the burning desires that they want to get solved immediately.
Let's say If a customer is unhappy with his life & wants to bloom again, we may want to provide him/her with such a product that can solve this particular issue by motivating them.
Similarly, different problems have vast solutions. You can benefit from these pain points by…. solving them.
How?
One of the best ways is through blogging. You can create your blog around a specific topic, start writing about a specific topic (information, product review, etc.).
Afterward, you can brand your blog by providing consistent value on a particular topic & pushing yourself towards authority in that niche.
But why do I prefer blogging to other mediums?
Unlike other social platforms, blogging can be highly scaled. Though it has its pros & cons, blogging is considered one of the most online profitable businesses.
Also, there are countless reasons to start a blog Through blogging, you can easily solve your audience pain points through:
Email marketing
Affiliate marketing
Selling personal products
Providing free yet useful articles
Google analytics report
And a lot more things.
Therefore, blogging can create a win-win situation.
If you wish to solve your audience's problems through a blog, check out my definitive guide on the blog launch checklist to kick-start your journey smoothly.
Conclusion
This was the ultimate guide on understanding, finding & solving your audience/customers' biggest pain points through some evergreen techniques.
I hopefully assume that this article will assist you in finding quality customers in a cost-efficient way & help solve your customers' biggest difficulties.
Always remember, you do not need a large audience to sell your product.
Once you create a product that is solving real problems, it will be a game-changer.
This was all up to me. Now, I would like to hear from you.
What is the biggest pain point of your audience? Is it monetary or is it learning new things?
Also, are there any useful techniques that are not mentioned here?
Either way. Let me know by leaving a comment below right now.