11 Best Photography Blogs for Beginners to Follow in 2023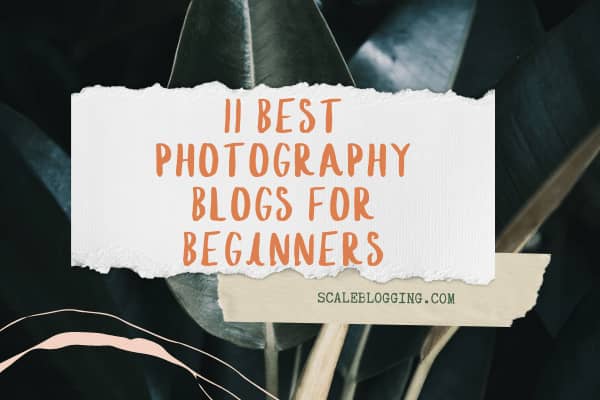 Internet is full of information for beginners, even for subject experts. But you should always do your due diligence before choosing any course or guide on any topic. Photography is such a subject that needs practical experience to teach, those who have years of experience in photography, have done numerous research, and are part of many experiments are usually the best persons.
Here we have shortlisted 11 Best Photography blogs for beginners to follow and learn the basics of photography.
What should a beginner photographer know?
A beginner Photographer should know the basics of Photography. It is not very difficult to learn these skills but you need a good resource. We have discussed these resources in the later [part of this article.
Photography is such a subject that can be self-learn easily, but if you have a guide or mentor who can show you the right direction then it is worth the time.
It will save a lot of time which you would have wasted on checking out Blogs for different tips, hacks, guides, and courses. With these 11 photography blogs, you can learn the basics of photography.
Here are the basics a Photographer should know.
Holding the Camer Properly
How to Shoot with a camera in raw Format
How to adjust Exposure
Settings for Portraits and Landscapes
Using different modes for clicking photos
Using Shutter Modes
Using the Flash Correctly
How to focus while clicking
Understanding the Background
Using the tripod effectively
How to shoot in dark in the evening and too bright during daylight
Editing the Photos
Checking the Photos instantly for quality
List of Best Photography Blogs for Beginners
This list of blogs has been chosen on the basis of their Popularity, Resources, Visitors per Month, and Subscribers. All these blogs have a plethora of content for beginner photographers.
Fstoppers is a brainchild of Veteran Photographers Patric Hall and Lee Moris. They started this blog in 2011 to share tips, tricks on photography, and videography. Today it is regarded as one of the best resources in the field of Photography, Gear, Lighting, Shows, shooting, videography, and many more.
It reaches 2.5 million Photographers on average every month. They have been featured in the top news organizations like Huffingtonpost, CNN, Vimeo, Adobe, Buzz feed to name a few.
Resources on Fstoppers:
Fstoppers include topics in the area of:
Aerial Photography
Animal Photography
astrophotography
Documentary Making
Editorial Photography
Drone Photography & Videography
Fashion Photo GraphyFilm Photography
Gear and Tools Reviews
Legal and Lifestyle photography
Light Gears, Lighting and Lightroom Technology
Mobile Photography
Micro Photography
Slow Motion Photograp[hy and Videography
Stop Motion Photography
Time-lapse and Underwater Photography
VFX, Photo and Video editing
Wedding Photography & Many More
Tutorials:
Fstoppers have tutorials for newbies and other photographers who want to specialize in photo or videography. Their tutorials range from Architectural photography to wedding photography and the price ranges from 49$ to 299$.
They also sell Fstoppers merchandise(Tshirt, caps, Mugs) on this site. It is a community of photographers from around the globe and members share their works on the site for others to take inspiration. One can join the community discussion groups to learn from other members, ask questions, and give feedback.
They hold contests and give away prizes on a regular basis for photographers in the community.
Fstoppers is the best blog for beginner or aspiring photographers to follow and learn.
Photography Life is a beginner-friendly photography blog with a lot of resources that include Beginner Photography, Photography Basics, and more. Photography Life is created by Nasim Mansurov and focuses on Photography education and Gear reviews.
Nasim Mansurov is a Tech Geek and has a working experience of 20+ years in the field of ERP and SAP. He started Photography Life in 2015 and is regarded as one of the top educators in photography.
The team behind Photography Life Includes Spencer Cox, John Bosley, Thomas Stirr, Rick Keller, Elizabeth Gray, Andre Berlinck, Bob Vishneski, Matt Nielson, Vaclav Backovsky, Tom redd, and Romanas.
The tutorials are based on:
Photography Basics
Landscape Photography
Wildlife Photography
Macro Photography
Composition & Creativity
Black and White Photography
Night Sky Photography
Porttrait Photography
Street Photography
Videography
There are photography Life Forums on the blog where members can share photos, tips, leave feedback, ask questions, sell and buy cameras and gears, etc.
Expert Photography is another super blog for photographers to learn new skills and develop new ideas. It has a wide range of courses, content, tips for beginner photographers.
Expert Photography is a story of a Photographer and Trainer Joshua Dunlop. He was searching for content related to photography but found very little or none, so he decided to start Expert Photography with his brother Michael.
Today Expert Photography is a very successful photography blog that helps millions of readers every month. They offer courses, e-books, cheat seats, and Presets. Their courses are beginner-friendly and highly rated in the industry.
Highlights of their Courses
Beginner Photography
Time-Lapse Photography
Astro Photography
Landscapes Photography
Macro Photography
Wildlife Photography
If you are a beginner and want to learn new tricks, tips to take wow photos then Digital Photography School is the place. It offers tips, tutorials, ebooks, gear recommendations.
Digital photography school was created in 2006 by Australian blogger Darren Rowse. Darren is a full-time blogger, speaker, and consultant who lives in Melbourne, Australia. He owns Problogger. Com which focuses on making money blogging.
The Photography tips on this blog are mainly on beginners, portrait, landscape photography.
It offers courses on
Lightroom Techniques
Landscapes Photography
Night photography
Software training
SLR Lounge is a top destination for someone who wants to learn Photography or wants to master the art of taking photographs. Started by Pye Jirsa, a Photographer, author, Podcaster, and Educator. Every workshop or masterclass is designed by Pye himself.
Pye lives in Irvine, California, apart from SLR Lounge he owns a Renowned Photography Boutique, "Lin Jirsa Photography" in South California.
The content on SLR Lounge includes 5 broad aspects
Workshops, Presets,
Lightroom Techniques,
Gear Recommendations,
Photography Basics, and
Editing Techniques
As the name suggests you can improve your photography skills if you follow this blog regularly. It has a plethora of content for beginners in Photography skills, camera, gears, light, and presets.
Improve photography was founded by Blogger Jim Harper in 2010. If you have an interest in blogging or Digital Marketing then you might have heard his name. He is the co-founder of Income School, an Online Education company that teaches people how to earn online and make a living.
Jim Harmer is a Digital entrepreneur who owns a lot of Blogs and Websites in different fields.
You will find a lot of beginner-level content on Improving Photography skills, Landscape and portrait photography, Photo editing, gear recommendations, and more.
Improve photography Plus is a member access program with a monthly fee of 19$ or an Annual fee of 147$, it will give you access to hundreds of Educational training videos, templates, and presets.
Photoblog was stretched in 2006, it allows photographers, bloggers to share photos. Ram Ya the founder of Photoblog is a Passionate Nature and Landscape photographer who loves to teach others about photography. He shares his photography insights in the blog for others to read and experiment with.
If you want to promote your photography or want to learn to take the best photographs you must visit the blog.
You can create a custom blog and create photo stories, add photographs and showcase to a built-in audience. The monthly visitors to this blog are more than 220K, so it is a good platform to showcase your work and generate leads.
A great photography blog for aspiring and professional photographers. The content is written by only experienced photographers, artists, leaders, and educators in the field of photography. You will find informational content, training videos, podcasts, and other learning resources here.
Photofocus was started by Richard Harrington from Washington Dc in 2010. He is an Author, Digital Photographer, Videographer, and Businessperson. Richard owns other Digital Business entities apart from Photofous like Think Tap Learn and Rhed Pixel.
Popular Photography is the oldest photography magazine which started in 1937 and ran for 80 years straight. The physical magazine publication stopped in 2017. Though the online version is still in force and thriving. It is owned by Camden Media, which runs some other popular digital magazines like Popular Science, BetterYou, Interesting Things, Outdoor Life, and Field & Stream.
The blog is followed by 1m+ readers online worldwide. It has how-to guides, technical information, gear recommendations and reviews, and more.
The photo argus is an excellent place to seek new information, tips, and guides on photography. It was created by Nate Kay, Stephanie Kay Kok, and Grant Ordelheide in 2009. They run workshops on different topics related to photography.
You will find top-notch content on Presets, Locations, and Gears reviews. They invite photographers to share their work on the site so that others can learn and take inspiration from it. This blog has extensive pictures on a wide range of topics and places.
Strobist is a very popular photography blog that organizes Workshops on photography, finding locations, and Light technology. But it is known for its courses, workshops, and tutorials on Lighting. If you want to become a pro is using flashlights then Strobist is the best blog.
Strobist was started by David Hobby, a Photojournalist in February 2006. He is a veteran photographer with more than 25 years of experience. As David Puts it Strobist is about "Learning how to use off-camera flash to elevate your photography." they also run a series of tutorials on lighting which is highly rated by photographers.
We are posting a series of posts on Best Blogs on Different Subjects. This is the 2nd Post in our list of Best Blogs Series.