Blogging For Students in the Classroom – How can Blogging help you as a Student?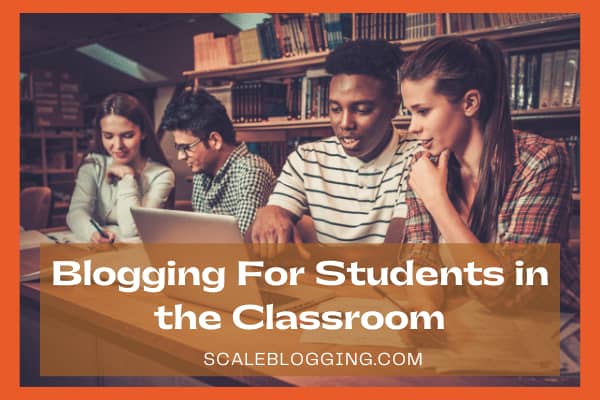 A blog is a blank canvas where the blogger can paint their ideas and innovation in countless ways. Blogging isn't just a tool to express; it is a medium to enhance the learning experience.
It is for everyone, be it a teacher, a student, a doctor, or even a businessman for that matter. Whatever you feel about the things that surround us, you can lay your thoughts in your blog.
Teachers can use blogs to share information about assignments, schedules, due dates, and any other information regarding school or curriculum. Blogging can bring more clarity and understanding for students in a subject.
Blogging for students in the classroom has many benefits and it can bring a lot of positive changes.
Some people call their blog their personal diary, but this diary allows you to interact with people reading it and invite their comments as their feedback on whatever you write.
The emphasis is all about expressing thoughts in a creative way. A blogger need not necessarily be an expert in some area, rather a blogger should know how to read and research a particular subject.
Blogging has got great reach among its audience, and it shall remain to be as charming as it is now.
The idea of a blogging for students in the Classroom!
As students, we all are like the wet soil that needs to take shape and be good enough to be put to work. We learn at all ages of life, and according to me, we remain to be students all through our lives, as learning never stops.
Thus, blogging proves to be a great learning tool for students. When students start blogging at an early age, they learn the nuances of this medium well before time, and that is how they prepare themselves for a more prepared and educated future.
However, just like any other learning activity, blogging has its pros and cons. So let's take an in-depth look into the analysis.
Pros
1. Learning Tool–
Blogging is a great and fun learning tool. The students exposed to blogging at a young age already know one of the most important tools to communicate with a global audience. They polish their writing skills, and research work becomes a daily part of their lives.
2. Motivation–
Blogging motivates students to become better readers and writers. The first lesson we get in school is to read more.
The more we read, the better. It not just enhances our intellectual level but gives our personality a new shape altogether.
Blogging is not for non-serious people, it is a writer's job, and once you step into blogging, you will have to read more to understand a particular subject better.
3. Promotes Discussion–
While we discuss our achievements, targets, and goals, we become more focused. The feeling of competition motivates us to grow better.
Healthy competition is the key to enhanced performance, and blogging promotes healthy competition.
While the students create their blogs, they discuss various subjects, and that's how a group of students indulge in healthy discussion producing better ideas and more knowledge.
4. Introduction to the Internet World–
Blogging introduces students to the internet world. By this, we do not mean using the internet for fun or playing games.
Here, students are using the internet to sharpen their skills, gather more knowledge on a certain subject, and improve their writing talent.
Therefore, being acquainted with the good side of the internet is extremely important in the current time, and blogging helps students in this direction.
Cons
Every coin has two sides, and so is the act of blogging. Besides advantages, there are certain disadvantages of blogging as well.
But, if a student or their guardian keeps a check on these cons, there's no stopping them. So to stay alert, let's have a look at the possible disadvantages of blogging for students.
1. Social Isolation–
Blogging is addictive, and when students spend the majority of their time writing their blogs, they hardly manage to spend quality time with their friends and family.
That is how they end up in isolation. Social interaction is equally important for the development of students, as we learn a lot from our experiences.
Besides, in the current scenario, students are already spending a large part of their day in front of their cell phones and computer systems. Owning to the new education system after the COVID crisis, social isolation has become a comprehensive problem.
2. Excessive Use of the Internet–
Excessive use of the internet brings its line of damages. Not just to our health but our overall well-being. If students spend too much time with their laptops and cell phones, guardians need to activate their alarms and break this routine.
3. Strained Eyes–
Blogging takes time; you end up spending long hours reading, researching, and then writing on a particular subject. If a student doesn't know how to manage it and the importance of breaks between work, they'll end up causing health damage.
4. Distraction–
Working on blogs is time talking, and it can cause a lot of distraction to the mainstream studies. Therefore, time management is the key. If a blogger or student knows how to manage time between blogging and other educational tasks, it becomes easier to succeed.
So, if you work on the prospective disadvantages of blogging, you can just enjoy the countless benefits it offers. Blogging encourages reading, and there's no better way to enhance knowledge than reading and writing.
Blogging is the new trend!
Undeniably, blogging has gained immense popularity with its growth. However, blogging is one of the oldest mediums of mass communication, followed by vlogging and podcasts. But being the oldest, blogging hasn't lost its charm amongst its loyal audience.
Working on blogs has become popular amongst students lately because there has been so much talking about the privileges blogging brings.
It is undoubtedly the new learning trend for several reasons.
Starting a blog has proved to be the most intelligent decision students and teachers have ever made. It brings all information about a particular subject on one platform, and that's how it offers an enhanced learning experience.
Blogging allows a blogger to blog at any time of the day from any place of convenience. You are not required to sit at a particular place or visit an office to work on your blog. Blogging is learning and creating at your convenience.
Blogging is offering students a great way to make a living at a young age. Now, you don't have to wait for those campus placements to start earning, as you are already earning while learning. That's such a great element of blogging.
Above all, blogging is for everyone. Be it a homemaker or a business person. Be it a student or a teacher. People of all ages, cultures, preferences can attempt blogging and even succeed at it.
So to become a blogger, you do not need a diploma or a degree. You need to learn the nuances of blogging and marketing to do the needful.
Blogging is free, anyone can start blogging at any age, and that's the real charm of putting forth thoughts through a blog.
Benefits of writing a school Blog about the Environment!
Writing a school blog about the environment brings its own set of benefits. Let's number them and take a quick look.
Students get an in-depth idea about the importance of protecting the environment and the ways to accomplish it efficiently.
Students get a chance to discuss various environmental issues with their friends. As a result, it helps them spread more awareness in their group and surrounding.
While blogging about the environment, as a school project, young minds get closer to nature, which adds to their overall development. Both mentally and physically.
Through a school blog about the environment, students can appeal to the world about safeguarding our environment.
Blogging helps students be more vocal about natural issues and the ways to deal with them. Blogging creates a platform that is effective, tireless, and free.
FAQs
Why would a student write a blog?
A student should write a blog to brush their writing skills. And besides this, blogging isn't just about expressing; it is more about learning, observing, and grasping everything around us.
While students create a blog, they learn, flaunt their creativity, and explore different opportunities. It is as wonderful as putting the first step into a playschool at the age of two.
What makes a good student blog?
A good student blog is all about content. However, when we begin with blogging, we cannot ascertain its reach. Similarly, we cannot determine the future of our blog because we have just taken the maiden step.
Therefore, a student blog should surround itself with a subject that fellow beings would love to read. A good blog is communicative, informative and can also include humor until it's not hurting any feelings.
What can a student write in a blog?
Blogging has no boundaries, be it for anyone. Any blogger can write anything until it makes sense. Talking about student blogging, it could be about someone's personal life experience.
It can also be about different subjects that students learn in school. A blog on a favorite sport, video game, or national and international players can also gain mass attention.