Top 15 Tech Blogs For Beginners to Follow in 2023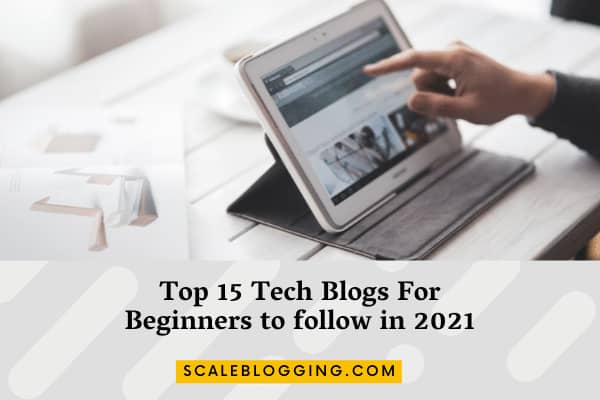 Technology has changed the lives of people. Technology attracts people across different regions. It can be fascinating, but not everyone knows where to get the daily dose of their technical updates. This is where technology bloggers come into play, you can find the latest updates and information on their blogs.
Here we have listed the 15 best tech blogs for Beginners to Keep you updated on the latest technology. You will get the latest industry information, new product launches, reviews, and many more on these blogs.
If you are interested in technology and want to get more updated on this and wondering how to keep abreast of all the trends, then you are at the right place.
After a survey, it was found that internet users spend 77% of their time reading blogs and 23 % of their time reading blogs of their choice.
No doubt that technology changes rapidly. And People from different areas of life have always been fascinated by it. Many tech influencers and bloggers have experience in his field.
This blog post will provide you with a researched tech blog that gives you the best reading experience and knowledge, which will keep you updated with the newest technologies.
15 Best Tech blogs for Beginners to follow in 2023
CNET is a leading tech blog that covers every latest tech, science, and culture topic for its readers. Halsey Minor and Shelby Bonnie founded this tech site that was started in 1994.
CNET is acquired by Red Ventures Company in 2020. Red Ventures is a global media company that owns the world's best digital brands like Healthline, Bankrate, The Points Guy, Lonely Planet, NextAdvisor, Uswitch, and more.
CNET provides tools and information about new technologies to buy and valuable tools to help you choose as you go for any agency. They review thousands of products on their website covering a wide range of software programs, and they organize meetings, interviews where people talk about different things.
The website receives around 91M traffic from the US.
The Verge is a media accompany known for its information on technology, science, and entertainment. It started in 2011 and is owned by media company VOX MEDIA.
From the day it started, its only goal was to provide its users with the latest technology information, in-depth reports, and many other benefits for its users.
This website has monthly traffic of 42M, and the majority of users are from the US.
The Verge is a significant multimedia initiative founded nine years ago to explore how technology will change the lives of the future for many regular viewers.
Joshua Topolsky, Jim Bankoff, and Marty Moe founded this site in the year 2011
Engadget is a blog site created in 2004 that provides technology news and reviews.
It is one of the best 100 Tech blogs ranked by Times magazine.
It's an excellent site for quick and accurate information gathering because of its user-friendly interface for engagement. It has an audience of 29.62 million. However, it faced traffic jams this month.
Engadget provides you with the best tech news and reviews. Further, it also gives reviews, news, updates, and features about tech products and brilliant ideas. They provide daily insurance coverage for other devices and electronics. Engadget has a worldwide audience because it is a multilingual technology blog.
Engadget provides information related to recent gadgets and software.
Pete Rojas started this blogging site in 2004, later it was acquired by Verizon Media Inc. It holds a few top digital publication and marketing companies in the world like Yahoo, AOL, Techcrunch, RYOT, RIVALS, Makers, Built By Girls, Auto Blog, Flurry, and In the Know.
This technology site covered design, scientific design, and science fiction and was established in 2002. This site was created to play the role of Media Giver. However, the current owner is G / O Media.
This site comes in 9 languages covering huge options on various content that includes technical blogs and reviews, and much more.
It has 18.98 million subscribers. This number is growing every day, and most of the audience is from the United States.
Gizmodo is the best online technology portal to track all the latest information related to this device.
Popular tech news blogs and websites keep their fingers crossed in a world of updates for readers.
Pete Rojas founded this website in the year 2001
Formerly set up as part of the GawkerMedisNetwork, it is also a science-technology design and science website with political articles.
Also Read- Best Photography Blogs for Beginners to Follow in 2021
How-To Geek is a tech magazine now online and has over 10 thousand articles to read. The traffic crosses over 15 million every month.
Following its name, this website holds the responsibility of teaching users the most fun and exciting geek stuff. Lowell Headings founded the site in 2007 along with Chris, who is currently the chief editor.
It benefits all young learners who want to gain knowledge most effectively. The developers have designed the site to help from all the geek information and enjoy the end-of-the-jobs jobs in the geek world.
This is very helpful for many users because the traffic on this site can reach reasonable levels, with 82%.
The no 1 Spot in the list goes to the leading tech magazine Wired. "Wired" is an American tech magazine publishing content on Security, Gadgets, Gear, Science, Business, Culture, Ideas, and more.
Wired was started by Louis Rossetto and Jane Metcalfe in 1993. In 1998 it was acquired by Media Company Conde Nast. Conde Nast is a global media company that owns some of the top brands like Vogue, The New Yorker, GQ, Vanity Fair, etc.
The technology section of their blog covers every new and exciting technology being discovered.
Wired shares content about various technologies and things every day. It focuses on how the latest technology affects our culture, economy, and politics. It distributes multiple technologies around the world.
It is followed by 16 Million visitors each month.
Android Authority is a tech blogging site created in 2007 which provides content, reviews, and information on android applications and tablets.
They consist of a massive team of experienced writers, videographers, directors, and developers.
They have won 57 tech awards and have actively posted 62616 posts till now. It is illuminative and offers expert tips. It receives enormous monthly traffic of about 17.6 million.
They got 57 tech awards. It is bright and extends expert tips. It has a monthly subscription of 17.6 million used from the US and India.
It is a well-known technical website for a technology blog, established in 2005. This website is headquartered in Inverness, Florida, United States.
It is the best tech blog site on the internet. It is famous for its decent user interface and provides simplicity to all users. You can quickly and efficiently view any information on this website.
The developers have productively designed this site to make it easy to use for every user. Furthermore, the content provided by the Android Center is very accurate to the real thing, and people appreciate the opinions of all the experts on their site.
Android Central is spearheaded by experts and supported by a dedicated community of technology enthusiasts and tastemakers.
Also, Read- Best Lifestyle Blogs for 30 Somethings to Follow in 2023
Mac Rumors is a famous technology blog on Apple Products and Rumors. It is for people who want to read the latest technology trends and upcoming news.
In addition, this website covers topics from Buyer's guide, how-to, and other content that are useful for everyday life.
The monthly traffic of this site is 14M and is gaining more popularity rapidly. It has been mentioned by New York Times, CNBC, Bloomberg, and other Top Media companies.
Arnold Kim is the founder of this site and started in 2015.
This technical site was created in 2005 in Aberdeen, United Kingdom. It is integrated as an interactive media platform and provides content about technology, culture, and science.
The site is headquartered in New York, USA. This website is based worldwide, and its content is related to other website reviews, technical information, and product analysis.
It has a large attendance of 13.06 million, and most of the viewers are from the US.
Mashable is a multi-platform and global media company. Powered by proprietary technology, Mashable is a source of digital culture technology and entertainment content.
Pete Cashmore founded Mashable in 2005.
The most famous and well-known tech blog website has gained popularity since its founding in 1997.
The developers have created a soothing interface designed which provide easy to use experience. It provides reliable and trustworthy reviews and information on technology.
In addition, it is quick and effective in sharing the latest content with almost insignificant errors. The content it offers gives you plenty of assurance that content providers in the tech republic are real experts.
Also, it provides information about everything that falls under their domain. So they have plenty of information on many things.
The monthly traffic of this site is 5.21 million.
TechRepublic supports IT decision-makers in identifying strategies that help in empowering workers and getting a streamlined business process.
The owner of this site is Tom Cottingham.
This was established in 2007, and this website was supposed to be published on Macs. It is said to be the best website for providing detailed information on technology and tech news. It was first heard when images of the third-generation iPod nano were posted. The website first featured photos. After that, timely photos of the first-ever iPhones and MacBooks were published.
The website has a monthly subscription of 7.56 million, with Americans as their target audience.
Seth Weintraub founded this site in 2007 in Paris. He started this website as a hobby to write updates on technology until 2011 when he left his day job to become a full-time blogger. He also started a few other blogs 9to5Google, 9to5Toys, Electrek, DroneDJ, and SpaceExplored.
The MIT Technology Review is a wholly owned journal of the Massachusetts Institute of Technology. It was first published in 1899. Website developers are also highly creative in delivering effective, consistent content.
Even though the blog is published in its original form, users are still very much alive in terms of the interface and experience of the site.
Even though it is an old website, it is customary to work with the latest features and options to add more clarity regarding the best access to knowledge.
The traffic that this site easily attracts is also tremendous. It gets most users from search engine optimization, and so much depends on it.
As the name suggests Apple Insider is all about apple products. It delivers information on all Apple products, iPhones,iMacs, MacBook, iPod, Apple TV, Apple Watch, Ipad, AirPods, Homepods, etc.
Apple Insider started in 1997, which reviews apple products and services. It provides information on all the apple products, and the users have been using this site to get more information on apple gadgets and accessories.
This site inspects Apple products and analyses them to provide detailed information to its viewers. Viewers have given an excellent rating to this site.
Apple Insider has 3.21 million average monthly traffic, 51% of the audience is from the US. It has received positive audience growth over the past two months.
Launched over 20 years ago as a news and rumor website for Apple products and services, appleinsider.com includes a forum to discuss news stories and other community news.
This site is one of the best out of tech blogs as it provides its user an enormous library for all the geek seekers. The Customer, Care Services site is almost voluntary and quick.
Whenever a user visits a website, the website does not tell the user much information that can burden the user. The display page is decent and user-friendly.
As it provides user convenience, the traffic is also impressive as it serves up to 3-4 million people, and most of the traffic that this site receives is from search engine searches.
Jonathon Sposato, John Cook, and Todd Bishop started this site in 2011.
Do You Want to create a Tech Blog and make money like million others are doing it. Just check out our Step By Step Guide on How to Create a Blog. We have carefully crafted a detailed Blog launch Checklist for new bloggers like you.