Should You Be Using Your Name As A Domain (In 2023)?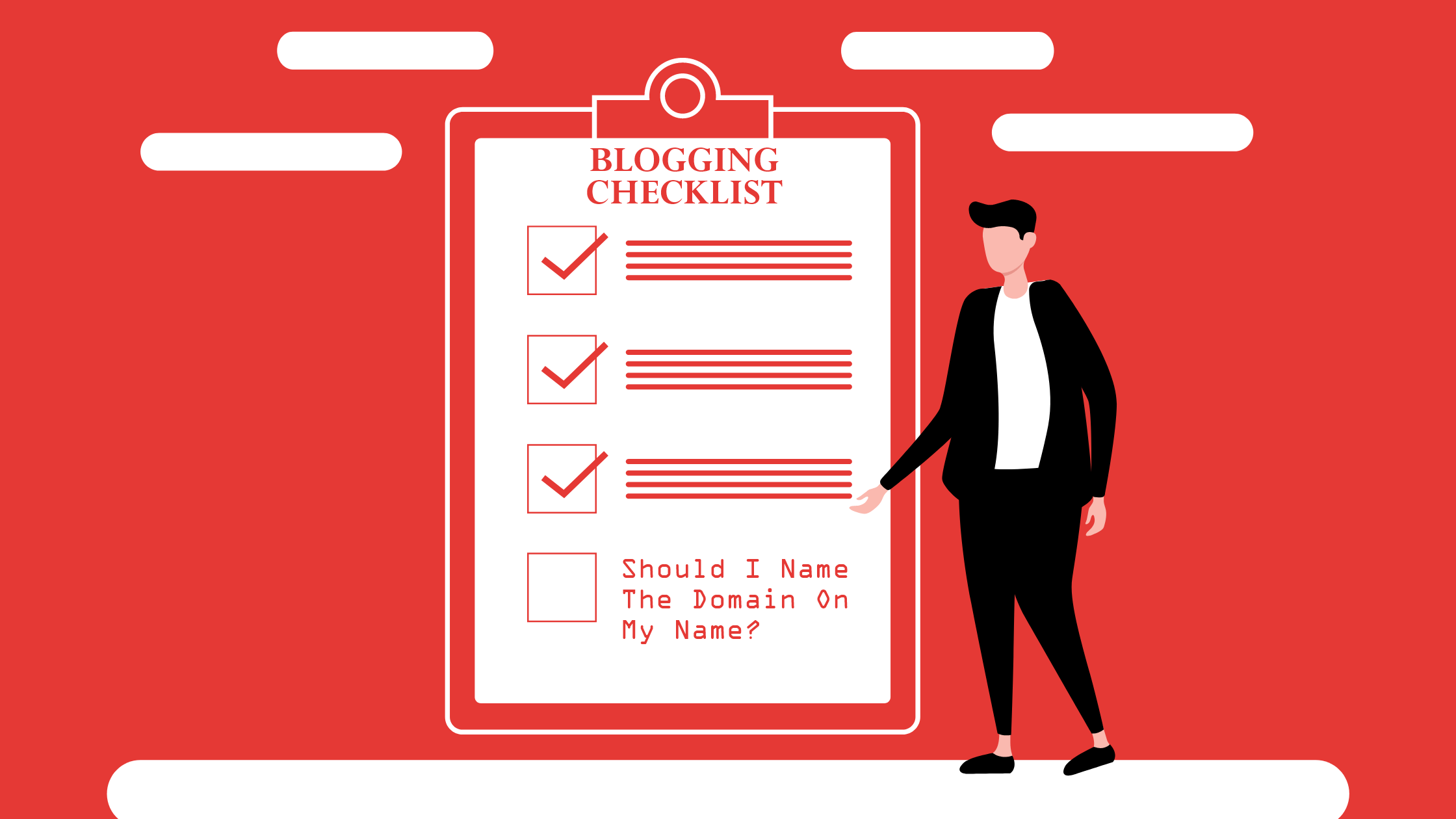 If I am not wrong, you are a new blogger who completed consuming the video course or a blog post on how to start a blog.
You are fully motivated to write blog posts that convert like no one else.
As you are energetic to begin a cherishing journey of your life, you step up in buying a domain name and hosting.
But sooner or later, you realize that choosing a domain name is not a child play.
You are confused about whether you should go with a unique domain name or use your own name.
If this is your situation, don't hassle. Almost every blogger goes through this phase where it becomes extremely difficult to take the right decision.
If you want to know whether you should be using your name as a domain or not, then you will love this new guide.
Let's begin.
What makes a great domain name?
Every year, domain name registration has grown by over roughly 10.8 million i.e. 3 percent (Source).
So, if you want to come up with a profound domain name, you need to perform some sort of domain name research.
Here are some of the most crucial elements of a great domain name:
Short and sweet
Easy to remember
Within a certain count (Usually 6-14 characters or 1-2 words)
Easy to pronounce
Without any special character
Should not be copyrighted
Etc.
Now, you learned about the key components to finding a perfect domain name.
But how important is a domain name or what is a role of a domain name in your site or blogging success?
Let's find out.
How important is a domain name?
If I want to summarize it into few lines – everything starts with a domain name. Domain name portrays your brands, niche, audience, etc.
Though domain name does not directly help in improving organic rankings, it is still one of the key factors for your site's success.
For example:
My blog's domain is www.scaleblogging.com.
Through this, my audience can easily relate to my blog through the domain name itself. As it includes "blogging", my audience can confirm my niche to be something related to blogging.
Also, it is easy to remember. In this way, they can directly search my blog on Google and easily find it which in turn helps boost my blog's direct traffic as well as E-A-T.
With that out of the way, let's move on to the pros and cons of using your own name as a domain.
Should You Be Using Your Name As A Domain (In 2023)?
Pros Of Using Your Name As A Domain
1. To resonate with your audience swiftly –
When you decide to go with a domain name of your name, you might have surely done some brainstorming before making that decision.
And if I am not wrong, it may be either due to two possible situations:
You were unable to cover up a specific niche.
You want to brand yourself or brand your blog as an authority in your niche.
And if those are the reasons behind choosing your name as a domain, then you might want to hear this out:
With a domain based on your name, it is easier for your potential audience to connect with you more easily.
Besides connecting with your viewers, you can also end up connecting with like-minded bloggers and help grow each other.
And when your audience finds it easy to connect with you, they give you clearer options to solve their pain points promptly.
Even better: you may increase the possibility of receiving blog sponsorships from the companies just like Ryan Robinson gets by using his blog domain as ryrob.com (which is his short name).
2. To brand your blog –
As discussed earlier in this article, branding your blog can be one of the main factors when it comes to using your own name in the domain.
With your name, interested readers from all over the world start recognizing you as an authority in a certain niche and eventually turns into your regular blog reader or maybe a life-long customer.
In fact, this is one of the major benefits of naming your domain after yourself.
Trust is built where there is transparency.
Here is an example of a blogger who built his fortune by branding his blog.
He is Adam Enfroy and he runs an authority blog on his name.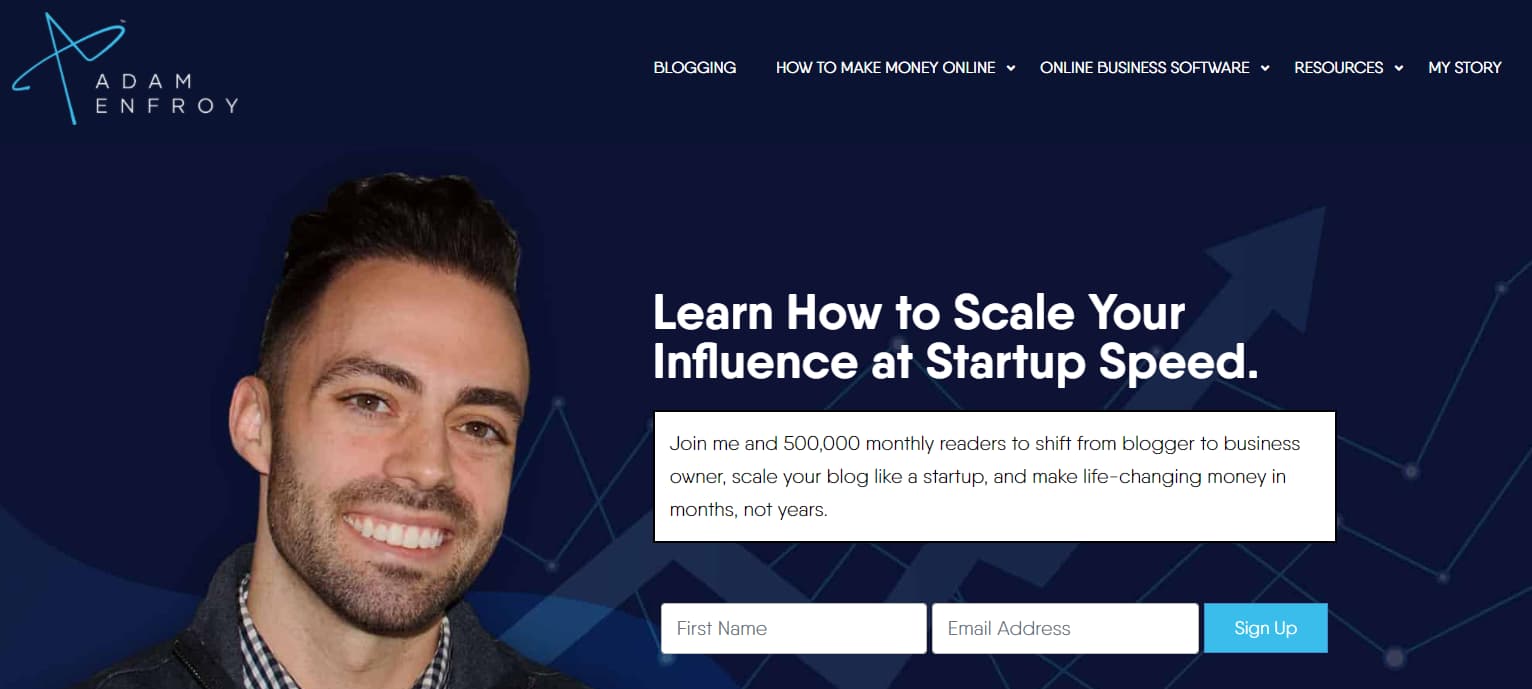 After starting his blog somewhere in 2019, he was able to scale it up to the extent where he is making over $80K/month through his blog without running any paid ads.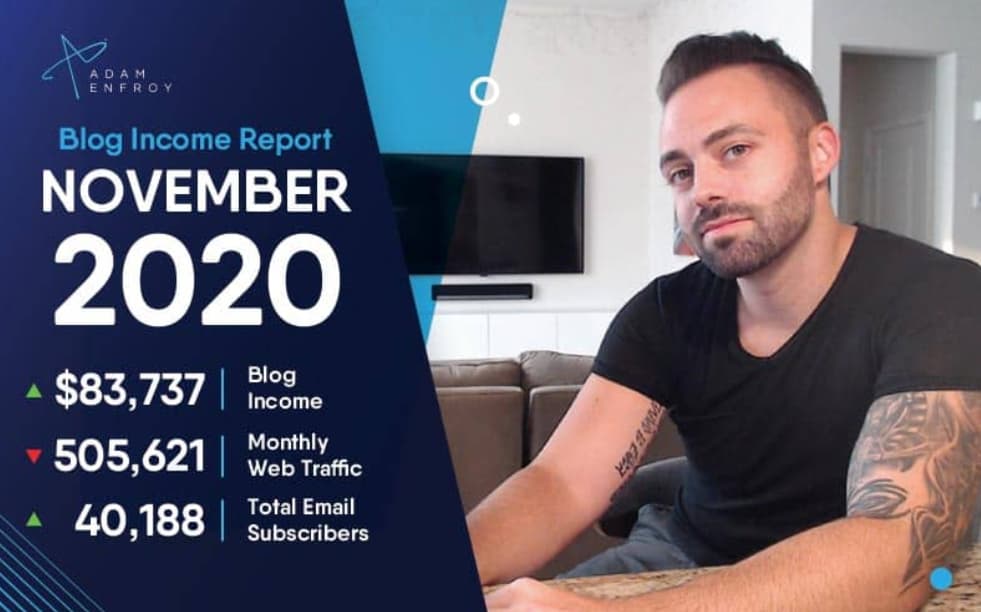 Sounds great.
So, how was this possible?
According to him, one should try to build an authority towards a certain category and provide epic content on the same.
And the best way to do this is by naming your domain after your name.
Also, he says that it is possible to get blogging success in such a short period if you are entirely committed to creating a brand around your blog.
Though I didn't name my blog's domain after me, branding my blog was one of my main reasons to start a blog.
3. Personal domains are typically available –
I bet you might have faced issues while coming up with a domain name for the very first time.
You might have SEEN one of the main errors behind it:
The domain you want is already taken.
This is the natural case if you are on a mission to find creative domain names.
On the other hand, if you go with your distinctive name as a domain, there are higher chances of it being available.
For example, if I want to buy a domain name on my name i.e. Amit, then I can do it easily as it is available.
You need not surf the web in finding domain names as they will be mostly available.
Still, planning to buy a domain name?
Check out the Namecheap domain name registrar and get one for yourself now.
Find a domain starting at $0.88
P.S: If you plan to invest in the domain as well as hosting, then Namecheap has a great offer for you. Also If you buy hosting from our Recommended Hosting partner Hostinger, you will get an option to book a Top-level domain for absolutely free.

Overall, personal domains are easy to find and book than artistic ones.
4. You can switch to any niche –
This is a big one.
As my domain name is scaleblogging.com, it is sure by far that I will talk about blogging and digital marketing in it.
On one fine day, for example, if I want to write on gadgets and tech, then it will be nearly impossible to do so.
Why?
Because my domain purely portrays the specific niche and my audience will never want to look at the tech articles on a blogging tips blog.
However, if you decide to use a personal domain, you can easily switch between different niches.
This is very helpful when you are puzzled about choosing an appropriate niche.
And when you have your NAME as the front image, you can take it in any direction that you wish to.
Although you can switch to any niche through personal domains, it is advisable to stick to a single ONE if you want to become a better blogger.
5. You will start receiving direct traffic from the search engines –
Try to recall the moment when you are seeking to acquire information about your favorite celebrity or a sportsperson. At this time, you will straight-away write his/her name on the search engines.
This is because we are emotionally attached to that person and we love to consume his/her content.
Similarly, if you choose to continue with a personal/branded domain name, people will start visiting your blog by directly searching your name once you start getting traction.
And eventually, your direct traffic will increase. Direct traffic is traffic that you receive to your site whenever someone visits your site directly from the search engines.
This gives a positive signal to Google and starts ranking your websites for related keywords.
6. More chances for blog sponsorships –
Blog sponsorships are a surpassing way to earn money as a blogger. And many platforms including Flyout does a great job of connecting bloggers with the advertisers.
But, to get sponsorships, you need to carve out a professional blog.
And one of the most loyal ways to do it is: Through personal domains.
No doubt, you can do the same with your creative domains just like mine. However, putting your name on the front builds a unique trust among the brands.
This assists in acquiring more sponsorships. No wonder a pro blogger like Ryrob charges 1000s of dollars for each sponsored post.
It is because they have worked for a handful of years in creating their brand through the blog where a domain name plays a huge role.
These were the ultimate pros. Now, let's move on to the demerits.
Cons Of Using Your Name As A Domain
1. Selling your domain name can be tough –
Imagine a situation where you have bought a domain name based on your name.
You have worked very hard for it and moved it to a new level of height.
But somehow, you feel that you want to reinvest the revenue into a different stream or field. In this case, you may want to list your site to be sold at the best price possible.
But here's the problem:
No one will be interested to buy a domain name.
Reason?
Because it has your name on it.
Put another way. Personal domains narrow down the scope of selling your online business in the future.
Unless there is another person who holds the same name as you, no one else is going to buy it.
And according to me, this is the biggest disadvantage of a personal domain.
And if we talk about creative or fictional domain names, they have a very high chance of being sold as most people are looking for it.
In fact, this is one of the topmost things I wish I knew when I started blogging.
2. Your domain name may fail the Phone Test –
A phone test is an assessment to measure whether a particular domain name is spelled, pronounced, and understood correctly by a complete stranger when he/she is asked to hunt for it on the search engines.
For example, if I ask you to search for scaleblogging.com on Google, you will be able to do it easily.
Why?
Because it is easy to spell and both the words i.e. "scale" & "blogging" are common.
On the other hand, personal domains are sometimes hard to pass phone tests.
Let's say, for instance, I ask you to search for the domain name called DhruvirZala.com. In this case, you may find it challenging to pass the phone test.
Instead of writing "Dhruvir", you may end up writing "Dhruveer" as it is an uncommon word.
This is how creative domains take the advantage of passing the phone test and personal domains do not.
What If You Are Already Using Your Name As A Domain Name?
In a case where you are using your name as a domain, you can do two things:
Either continue using the same domain.
Or change the domain into something creative.
To be honest, it entirely depends on your goals.
If you want to grow your business by a unique name, then you go with creative domains just like Amazon & Apple.
But if you are looking forward to growing your business by growing your personal brand, you can unquestionably keep using your branded domain name.
You don't have to worry about a domain name if the content that you provide solves some kind of your viewers' pain points.
There are countless success stories in both types of domains.
Should My Domain Name Be My Name?
As discussed in this definitive blog post, choosing your domain name is influenced by your future goals and your targets.
There is no one right thing. Everything is reliable on each other.
Concluding, this was the ultimate guide on using your name as a domain. I hopefully assume that from now on, you will be able to come up with a great domain name (irrespective of personal or creative).
Now, I would like to hear from you.
What type of domains do you prefer the most?
Are they personal domains or creative ones?
Let me know by leaving a quick comment below.
P.S: Still haven't booked a perfect domain name for yourself? Head over to Hostinger and get an unflappable domain right now.
Disclosure: This post contains affiliate links. This means we may make a small commission if you make a purchase.